Sports
He's done it all … almost
Sun., May 9, 2004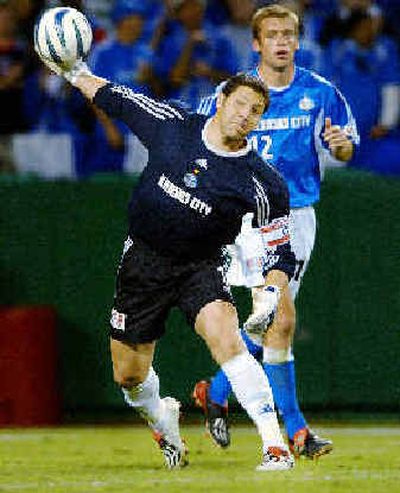 KANSAS CITY, Mo. — Tony Meola played in two soccer World Cups, kicked in several exhibition games for the New York Jets and was drafted by the New York Yankees as a catcher.
He's also acted off-Broadway and is a drummer in a rock band.
One thing, though, is missing from the resume of the 35-year-old Kansas City Wizards goalkeeper: a stint in one of the top four European soccer leagues.
Meola's response? A shrug and a sardonic smile.
"Every time I read, 'That's the one thing he hasn't conquered,' I have to laugh to myself," he said in an interview last week. "If I wanted to conquer it, believe me, I'd have conquered it."
In the early 1990s, Meola played in an English division that now would be one step below the Premier League. After his work permit ran out in England, he spent three months with Toulouse in France's top division.
But the headache of European work rules and the chance for more money and stability in the United States have kept him home.
"It's not an ego thing for me," he said. "You guys — and when I say 'you guys' I mean the media — you look at Europe as the end-all. I don't see it that way. I never have."
Meola, a New Jersey native, started his Major League Soccer career in 1996 with the MetroStars in his home state. He was traded in 1999 to Kansas City, where he and his wife, Colleen, have put down roots and wouldn't mind staying.
"My plan is to stay here and let my kids grow up in the Midwest," said the father of three. "We love the schools and we love where we are."
At his age, that might seem the logical choice. But his MLS contract ends after this season, and he hasn't yet been offered an extension. So he's keeping his options open — and Europe is on the list.
The English Premier League, Italy's Serie A, the German Bundesliga and Spain's La Liga are generally considered the top four.
Meola, who played for Brighton and Watford in the former English Second Division, is getting an Italian passport, which would allow him to play anywhere in the European Union.
"I don't want to leave," he said. "There's not one bit of me that wants to leave. But I'm also a guy who wants some security. I have a history of that over my career. I've taken less (money) to be secure."
Meola has certainly given the Wizards reason to keep him.
Through Kansas City's first four games, he gave up just one goal and extended his MLS shutout record to 51. Even early in the season, that invites comparison to Meola's best year ever.
In 2000, after missing all but nine games of the 1999 season with a knee injury, he set a league record with 16 shutouts in 31 regular-season games. The Wizards won their only MLS Cup — also a shutout, 1-0 over Chicago — and Meola was the first keeper chosen as the league's most valuable player.
"In 2000, what Tony did was set a standard for our league that could be there for quite some time," said Wizards coach Bob Gansler, who also coached Meola on the 1990 World Cup team. "I don't think anyone has come close to it, and that includes him."
Meola had extensive discussions with four European teams in 2000, but stayed in Kansas City when the Wizards exercised his option.
Kansas City would like to keep him, general manager Curt Johnson said.
"He's been one of the pillars of our team since 1999," Johnson said. "He's been a consistent performer, on and off the field."
After starting four games for the United States in the 1994 World Cup, Meola also had offers to play in Europe. But family concerns required him to stay in America, and MLS was scheduled to start up in 1995.
He tried out for the Jets, kicking off in several exhibition games, and appeared in the off-Broadway play "Tony and Tina's Wedding."
"The idea was to play two sports," he said. "Then in 1995, they made the decision to push (MLS) back a year, and that's where the problem was."
Meola played one season with the Long Island Rough Riders, winning a USISL Select League championship, before joining the MetroStars.
"It's been kind of a zigzag way to get where I wanted to go, but I got there," he said.
If he has to move on from Kansas City, Meola knows his age will be a concern. Still, goalkeepers can play at the highest level well into their 30s.
"When I was younger, I was a better athlete," said Meola, who made his debut with the national team in 1989 and last played for the United States in a 1-0 win over Mexico in 2002. "Now, I'm a better goalkeeper."
Meola, a theater major in college, said he wouldn't mind working as an analyst once his soccer career ends, but has ruled out an acting career.
He'd make one exception, though.
" 'The Sopranos,' he said. "I'd give up a Cup final for a guest shot on 'The Sopranos.'  "
Local journalism is essential.
Give directly to The Spokesman-Review's Northwest Passages community forums series -- which helps to offset the costs of several reporter and editor positions at the newspaper -- by using the easy options below. Gifts processed in this system are not tax deductible, but are predominately used to help meet the local financial requirements needed to receive national matching-grant funds.
Subscribe to the sports newsletter
Get the day's top sports headlines and breaking news delivered to your inbox by subscribing here.
---