Sports
McHale a real hands-on GM
Sun., May 9, 2004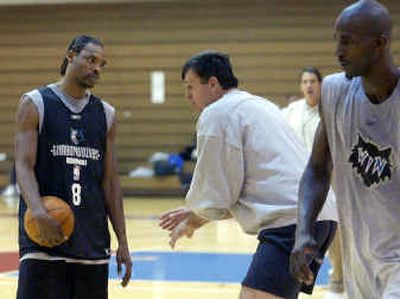 MINNEAPOLIS — After practice ended, Minnesota Timberwolves rookie Ndudi Ebi stayed on the floor to work on his perimeter moves.
His defender, Kevin McHale, had a hand in his face.
"What are you gonna do?" the Hall of Famer asked the young forward.
It's a common scene: The team's 46-year-old general manager and vice president of basketball operations, dressed in shorts and a sweat shirt, giving pointers to players like Ervin Johnson, Michael Olowokandi, Mark Madsen or Wally Szczerbiak.
McHale has a special affinity for helping younger guys like Ebi, the Wolves' first-round draft pick who came to the NBA right out of high school. He did the same nine years ago with another player trying to make the jump from high school to the pros: Kevin Garnett.
"I've played basketball my whole life," McHale said. "That's the one thing I do know. So if you can help a guy out with some things, you try to help him out."
McHale found quick success as a power forward for the Celtics. As a rookie reserve on a 1980-81 roster that included fellow Hall of Famers Larry Bird, Robert Parish and Nate Archibald, McHale won his first of three NBA championships in Boston.
But it's been a longer, tougher journey for McHale as an executive trying to turn the Timberwolves from perennial loser to No. 1 seed.
Following his retirement after 13 seasons as a player, the former University of Minnesota star became a special assistant for the Wolves in 1993. At that time, the franchise hadn't won more than 29 games in a season.
After a stint as assistant general manager, he was promoted to vice president in 1995. That summer, he took a risk by making Garnett the fifth overall pick in the draft and the first high school player in 20 years to jump to the NBA.
McHale took the skinny 19-year-old under his wing.
"There wasn't a day when I wasn't in there asking 100 questions and he was giving 100 answers," Garnett said. "He worked with me night in and night out."
In Garnett's second season, Minnesota made the playoffs for the first time — it was the first of seven straight first-round losses.
In 1997, McHale and owner Glen Taylor signed a 21-year-old Garnett to his record $126 million contract, which created a salary cap situation that made it tough to bring in better players to break the first-round jinx.
The team endured its roughest year in 2000 with the off-season death of guard Malik Sealy and the illegal deal for Joe Smith, an effort to sidestep the salary cap that landed McHale and Taylor suspensions and cost the team three first-round draft picks.
There was more criticism in 2001 for re-signing the mediocre Smith for $34 million.
McHale, who watches each home game from his seat a few rows above the scorer's table, makes no excuses.
"Hindsight, everything is so clear it's unbelievable," McHale said. "But in our business, you go through the windshield, you don't go through the rearview mirror, 'cause the rearview mirror is last year. I don't drive backward very often."
Not long after last year's first-round playoff loss to the Los Angeles Lakers, the criticism turned to praise when the team traded Smith and Anthony Peeler to Milwaukee for Sam Cassell and Johnson.
More deals followed: Latrell Sprewell in a multi-team trade that dumped the injured Terrell Brandon's hefty contract; free-agent acquisitions like Fred Hoiberg, Madsen and Trenton Hassell.
With Garnett surrounded by better players, the Wolves won a franchise-best 58 games, earned their first No. 1 seed in the playoffs and — yes — finally made it out of the first round.
When Garnett was chosen as this season's MVP, he credited McHale.
"The best thing about Kevin is he's patient," Garnett said. "He understands young people. He understands that there is room for error and mistakes."
McHale shrugged off the praise for the success of Garnett and the team.
"Players have the most control," he said. "You put them out there, you try to work with them and stuff like that but, you know, you only got so much control. It's a player's game."
Local journalism is essential.
Give directly to The Spokesman-Review's Northwest Passages community forums series -- which helps to offset the costs of several reporter and editor positions at the newspaper -- by using the easy options below. Gifts processed in this system are not tax deductible, but are predominately used to help meet the local financial requirements needed to receive national matching-grant funds.
Subscribe to the sports newsletter
Get the day's top sports headlines and breaking news delivered to your inbox by subscribing here.
---