Sports
Oberholser out front
Sun., May 9, 2004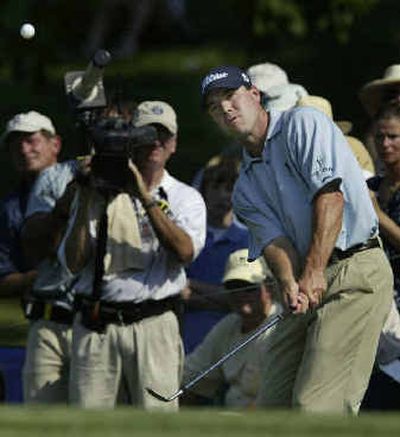 The view from the top looks much better to Arron Oberholser.
With a 20-foot eagle to jump-start his back nine, Oberholser surged past a pack of contenders and left struggling Tiger Woods far behind by posting a 4-under 68, giving him a one-shot lead in the Wachovia Championship in Charlotte, N.C., and another chance to win his first PGA Tour event.
Despite a three-putt bogey on the 18th hole, Oberholser survived a crazy afternoon at Quail Hollow and finished at 11-under 205, the second time this year he has gone into the final round with a chance to win.
The other occasion was at Pebble Beach, only the circumstances were much different. He was tied with Vijay Singh, the hottest player in golf, and struggled to a 76.
This time, the 29-year-old Oberholser has the lead to himself and will play in the final group with Geoff Ogilvy of Australia, who matched the best round of the steamy afternoon with a 6-under 66 and was at 206.
Notah Begay, coming off two years of injuries and four missed cuts, reversed his fortunes with four birdies and two great pars over the final six holes for a 69 and also was only one shot behind.
"One thing I learned playing with Vijay is you can hit bad shots and still be under par," Oberholser said. "I'm just going to play the golf course. If someone comes out of the pack and grabs me, so be it. Once you start playing the man, you're a dead man."
In this case, it would be men.
There were 20 players within six shots of the lead, and Saturday showed anything can happen if players are not on top of their game at Quail Hollow. No one suffered quite like Woods, who hit two balls in the water, five tee shots into the trees and was lucky to escape with a 75, leaving him five shots back.
LPGA
A swirling wind made par a good score on the River Course at Kingsmill, leaving the tournament wide open for the final round.
Second-round leader Kim Williams lost a four-stroke lead in the first 11 holes, while Cristie Kerr and Lorena Ochoa moved to the front at 7-under 206 after three rounds of the LPGA Michelob Ultra Open in Williamsburg, Va.
Kerr shot a 70 and Ochoa had her second straight 68, a round she preserved with a winding 40-foot putt for par on the par-4 18th.
"I am going to sleep much better now with that stroke," Ochoa said.
Kerr and Ochoa accounted for two of only five rounds under par on the 6,270-yard course.
Teenage sensation Michelle Wie struggled with her accuracy, but she repeatedly showed a deft touch around the greens and battled for a 2-over 73 with four bogeys and two birdies. She was six back in a tie for 16th at 1-under 212.
"Today it was kind of an adventurous fun, (like) you are living life on the edge," the 14-year-old said of her scrambling performance.
"It's like saving yourself from the mouth of an alligator every time, and it's pretty fun."
Christina Kim shot a 73 and was two off the lead at 5-under 208. Williams (78) and Jennifer Rosales (73) were three shots back.
Rosales won for the first time in her career last week.
Contenders also included Hall of Famer Juli Inkster and Se Ri Pak, who were both four back at 3 under, and Annika Sorenstam, another shot off the pace.
Champions Tour
Bob Charles, trying to become the oldest winner in Champions Tour history, shot a 2-under 70 for a share of the second-round lead in the FedEx Kinko's Classic in Austin, Texas.
The 68-year-old New Zealander matched Wayne Levi and Zimbabwe's Mark McNulty at 5-under 139 on The Hills course.
Mike Fetchick is the oldest winner in the history of the 50-and-over circuit, taking the 1985 Hilton Head Seniors Invitational at 63.
Levi and McNulty shot 71s.
Local journalism is essential.
Give directly to The Spokesman-Review's Northwest Passages community forums series -- which helps to offset the costs of several reporter and editor positions at the newspaper -- by using the easy options below. Gifts processed in this system are not tax deductible, but are predominately used to help meet the local financial requirements needed to receive national matching-grant funds.
Subscribe to the sports newsletter
Get the day's top sports headlines and breaking news delivered to your inbox by subscribing here.
---