News > Features
Make sure play sets ready for summer fun
Mon., May 10, 2004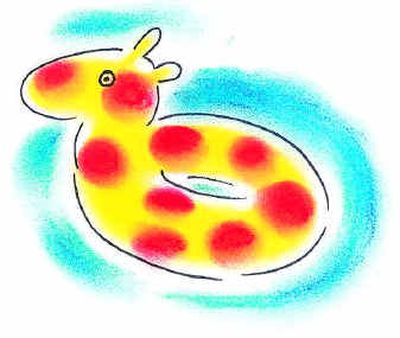 Warmer weather means more kids on the playground. If you have a backyard play set or are thinking of buying one, here are tips on being safe and staying out of the emergency rooms, according to the U.S. Consumer Product Safety Commission and Swing-N-Slide, a manufacturer of consumer play set equipment.
• P — Parents need to supervise children at all times.
• L — Lumber sturdiness is a key component to a strong play set.
• A — Age-appropriate play activities and accessories are important. Change pieces as your child grows.
• Y — Yard space should be considered when selecting a play set. There should be a minimum of six feet around the playing area.
• S — Shock-absorbing material is an important safety feature. Use wood mulch, wood chips, sand or fine gravel. Dirt and grass are not adequate. Proper depth varies from 9 to 12 inches, depending on the type of material.
• E — Ensure that the play set you choose does not have spaces measuring between 3.5 and 9 inches. Such spaces could trap a child. Frequently check for proper anchoring, tighten loose fasteners, and check chains, ropes and hardware.
• T — Teach your children proper behavior, including never running in front or behind someone swinging, taking turns, drying off wet equipment and no shoving or rough play.
Water safety
It's almost time for swimming, and Coppertone has come up with some water safety tips for parents:
• Never leave children unattended near water. Teach them to swim early, but never let them swim alone.
• Avoid sunburn by dressing children in sun protective clothing, a hat and sunglasses, and apply sunscreen on all exposed areas.
• Limit sun exposure between 10 a.m. and 4 p.m. This is when the sun's UV rays are the strongest.
• Tell children to follow the "Shadow Rule." If their shadow is shorter than they are, the sun's damaging rays are at their strongest, and they are at greater risk for sunburn.
• During trips to the beach, remind children that they should always tell a parent or guardian where they are.
Art contest
A national art contest for kids in grades 1 through 5 is being held to celebrate the 75th anniversary of The American Academy of Pediatrics. All art must be original and pertain to children's health and safety topics or their positive experiences with their pediatrician. The top three winners will win cash prizes of equal amounts ranging from $200 to $500 for themselves and their schools.
To enter, children should send an original piece of art to: American Academy of Pediatrics, National Art Contest, Communications, 141 Northwest Point Blvd., Elk Grove Village, IL 60007. For an entry form and contest rules, visit www.aap.org/new/artcontest/ 75artcontest.htm.
Local journalism is essential.
Give directly to The Spokesman-Review's Northwest Passages community forums series -- which helps to offset the costs of several reporter and editor positions at the newspaper -- by using the easy options below. Gifts processed in this system are not tax deductible, but are predominately used to help meet the local financial requirements needed to receive national matching-grant funds.
Subscribe to the Coronavirus newsletter
Get the day's latest Coronavirus news delivered to your inbox by subscribing to our newsletter.
---