Sports
Mariners stumble, tumble
Mon., May 10, 2004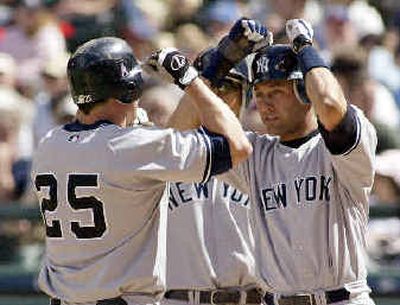 SEATTLE – The standings are as disturbing to the Seattle Mariners as their latest loss.
Already 9½ games out of first place in their division, the Mariners leave today on a week-long road trip to Minnesota and New York wondering just where they're headed.
On the verge of a victory Sunday that would have finished a two-of-three series victory over the New York Yankees and given the Mariners five victories in their last six games, they lost a six-run lead and a 7-6 decision to the Yankees at Safeco Field.
Instead of riding the momentum of three straight series victories, the Mariners are answering the same questions that have existed since the first week of the season.
Is this really a team that has added the players who can make a run at a playoff berth? Or are the Mariners destined to look like an aging, sluggish team that can't keep up with the streaking Anaheim Angels in the American League West?
"We can't concern ourselves with those guys," manager Bob Melvin said. "We have to concern ourselves with what's happening right here. We had an opportunity to win our third series in a row and we didn't get it done."
One loss among 19 for the Mariners this season, this was perhaps the most agonizing in the way they fell apart.
The Mariners led 6-0 with a six-run burst in the second inning, then fell silent offensively as the Yankees used their home run strength to beat them.
Alex Rodriguez hit a solo home run off Jamie Moyer in the third inning, making it 6-1.
Jason Giambi hit a three-run homer off Moyer in the sixth, 6-4.
Derek Jeter drove a two-run homer over the center field fence off Julio Mateo in the seventh, tying it at 6-6.
And the Yankees pounced on a still-not-ready Rafael Soriano in the eighth, using a walk to Rodriguez, a single by Giambi, a fielder's choice grounder and Hideki Matsui's sacrifice fly to score the winning run.
"It looked good early and we didn't get it done," Melvin said.
The Mariners went 3-3 on the homestand and lost three games to the division-leading Angels, who won their ninth straight Sunday.
"Right now, we're more concerned about us," Melvin said.
There's a lot to be concerned about.
The offense broke out for its biggest inning of the season when the M's batted around and scored six runs in the second off Yankees starter Donovan Osborne. Jolbert Cabrera drove in two runs with a double, Rich Aurilia knocked in a run with a single and Dan Wilson hit a three-run homer.
Then the Yankees changed pitchers and the Mariners shut down.
Relievers Bret Prinz, Gabe White, Paul Quantrill, Tom Gordon and Mariano Rivera limited the Mariners to two hits and just three baserunners the rest of the game.
"Typically, you're happy with six runs," Melvin said. "But if you score six runs in one inning and you get nothing after that, it's frustrating."
Melvin said the Mariners needed to play pile-on. The Yankees did it to them.
Jamie Moyer, winless since April 17 despite strong outings in his last two starts, had the Yankees flailing at his assortment of location and speed changes. However, the Yankees got themselves back into the game with the homers by Rodriguez and Giambi.
Mateo and Soriano, two young pitchers thrust into key roles in the bullpen, failed.
Mateo tried to throw an inside-corner fastball past Jeter and he crushed it over the center field fence for a two-run homer the tied the score.
"We've been throwing inside all series," Mateo said. "That's what he was looking for."
Pitching coach Bryan Price said Mateo's heart wasn't in the fastball, and he should have thrown another pitch – a slider – he had faith would get Jeter out.
"When you feel real good about the pitch you're going to throw, you'll execute," Price said. "When you don't, when you have any doubt, you're more tentative in the way you throw it. Like anything you do in life, if you anticipate something good will happen, the odds go way up in your favor."
Right now, the Mariners aren't certain what to anticipate.
Soriano, still not 100 percent after a spring training injury and a stint in the minor leagues to build his arm strength, started the eighth inning with a walk to Rodriguez, who scored on Matsui's sacrifice fly.
Game over.
"We're trying," Aurilia said. "What can you say? We played better this homestand. Hopefully, it'll turn pretty soon."
Boone still ailing
Bret Boone relented without much argument three days ago when manager Bob Melvin gave him a day off to rest his sore back.
"He didn't put up much of a fight," Melvin said. "But he did say, 'We can't win without me.' "
Well, the Mariners did win that game without Boone, but they have lost the two he's played since. And Sunday, his still-tender back may have been a factor.
His soft relay throw to first base on a potential double play allowed Gary Sheffield to reach safely and set up a first-and-third, one-out situation for the Yankees in the eighth inning of a tie game.
One batter later, the Yankees scored the go-ahead run when Hideki Matsui hit a sacrifice fly to left field that drove home Alex Rodriguez.
Boone said his back problem wasn't a factor in his late lob to first base, but he admitted he wasn't playing at full strength.
"Nothing bothered me. I got rid of it as quick as I could. It was bang-bang," Boone said. "I wish I had a better excuse, but I'm at the end of my back problems. After the day off (today) I'll be 100 percent by Tuesday."
Boone also went 0 for 4 with two strikeouts, and he finished the series 1 for 9 as his batting average tumbled to .244.
Melvin also said Boone's back wasn't a factor in his performance Sunday.
Where's the power?
A team without a true power hitter, the Mariners depend on a collective effort from the heart of their lineup to produce home runs.
They went into the season believing Bret Boone wound hit about 30 home runs and guys like Raul Ibanez, Scott Spiezio, Edgar Martinez Rich Aurilia and John Olerud would add 15-20 apiece.
After 31 games, Ibanez and Boone lead the team with six homers each.
Sunday's attendance of 46,589 passed Friday night's for the all-time Safeco Field record.
The Mariners drew 139,534 for the weekend, a stadium record for a three-game series.
– Larry LaRue of the Tacoma News Tribune contributed to this report.
Local journalism is essential.
Give directly to The Spokesman-Review's Northwest Passages community forums series -- which helps to offset the costs of several reporter and editor positions at the newspaper -- by using the easy options below. Gifts processed in this system are not tax deductible, but are predominately used to help meet the local financial requirements needed to receive national matching-grant funds.
Subscribe to the sports newsletter
Get the day's top sports headlines and breaking news delivered to your inbox by subscribing here.
---