News > Spokane
Search for body continues
Wed., May 12, 2004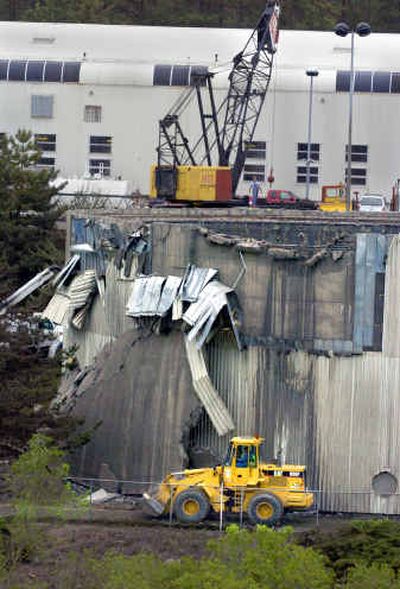 Rescue workers continued the grim search Tuesday for a man missing in the collapse Monday of a sewage tank roof at the Spokane Wastewater Treatment Plant.
Fire Chief Bobby Williams identified the missing man as Mike Cmos Jr., a plant maintenance mechanic with 24 years on the job. Officials fear he may have fallen into the 40-foot-tall digester tank when the roof separated from the walls of the tank.
The roof fell inside the tank, causing as much as 200,000 gallons of slurrylike waste to spill onto the ground. An undetermined amount drained into the Spokane River in northwest Spokane, but officials said Tuesday there is no risk to human health.
The city, in conjunction with other agencies, launched an investigation into the cause of the accident, which occurred about 3 p.m.
Plant workers went to the tank after being alerted that pressure was building inside of it, and one of the workers reported that sewage was leaking from a vent at the top of the tank just before the roof broke free and collapsed, said Roger Flint, the city's director of public works and utilities. He said overfilling of the tank is being looked at as a possible cause of the accident.
Another worker, Dan Evans, a wastewater maintenance mechanic with 28 years on the job, remained in the intensive care unit at Sacred Heart Medical Center Tuesday. Joel Evans, 20, the injured man's son, said his father has a fractured pelvis, with injuries to his ribs and lungs.
Two other workers suffered minor injuries. Larry Michaels, a wastewater plant operator with 24 years of experience, was taken to Deaconess Medical Center Monday afternoon and later released, Williams said. Tim Pelton, a supervisor with 30 years as a city employee, also suffered minor injuries.
A fifth worker, Jim Rowe, a safety captain at the plant, also responded to the problem in the digester before the accident, but was not injured, city workers said.
A choked-up Mayor Jim West appeared at a late morning news conference Tuesday. At one point, he called for a moment of silence and then offered a prayer for the employees and families affected by the accident.
"Today is a tragic day for the city of Spokane," West said. "One of our employees remains missing. We are continuing to search for him, and we will continue to search for him until we find him."
The mayor said city employees were dealing with the accident like a family in tragedy. He thanked the emergency crews and government officials who responded to the incident. "I hope the city will stand by us as we work through this."
West said he had already met with the relatives of Cmos and Evans. Grief counselors were called in by the city to help workers deal with the accident. Spokane Police chaplain Ron Alter met with Cmos' family Monday and Tuesday. Cmos has a wife and one daughter. A man at the family's home said they wouldn't talk until Cmos is recovered.
"They are just waiting to find some news — any news, and keeping hope," Alter said. "They don't have any closure when they don't know."
On Tuesday, workers at the plant reacted with a mix of tears and determination, Alter said. "Some people are still in denial. They are taking it hard but trying to cope and do their work. A lot of them are feeling very lucky," Alter said.
The city has 73 budgeted positions at the wastewater plant, plus another 66 employees in sewer maintenance. Joe Cavanaugh, president of Local 270, said about 45 workers are employed in the day-to-day operations of the plant.
Cavanaugh described plant workers as a close-knit group, many of whom have worked there for 20 years or more. "All of them are very seasoned, experienced people," said Cavanaugh, whose union represents four of the five workers involved in the accident.
"They have always been extremely safety conscious out there," he said, adding the union did not have any pending concerns about safety at the plant.
"The one (worker) who was missing was a hell of a nice man, a good worker, a pleasure to be around," Cavanaugh said.
Lars Morgan, a laborer at the plant and friend of Mike Cmos, said workers were feeling everything from anger, to sorrow, "to almost defeat."
"This was something that was unforeseen, such a freak thing," Morgan said. "Had there been any sense of danger about this happening, not Mike or anybody else would have even been around that digester. It was just a sudden event."
Morgan described his friend as a "quintessential family man" who loved to fish and play guitar. He had just spent two weeks with his family at their property on Bead Lake.
He also loved to make home-brewed beer.
"He won second place in the first annual Coeur d'Alene Home Brewing contest. He was so proud of that," Morgan said. "He's got a little certificate hanging up on his locker. It's still there."
Joel Evans, the grown son of Dan Evans, said his father wasn't able to talk on Tuesday, but had been writing short notes to family and friends.
On Tuesday, Joel Evans wore a religious necklace that his father was wearing during the accident, and planned to spend the night in a chair at his bedside.
Dan Evans is a youth baseball coach. The family has been planning its traditional outing to Sullivan Lake over Memorial Day weekend.
"He's very stable and getting stronger," Joel Evans said.
Treatment plant operator Michaels got off the roof about two minutes before its collapse, and escaped with scrapes and bruises, said his wife, Debbie Michaels. He is taking antibiotics to prevent possible infection to his wounds from the sludge that covered his clothing and body, she said.
"I honestly don't believe he would have risked his life going up there if he thought there were safety concerns," she said, adding he will be a key source in the investigation. "He'll have some stress from this. He'll have to sort through his feelings."
"One of my jobs was to go through his clothes and wallet," she said. "I threw everything away that wasn't plastic and able to be cleaned. His watch, clothes, shoes — all that wasn't worth saving."
The state Department of Labor and Industries, the federal Occupational Safety and Health Administration and the Washington Industrial Safety and Health Administration were joining the Fire Department for an investigation at the plant on Aubrey White Parkway, Williams said.
The accident occurred as workers were moving sewage sludge from digester tank No. 2 to tank No. 3, in order to perform routine maintenance on tank No. 2, Flint said. Apparently, the sewage reached the top of tank No. 3, and a combination of foam floating on the sewage and methane gas from processing caused enough pressure at the top of the tank to lift the roof upward, Flint said.
The pressure caused a seal around the top of the tank to break, which apparently created the loud noise reported by witnesses, officials said. "The roof basically fell down into the tank," Flint said.
Morgan said Cmos was on stairs atop the lid when it collapsed.
Sewage remaining in the 2-million-gallon tank was being pumped out Tuesday at a rate of about 1.5 feet per hour; by late Tuesday afternoon, several pieces of the roof were showing above about two feet of remaining sewage, a city spokeswoman said.
Rescuers planned to remove pieces of the broken roof with a crane and search for Cmos, officials said. Williams said the recovery would be done carefully so that no one else gets hurt.
The 44-million-gallon-a-day plant was returning to normal operations Tuesday, Flint said.
"There's nothing that people need to do differently. We can handle the capacity. This occurred in a redundant system" where only two of three digesters are used at one time, Flint added.
A team of city engineers and consulting engineers from CH2M Hill Inc. started work Tuesday to assess the extent of damage and how it might be repaired.
The collapsing roof threw a wave of sewage. Emergency crews were not able to lay containment devices around the spill Monday because they initially feared the damaged tank might collapse, Williams said.
But the accident didn't turn out to be the environmental disaster that some initially feared. An estimated 200,000 gallons were ejected — spewing foul-smelling sludge the consistency of thin mud down a steep bank. Some of the sewage went into the fast-flowing river.
"Only about 10 percent of the contents may have come out — mostly to the ground," said Williams.
On Tuesday, as a precaution, the Spokane Regional Health District was posting signs along the river warning people not to come into contact with the water. Despite that health advisory, which is in effect through Friday, Flint said it appeared "the public isn't at any risk."
However, if anyone gets the thick sewage sludge on their hands or shoes, they should immediately clean up to avoid pathogens in the sewage, Williams said. Cleanup can be done with a disinfectant made with a solution of one part bleach to 10 parts water, he said.
At Tuesday's press briefing, city officials said they'll monitor air around the plant for any possible methane emissions, although none had been detected so far. Methane, produced during the anaerobic decomposition of sewage and manures, can pose a severe fire and explosion hazard upon contact with air.
Health officials also will monitor water quality. Initial samples were taken Tuesday, but results would be unavailable for 24 hours, officials said.
The Washington Department of Ecology oversees the plant's discharge permit, which sets limits for the amounts of treated sewage it can put into the river.
"They have a really good compliance record. There have been no major problems," said Ecology spokeswoman Jani Gilbert.
But now, with one of three digesters out of service, Ecology is asking whether the plant can continue to operate within its permit limits and how it will continue to handle and treat solids, Gilbert said.
A spokeswoman for the state Department of Labor and Industries said the agency last inspected the sewage plant in 2001.
"Nothing serious was found," said spokeswoman Elaine Fischer. "If we had any (complaints) since then, we would have investigated."
Investigators from the agency visited the site Monday and will continue to examine possible safety and health failures related to the accident. The investigators have up to six months to issue the report. The agency can issue citations and penalties if significant violations are found, Fischer said. The agency can fine a business up to $70,000 per violation, if the employer intentionally violated health or safety rules.
Local journalism is essential.
Give directly to The Spokesman-Review's Northwest Passages community forums series -- which helps to offset the costs of several reporter and editor positions at the newspaper -- by using the easy options below. Gifts processed in this system are not tax deductible, but are predominately used to help meet the local financial requirements needed to receive national matching-grant funds.
Subscribe to the Coronavirus newsletter
Get the day's latest Coronavirus news delivered to your inbox by subscribing to our newsletter.
---