Sports
Briefly
Thu., May 13, 2004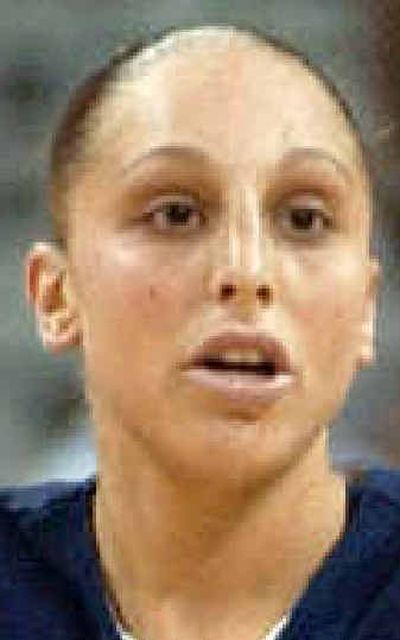 Women's Olympic basketball team adds Taurasi, Cash
First she led Connecticut to a third straight NCAA championship, then she was first player taken in the WNBA draft. Now, to top it off, Diana Taurasi is going to the Olympics.
Even for someone as accomplished as Taurasi, that's a lot to cram into five weeks.
Taurasi reflected on all that has happened after the announcement Wednesday that she and former Connecticut teammate Swin Cash were added to the U.S. women's basketball team that will compete in Athens this summer.
"The last five weeks have been crazy," Taurasi said. "I've enjoyed it. You can look at it both ways. You can think, 'Man, it's so frustrating, you never have any time for yourself.'
"But I may never have this opportunity again, so you have to look at it as a positive. All these things are here for a reason. I'm going to take advantage of them."
With Taurasi and Cash on the roster, one spot remains on the 12-member team. That position will be filled by a post player, said Renee Brown, who chairs the USA Basketball selection committee.
College Football
ACC makes deal with ABC, ESPN
The Atlantic Coast Conference announced a new, seven-year television deal for football with ABC and ESPN, beginning in the fall. While none of the parties would discuss specifics of the deal, ACC commissioner John Swofford acknowledged from Amelia Island, Fla., that it would nearly double the average of about $21 million a year under the old contract. The New York Times and USA Today reported it was worth $258 million, or an average of about $37.6 million a year.
• Former Washington head football coach Jim Lambright underwent successful surgery at the University of Washington Medical Center at Seattle, to remove his bladder and prostate gland. Lambright had been diagnosed with bladder cancer.
According to his surgeon, Dr. William Ellis, Lambright's surgery was successful and went as expected. He is currently in stable condition. Lambright will remain in the hospital for the next seven to 10 days.
College Basketball
Harvey accused of paying player
At Columbia, Mo., Tony Harvey, the suspended top assistant to Missouri basketball coach Quin Snyder, confirmed he is accused by the NCAA of giving former player Ricky Clemons $250, an allegation he denies.
"I have not given Ricky any money, period," Harvey told the Associated Press in a telephone interview.
Harvey, 37, confirmed that Snyder suspended him with pay until the NCAA proceedings, which could last into the fall, are finished.
The NCAA alleged members of the Missouri basketball staff repeatedly broke its rules. The university blacked out names of employees before releasing the 19-page notice of allegations on Tuesday.
But Harvey acknowledged he was accused of giving cash to Clemons, a troubled point guard who played one season at Missouri before being kicked off the team last summer amid personal legal problems.
Harvey said he found the allegation "amazing," since "I never recruited Clemons. I didn't have anything to do with him."
• The mother of slain Baylor basketball player Patrick Dennehy has resolved "potential claims" with the school and will not sue, university officials said.
Soccer
United States ties highest ranking
At Zurich, Switzerland, the United States tied an all-time high by moving up to eighth place in the FIFA world rankings. The U.S. team moved up three spots to reach the ranking first achieved in September 2002.
• Cameroon is in danger of missing the 2006 World Cup after soccer's governing body upheld a penalty for the team wearing bodysuit uniforms. FIFA fined Cameroon $155,000 in April for wearing the one-piece uniforms during the African Cup of Nations earlier this year. It also penalized Cameroon six points in the second round of African qualifying for the World Cup.
Tennis
Clijsters, Fish, Kafelnikov withdraw
Kim Clijsters withdrew from the French Open in Paris, because of a lingering left wrist injury. In a brief statement, the tournament said the Belgian's spot in the draw will go to Catalina Castano of Colombia.
Other withdrawals announced Wednesday: 1996 French Open champion Yevgeny Kafelnikov and U.S. Davis Cup player Mardy Fish.
Kafelnikov will be replaced in the field by two-time Roland Garros finalist Alex Corretja, and Fish's spot goes to Greg Rusedski.
• Fifth-seeded Jennifer Capriati beat Venezuela's Maria Vento-Kabchi 6-2, 6-1 at the Italian Open in Rome. No. 2 Amelie Mauresmo defeated childhood rival Nathalie Dechy 7-5, 6-3.
Sports business
Kansas City could get NBA, NHL
A Los Angeles-based company plans to invest $50 million to build a new downtown arena, and hopes to bring an NBA or NHL team to Kansas City.
"I can assure you that there will be an anchor tenant," Timothy Leiweke, vice president of the Anschutz Entertainment Group, said. "We have had conversations specifically with those leagues' franchises. I don't think there's a better time to get involved with a National Hockey League team than now."
The company is controlled by Philip Anschutz, a Denver billionaire who owns the Los Angeles Kings and several teams in Major League Soccer. Anschutz also owns part of the Los Angeles Lakers.
Sports people
American long distance runner Bob Kennedy announced he will make his marathon debut at the New York City Marathon on Nov. 7. The 33-year-old, who already has American records in the 3,000 and 5,000 meters, will attempt to qualify for his third Olympics later this summer in the 10,000. . . . Dale Meinert, a linebacker for the St. Louis Cardinals in the 1960s, died after a long battle with Alzheimer's disease. He was 70.
Local journalism is essential.
Give directly to The Spokesman-Review's Northwest Passages community forums series -- which helps to offset the costs of several reporter and editor positions at the newspaper -- by using the easy options below. Gifts processed in this system are not tax deductible, but are predominately used to help meet the local financial requirements needed to receive national matching-grant funds.
Subscribe to the sports newsletter
Get the day's top sports headlines and breaking news delivered to your inbox by subscribing here.
---