News > Features
Freuen's latest take new shape
Thu., May 13, 2004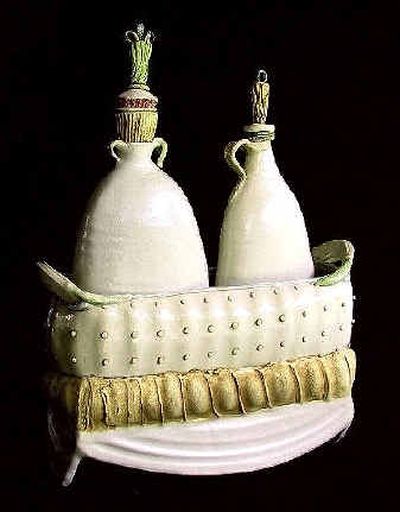 For the past two years ceramist Gina Freuen has been showing mostly wood-fired porcelain pieces that relied heavily on the chance environment of the kiln and ash to produce distinctive surface qualities.
But people kept saying: "You aren't quitting your other work, are you?"
Freuen collectors can relax. Her latest pieces in "New Works in Clay," opening Friday at the Art Spirit Gallery in Coeur d'Alene, are her signature, highly recognizable, hand-built pieces with rich, creamy pastel finishes.
"Basically this is a show of what I've always done," says Freuen, "but with some new forms."
What she has always done are imaginative, one-of-a-kind porcelain teapots, water vessels, service bowls and large vases. To those forms she has added hanging planters and trays with sets of bottles or cups.
Returning also are Freuen's uniquely textured surfaces with a mix of flat, matte and shiny finishes.
"While my forms appear utilitarian," she says, "their shapes have been stretched and twisted by fantasy that usually brings a smile to those who view, handle or use them."
The Art Spirit Gallery, 415 Sherman Ave., is one of seven galleries having receptions from 5 to 8 p.m. as part of the Second Friday Art Walk in Coeur d'Alene.
Freuen will give a free porcelain hand-building demonstration at the gallery on Saturday from 11 a.m. to 2 p.m. The exhibit runs through May 8.
More Second Friday galleries
Erlendson Art Glass and Coffee House is among the other Coeur d'Alene galleries in the Second Friday Art Walk. The gallery, 116 E. Lakeside Ave., features regular glass-blowing demonstrations by owner Spencer Erlendson.
The Devin Galleries,507 Sherman Ave., is showing "Impressions," with the paintings of Anna Good. "Join us for an evening of fine art and wine," says owner Skip Peterson.
Other galleries that will be open include: Angel Antiques and Art, 119 N. Fourth St.; Frame of Mind Gallery, 119 N. Second St.; Painter's Chair Fine Art Gallery, 223 Sherman Ave.; and Timber Stand Gallery, 210 Sherman Ave. in the Coeur d'Alene Plaza Shops.
Participating downtown businesses include All Things Irish, Christmas at the Lake, Galleria Bead and Trade, J.D. Gray's Jewelry and Worthington's Fine Antiques, No Moose Left Behind Public Art Project, Crickets Steakhouse, Java on Sherman, Iron Horse, Wild Bill's Cookhouse and The Wine Cellar.
Visiting artist Scott Fife
Seattle artist Scott Fife comes to Spokane next week as the final speaker in the 2003-04 Visiting Artist Lecture Series, "The Poetics of Everyday Life."
The series is focusing on contemporary artists who work with common, everyday items and turn them into some sort of metaphor.
The first speaker, Charles Krafft from Seattle, spoke in November about his Delft-decorated porcelain armaments. In February, Mexico City artist Gabriel Kuri discussed his use of ordinary materials for their physical properties as well as their symbolism.
Fife is renowned for trompe l'oeil constructions made from archival cardboard. His recent works are enormous heads taken from historical figures, set on pedestals, resting upright or on their sides.
"They are beautifully made and have an instantly ironic and iconic presence, reminiscent of the fallen monuments of the post-glasnost period," said Eastern Washington University art professor Lanny DeVuono.
Fife, born in Moscow, Idaho, has had his work shown in galleries across the United States and in Europe. In the early 1980s, he worked in Berlin with internationally known assemblage artists Edward and Nancy Reddin Kienholz of Hope, Idaho.
"Scott's art is an amazing combination of playfulness, irony and hard-core craftsmanship," said DeVuono. "His work has a very similar aesthetic as the Kienholzes, a lot of nuts and bolts and sweat on the craftsman side and the ability to turn these highly crafted objects into something funny, poetic, thoughtful."
Fife will speak at three free events: Tuesday at noon in the Eastern Washington University Art Building Auditorium, in the center of the fine and performing arts complex on the Cheney campus at Seventh and I streets; Wednesday at 11:30 a.m. in Spartan Theater on the Spokane Falls Community College campus, 3410 Fort George Wright Drive; and May 25 at 7 p.m. in the Northwest Museum of Arts and Culture auditorium, 2316 W. First Ave.
EWU's BFA exhibition
Seven Bachelor of Fine Arts candidates are showing their work in "Art—Compare to National Brand: 2004 EWU BFA Senior Exhibition" at the Eastern Washington University Gallery of Art.
The exhibit, opening Friday, features a variety of media and styles. Participating artists include Michal Borley, David Gross, Michael McCarthy, Deanna Moore, Rachel Morrison, Adam Starr and Chris Tyllia.
Borley's acrylic-on-board paintings pay homage to television shows from his childhood. McCarthy creates installation pieces that attempt to draw the viewer into the piece as a participant rather than just passively observing it. Morrison combines painted collage with simple images to create visually interesting statements. Starr's work is influenced by Christian art, and Tyllia's paintings involve oil wash on wood.
Meet the artists Friday at a reception from 6 to 8 p.m. in the gallery. The exhibition will be up through June 4 in the Art Building at Seventh and I streets in Cheney. The free gallery is open to the public weekdays between 9 a.m. and 5 p.m.
Pastels at Grant Gallery
Passionate About Pastels, a group of "seven spirits with one passion," is staging its spring show at the William Grant Gallery beginning Saturday.
The Inland Northwest pastelists have painted dozens of florals, landscapes, songbirds, still lifes and portraits. There will be paintings by Bev Blumel, Ethelynn Coleman, Irene Dahl, Dela Favaro, Thelma Giampietri, Barbara Hamann and Shari May.
An artists' reception is Saturday between noon and 4 p.m. at the gallery, 820 W. Francis Ave. View the work through June 14 from 9 a.m. to 6 p.m. Monday through Friday and from 9 a.m. to 4 p.m. on Saturday.
'Celebrating Colville'
"Celebrating Colville" at the Colville Arts Foundation Gallery "celebrates the beauty of this historic Inland Northwest town, its people and surrounding natural environment," said gallery program director Gloria de los Santos in a news release.
It includes photographs by de los Santos and Brandi Pinkham; paintings by Gary Belcher, Violet Collen, Ruth Lindner and Dezana Rossman; papier mache objects by Tracy Delyea; and wood-fired pottery by Jane Koelle.
Other work includes drawings, photographs and acrylic paintings by Rachel Hill, Ukrainian eggs and photographs by Chrisinda Bowlin and watercolors and greeting cards by Jennifer Sather. Also on display are historic photographs, artifacts and paintings from the Keller Heritage Center. Curator Elva Bryan was instrumental in selecting Leno Prestini's dramatic paintings of the region from the 1960s.
The show is up through June 5. New gallery hours are Tuesday, Wednesday and Friday from 11 a.m. to 5:30 p.m., and Saturday from 10 a.m. to 2 p.m.
Other galleries
• Designer Glass, owned by artists Melissa Cole and Kim Saenz, is having a grand re-opening Friday between 4 and 8 p.m. in its new location, 111 N. Vista St., Building 4AA in the Spokane Valley.
• Curley Youpee, cultural director for the Fort Peck Assiniboine Tribe in Montana, will give a presentation Saturday at 4 p.m. in the Walter Gallery at the Northwest Museum of Arts and Culture.
Youpee helped select cultural objects on display with the "Portraits of a People: Karl Bodmer and the Plains Indians" exhibit at the MAC. The lecture is included in the museum admission fee of $7 for adults and $5 for students and seniors.
• During May the Art Works Gallery in Sandpoint is featuring the pottery of Kathleen Cassidy, weaving of Sue Kohut and Lynn Piper, hand-crafted wooden boxes of James Andrews and jewelry of Jan Dobrowolski. The gallery is located at 309 N. First Ave. and is open from 10 a.m. to 5 p.m. daily.
• "Antiqua-Guatemala," an exhibit of Shannon Hickman's travel photographs, is on display through the end of May at the Liberty Café, adjacent to Auntie's Bookstore, 402 W. Main Ave.
Local journalism is essential.
Give directly to The Spokesman-Review's Northwest Passages community forums series -- which helps to offset the costs of several reporter and editor positions at the newspaper -- by using the easy options below. Gifts processed in this system are not tax deductible, but are predominately used to help meet the local financial requirements needed to receive national matching-grant funds.
Subscribe to the Coronavirus newsletter
Get the day's latest Coronavirus news delivered to your inbox by subscribing to our newsletter.
---