News > Features
Last call
Thu., May 13, 2004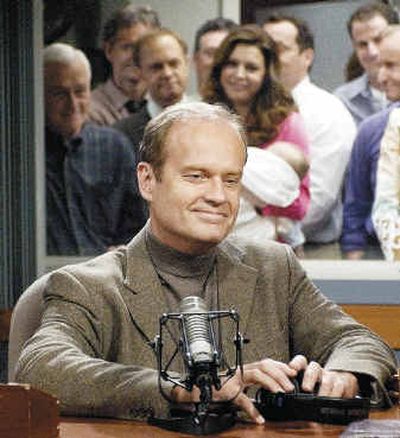 When the blue-collar barroom comedy "Cheers" ended its run in 1993, it managed the neat trick of turning beer into champagne. "Frasier," the "Cheers" spinoff about psychiatrist Frasier Crane and his dysfunctional family, became its own vintage blend of sparkling wit and dependably funny highbrow neuroses. The NBC comedy's last episode airs tonight, closing a remarkable 22-year chapter in television history in which it matched the 11-season run of "Cheers" and became one of TV's most successful spinoffs. Only the prime-time soap opera "Knots Landing," derived from "Dallas," lasted longer (14 seasons) — and it certainly couldn't boast of the record 31 Emmys, including five consecutive best comedy series awards, bestowed on "Frasier." It's an accomplishment a demanding sort like Dr. Crane would relish. Series star Kelsey Grammer certainly does. He believes "Frasier," with David Hyde Pierce as Frasier's brother and partner-in-repartee Niles, raised the TV bar.
"I'm proud of it. I have something I can look to, point out and say, 'Well, I did that,' " says Grammer. "There is an audience for these guys. We proved that. Most of America, frankly, is much smarter than television assumes they are."
There's no expectation that tonight's "Frasier" will draw the 80.4 million viewers who tuned in for the last "Cheers" — making it the second-most watched TV series finale ever — or even the 50 million-plus who watched last week's finale of "Friends." (The final episode of "M*A*S*H" was seen by 105 million viewers.)
"Frasier" is also lagging behind among advertisers, who paid up to $2 million for 30-second spots on the last "Friends" but reportedly are getting time on "Frasier" for $800,000, tops.
But those who are part of the show say it's going out in style.
"I feel the producers have been able to bring the whole series, for 11 years, to a really sterling conclusion," says Pierce.
"I'm very proud of that last episode," says series co-creator Peter Casey. "No matter how good the show, (critics) always seem to be waiting in the bulrushes on that final episode. And I just don't see how they're going to get us."
Created by "Cheers" alumni Casey, David Angell and David Lee, "Frasier" shoved Dr. Crane out of an unhappy marriage, off his Boston barstool and into a Seattle radio job as host of an advice show.
"I cannot call 'Frasier' a spinoff," says Pierce. "I know it is, but it seems to me that, from the beginning, it so stood on its own."
The series debuted Sept. 16, 1993. Effete, erudite Frasier's style was matched by fellow shrink Niles but clashed with dad Martin (John Mahoney), a down-to-earth, disabled policeman who ended up bunking with Frasier.
Others in the ensemble cast included Jane Leeves as Daphne, Martin's caregiver and the object of Niles' yearning, and Peri Gilpin as Frasier's sassy producer.
There was a succession of squeezes for Frasier. The latest flame is Charlotte, played by Laura Linney, who features prominently in tonight's finale. Now-married Niles and Daphne, awaiting the arrival of their baby, and Martin and fiancee Ronee (Wendie Malick) share the spotlight in an episode not-so-subtly promoted as "a birth, a wedding, and a new beginning." (Guest star Anthony LaPaglia also returns as Daphne's boozing brother, Simon.)
Why did viewers take to a spinoff in which an intellectual snob went from one of the "Cheers" barflies to the hero?
"He wasn't a cold intellectual," says co-creator Casey. "I can't say he never lorded it over people, because there were times that he did. But deep inside he was a good guy and his motives were usually pretty good."
Pierce credits Grammer's ability to make his character "continually interesting and surprising." Grammer won three best-actor Emmys for the role; Pierce received three supporting-actor Emmys.
Grammer's 20 combined years as Frasier Crane (he was introduced on "Cheers" in 1984, two years after the show began) puts him in the league of James Arness and his Marshal Matt Dillon on "Gunsmoke" (1955-75).
"Frasier is the most delightful character to play," Grammer says. "He has a rich emotional life, he has quirks that make him fun to play. … That's the adventure of a lifetime for any actor."
Even during periods in which critics complained the series was "arguably hitting some slumps, I always found him fascinating," he says.
Although the show's ratings flagged in recent seasons and never rivaled those of "Cheers," which aired during a time of less cable competition for networks, it was a key player for NBC.
"During the '90s, NBC captured the most desirable demos on television by appealing to young, urban, upscale viewers, the audience advertisers adore, with smart shows like 'Frasier,' " says Tim Brooks, co-author of "The Complete Directory to Prime Time Network and Cable TV Shows."
Added Brooks: "There's precious little of its stature for that audience on television right now."
With audiences favoring reality shows such as "The Apprentice" and "American Idol," and such other long-running sitcoms as "Friends" and "Sex in the City" gone, the state of TV comedy is at a low.
"Frasier" co-creator Casey suggests a variety of reasons, including too-green sitcom producers, but singles out one.
"My big complaint is that networks tend not to be patient enough to let a show find an audience," he says. "They expect a show to come out of the gate firing, and it doesn't happen. It certainly didn't in the case of 'Cheers.' They had a horrible first season, in terms of ratings, but they lasted 11 years, didn't they?"
Its stars and producers say "Frasier" is ending at the right time. (Casey notes that the series stands as the final credit for Angell, who along with his wife died in one of the planes that hit the World Trade Center on Sept. 11, 2001.)
"I always wanted to do 11 years, and we did 11," says Grammer. "I've never been arrogant, I've just been hopeful."
Local journalism is essential.
Give directly to The Spokesman-Review's Northwest Passages community forums series -- which helps to offset the costs of several reporter and editor positions at the newspaper -- by using the easy options below. Gifts processed in this system are not tax deductible, but are predominately used to help meet the local financial requirements needed to receive national matching-grant funds.
Subscribe to the Coronavirus newsletter
Get the day's latest Coronavirus news delivered to your inbox by subscribing to our newsletter.
---