Sports
Murphy homing in on state golf tournament
Thu., May 13, 2004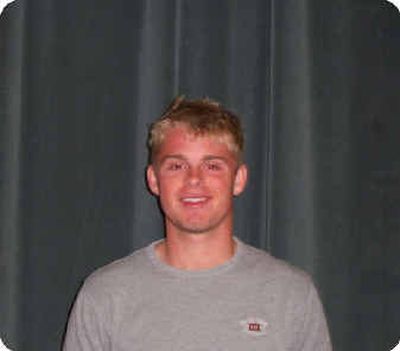 Lakeland golfer Casey Murphy said he likes to have fun.
If his 3-under-par 68 medalist round at Stoneridge in Blanchard Monday in the 3A District I tournament is any indication of things to come at state, he's going to have a quite a lot of fun.
And it just so happens that state will be held at that same golf course this coming Monday and Tuesday.
So the fun continues.
"I'm loving that state is only 30 minutes away," said Murphy, whose 3-under at Stoneridge matched his best round ever. "I can go over there and get to know the course even better than I do already.
"The day before districts I went out there and practiced and putted around to get a feel for the greens and it really helped — I'll probably go a couple of more times before state."
Murphy said he plays about six days a week and that one of the biggest factors in his improvement has been focusing more on the small things.
"I've just been working on my short game a lot more," Murphy said. "Basically not worrying as much about swing mechanics and just trying to get my rhythm going again.
"My swing is fine — I've just got to trust it."
It hasn't all been fun and golf, however.
Murphy, a junior who played at Gonzaga Prep as a freshman, transferred to Lakeland as a sophomore and was subsequently denied eligibility. After sitting out last season, he is ready for whatever competition the state has to throw at him.
"I wasn't happy about that," Murphy said of the Idaho High School Activities Association's decision, which came despite the fact that he lived in Rathdrum while attending G-Prep. "But I guess that's what happens sometimes.
"I've worked pretty hard this year even though I had to take last year off; I'm just trying to get better."
If there is a flaw in his game, he points to the big dog.
"Sometimes I get a little long in my backswing and my driver goes this way and that," Murphy said. "But I'm pretty good at scrambling, so usually I can do OK.
"I've gotten a lot better with my irons — just better ball-striking consistency."
He said he's already received letters from college recruiters, the most serious coming from the University of Minnesota.
Though he's interested in studying history, he said he'll more than likely stay in the world of golf — seeing how far his game will take him professionally or earning a teaching certificate.
"My grades are about average, so I need to pick it up," Murphy said of advancing to the next level scholastically. "Sometimes I get a little lazy. I like to have fun."
Local journalism is essential.
Give directly to The Spokesman-Review's Northwest Passages community forums series -- which helps to offset the costs of several reporter and editor positions at the newspaper -- by using the easy options below. Gifts processed in this system are not tax deductible, but are predominately used to help meet the local financial requirements needed to receive national matching-grant funds.
Subscribe to the sports newsletter
Get the day's top sports headlines and breaking news delivered to your inbox by subscribing here.
---