Sports
Posada out, nose broke on throw
Thu., May 13, 2004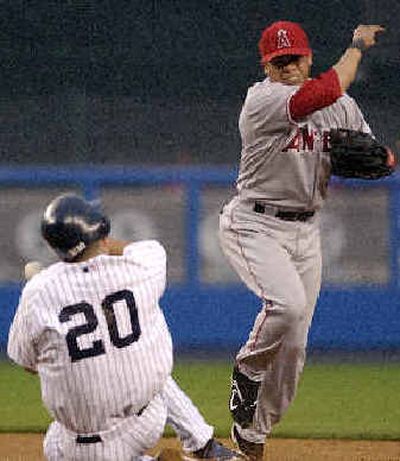 Yankees catcher Jorge Posada had surgery on his broken nose Wednesday night in Anaheim, Calif., after getting hit in the face with a throw while breaking up a double play.
Posada walked off the field under his own power and was taken to a hospital during New York's 11-2 loss to the Anaheim Angels. He had surgery to set his nose and is expected to miss at least three or four games. The Yankees don't think Posada will have to go on the disabled list.
"First indications are, he should be fine," manager Joe Torre said.
But the Yankees weren't happy with Anaheim rookie shortstop Alfredo Amezaga, who made the submarine relay that hit Posada in the face.
"I don't think he should have gone underneath like that. I thought he could have just gone over the top," Torre said. "I'm not saying he wanted to hurt him, but I thought it was unnecessary to do that."
Amezaga felt badly about the injury and said he'd like to apologize to Posada.
"I'm very upset," Amezaga said. "He was a little late with the slide and I couldn't go over the top. It's part of baseball. I wasn't trying to hit him."
Dessens gets placed in bullpen
The Arizona Diamondbacks sent struggling right-hander Elmer Dessens to the bullpen and will activate Casey Fossum to join the rotation.
Fossum, a left-hander who had shoulder surgery last fall, will start Friday night's series opener against Montreal. Steve Sparks, who had been scheduled for that game, will be pushed back to Sunday.
Dessens will be used as a long reliever.
Wood expected to miss start with tendinitis
Chicago Cubs ace Kerry Wood is expected to miss his next scheduled start because of a sore arm, but tests found no tears in the All-Star's triceps.
Wood left Tuesday night's game against the Los Angeles Dodgers after two innings as a precaution after feeling tightness in his right triceps muscle.
He was examined and an MRI exam showed inflammation underneath the muscle and mild tendinitis in his elbow.
"I don't think it's going to be really much more than one start," Cubs trainer Dave Groeschner said.
Clearing the bases
Minnesota third baseman Corey Koskie was out of the starting lineup with a strained sternum, and the Twins were leaning toward putting him on the 15-day disabled list. . . . Troy Glaus was a late scratch from the Anaheim Angels' lineup because of a sprained right knee. . . . Texas Rangers pitcher Doug Brocail was scheduled to undergo an appendectomy Wednesday night, and was placed on the 15-day disabled list. . . . Three-time Gold Glove shortstop Rey Ordonez agreed to a minor-league contract with the Chicago Cubs, one week after Alex Gonzalez broke a bone in his right wrist. . . . The Boston Red Sox recalled right-hander Jamie Brown from Triple-A Pawtucket to take the place of Byung-Hyun Kim on the roster. . . . The San Diego Padres placed right-hander Antonio Osuna on the 15-day DL with a strained right groin. The team purchased the contract of right-hander Brandon Puffer from Triple-A Portland.
Local journalism is essential.
Give directly to The Spokesman-Review's Northwest Passages community forums series -- which helps to offset the costs of several reporter and editor positions at the newspaper -- by using the easy options below. Gifts processed in this system are not tax deductible, but are predominately used to help meet the local financial requirements needed to receive national matching-grant funds.
Subscribe to the sports newsletter
Get the day's top sports headlines and breaking news delivered to your inbox by subscribing here.
---