News > Idaho
Health-care costs take toll on uninsured
Fri., May 14, 2004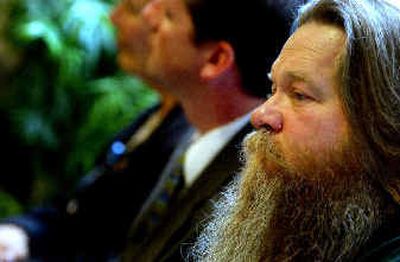 Dennis Danielson can't remember the last time he could afford a routine teeth cleaning, much less a regular doctor's check up.
Like more than a quarter of North Idaho residents, Danielson's only health insurance is hoping and praying.
When the Spirit Lake, Idaho, resident needs health care, he goes to the emergency room.
That's where he went to get 15 teeth pulled a few years back when the pain in his mouth became unbearable. Not long after, Danielson suffered a pair of heart attacks, which ended up costing $140,000 to treat with stents and surgery.
The hospital is paying half the cost; Danielson the rest. He and his disabled wife live on $550 per month, which doesn't leave a lot for medical bills.
"The county owns my body," he said.
Danielson shared his story Thursday at the Kootenai Medical Center during an event highlighting the growing number of people without health insurance. Doctors, patients, business owners and hospital officials say the problem is growing and is having profound impacts on the region's economy and health care system.
Between 23 and 29 percent of North Idaho residents are without health insurance, which is well above the national average of 16 percent, according to Karen Cotton, program manager of North Idaho Partners in Care, a coalition working on the problem.
"If you were to look at our Panhandle as a separate state, we would have the highest rates in the nation," Cotton said.
Charity care costs are soaring for hospitals because of the rising number of uninsured requiring expensive, last-ditch care in emergency rooms, Cotton said. The Kootenai Medical Center gave away $3.9 million in charity care last year. Some of the costs are passed on to those with insurance. This is fueling the rising cost of insurance premiums, which is pricing more people out of the insurance system each year.
There's growing concern that the emergency medical system could be overwhelmed by demand for charity care, said Dr. Thomas Nickol, emergency room physician at the Kootenai Medical Center.
"The safety net is becoming threatened," he said. "The whole system is overcome by the uninsured using the emergency system for primary care. . . . It's enormously expensive."
Local officials say the system is broken and a national effort is needed to bring change. Meanwhile, insurance premiums continue to rise and community-based clinics are doing their best to provide preventative care.
"We're pedaling as fast as we can to keep up with demand," said Jim Owens, executive director of Coeur d'Alene's Dirne Community Health Clinic.
About half of the clinic's $1.2 million budget is covered by a federal grant. This money must last long enough to deal with the 8,200 patient visits expected this year. Volume is forecast to nearly triple in 2005, Owens said. More fund raising is needed to meet this demand.
"It doesn't make sense to have such a large portion of our health care network funded by bake sales and car washes," Owens said. "This is no way to run a country when you've got so many people so vulnerable."
The problem needs more attention, Owens said. About 80 percent of those without insurance are in working families. Many withhold medical care until the problem becomes unbearable and unbearably costly. This is money that could have been spent on houses, businesses or put away for retirement, Owens said.
"It's not very efficient and we all end up paying for the lack of a system," he said.
Employers also are put in a bind. The high price of health insurance is forcing many to make a trade-off between providing insurance or filling a vacant job position, said Virginia Taft, owner of Coeur d'Alene Hand Therapy and Healing Center. Taft has eight employees, three of whom do not have spouses with employer-provided health care. For such a small number, the only way to provide insurance is to purchase costly individual policies.
"You just get a high deductible and hope you don't get sick," Taft said.
In Bonner County, a reduced-cost medical clinic run by volunteers regularly draws a long line of prospective patients, said Lora Cartelli, coordinator of the Bonner Partners in Care Clinic. The clinic is open for two hours each week. A line usually begins forming a half hour before doors open.
One recent patient was having severe chest pain – likely a heart attack – but he refused a doctor's orders to go to the hospital for additional care, Cartelli said. "He was still paying off his last bill. (The doctor) gave him nitroglycerin and prayed he would make it home."
Local journalism is essential.
Give directly to The Spokesman-Review's Northwest Passages community forums series -- which helps to offset the costs of several reporter and editor positions at the newspaper -- by using the easy options below. Gifts processed in this system are not tax deductible, but are predominately used to help meet the local financial requirements needed to receive national matching-grant funds.
Subscribe now to get breaking news alerts in your email inbox
Get breaking news delivered to your inbox as it happens.
---