Sports
Quarterback conundrums
Mon., May 17, 2004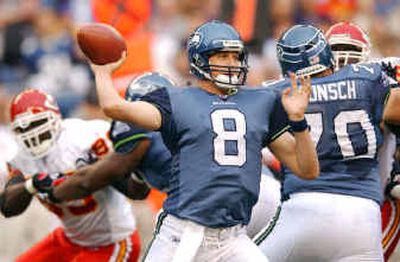 Fiedler or Feeley in Miami? Brees or Rivers – or Flutie – in San Diego? Anybody available in San Francisco?
It's doubtful there have ever been so many quarterback questions in the NFL. Sure, Tom Brady is the man in New England and Brett Favre's starting streak will go on in Green Bay.
But for every settled situation at the most important offensive position, somewhere else there's turmoil. And with the likes of Kerry Collins, Tim Couch and Kurt Warner already – or soon to be – available, the quarterback quandary could grow before training camps open in July.
Any hint of uncertainty at quarterback is a huge negative in the NFL, where the last thing coaches want – outside of a QB controversy – is a team with little faith in its signal caller.
"Leadership comes with that position," Bengals coach Marvin Lewis says. "But you can't go in and talk about it. You've got to lead."
In Cincinnati, it will be 2003 top draft choice Carson Palmer who leads the offense. But Palmer didn't take a snap as a rookie and the player he replaces, Jon Kitna, was the Comeback Player of the Year.
So it's hardly inconceivable Kitna will be throwing the passes if Palmer falters for a team that considers itself a contender in the AFC North.
In the same division, the Ravens are hoping Kyle Boller is healthy this season after a knee injury limited him to nine starts as a rookie. Boller didn't do all that much a year ago, although coach Brian Billick, who traded a 2004 first-round pick to move up in '03 and get Boller, isn't backtracking. Boller is his starter.
Of course, Baltimore's backups are mediocre, so Billick hardly has a choice. Unless he's interested in Collins or Warner or Couch or some other veteran.
Another AFC North team, the Steelers, have a first-round quarterback, Ben Roethlisberger, selected 11th overall last month. With Tommy Maddox coming off a weak season and Charlie Batch considered merely a backup, Pittsburgh could turn to the rookie. Coach Bill Cowher never has been hesitant about benching quarterbacks (remember Kordell Stewart?).
"Until they tell me differently. I'm preparing, planning, and getting ready like I am playing this season," Maddox says.
He should occasionally look over his shoulder, though.
So should Rich Gannon in Oakland. The 38-year-old 2002 MVP comes off shoulder surgery and, although he showed progress in minicamp, he's not a long-range answer with the Raiders, who have a new coaching staff.
"I'm very confident that I've come back stronger and with a livelier arm," Gannon says. "I've put a lot of extra energy and effort into it, and I feel like I am going to be a lot better player than I was last year."
If there is any doubt, Raiders owner Al Davis wouldn't hesitate to spend money on a replacement.
Another franchise that never hesitates to spend is the Redskins. Washington plunked down $43 million over seven years ($8 million bonus included) for Mark Brunell, who quickly lost his starting job to Byron Leftwich in Jacksonville last season. Brunell appeared to be slipping even before that, and his acquisition didn't exactly sit well with young incumbent Patrick Ramsey.
Washington's division is another plagued by QB uncertainty. Although the Giants traded with San Diego for No. 1 overall draftee Eli Manning and plan to start him, their offensive line is a sieve. New coach Tom Coughlin, who guided Brunell to Pro Bowl status with the Jaguars, can't be comfortable with no veteran in reserve after Collins was cut, and stories have swirled about Warner coming to New York.
Of course, with Manning as their future, Warner wouldn't get much more than a year as a starter. Is that what he's looking for if the Rams cut him after June 1, as Warner expects?
Bill Parcells always has been enamored of veteran quarterbacks and, although Quincy Carter guided Dallas to the playoffs in 2003, Parcells has dickered with bringing Vinny Testaverde to the Cowboys. And Drew Henson must figure in somewhere in Big D.
In the NFC East, only the Eagles are secure in their QB thinking. When you have Donovan McNabb, it's not a difficult decision.
A.J. Feeley, who replaced an injured McNabb late in 2002 and led the Eagles into the playoffs, was traded to Miami, which couldn't have a more tentative QB situation. Feeley has struggled learning the offense and was outplayed in minicamp by injury-prone incumbent Jay Fiedler. And offensive coordinator Joel Collier was bumped back to running backs coach for medical reasons, with tight ends coach Chris Foerster taking over – his first shot as a coordinator.
"There's no such thing as fair or unfair," says Fiedler, who likely will be demoted even though his teams generally have won during the season. "There's going to be competition every year, doesn't matter who it comes from."
It doesn't matter if it's a high draft pick such as Roethlisberger, Manning or Philip Rivers, the guy San Diego obtained for Manning who easily could displace Drew Brees or Doug Flutie when the season opens Sept. 12. Or a failed baseball player (Henson). Or a veteran such as Collins or Warner coming in to challenge a young, unproven quarterback – or filling an injury void such as in San Francisco, where Tim Rattay is sidelined for four months after groin surgery.
What does matter, though, is when a coach makes his choice at the position, he sticks with it. Right now, lots of those choices have not been made.
Local journalism is essential.
Give directly to The Spokesman-Review's Northwest Passages community forums series -- which helps to offset the costs of several reporter and editor positions at the newspaper -- by using the easy options below. Gifts processed in this system are not tax deductible, but are predominately used to help meet the local financial requirements needed to receive national matching-grant funds.
Subscribe to the sports newsletter
Get the day's top sports headlines and breaking news delivered to your inbox by subscribing here.
---