Sports
Anderson wears singles crown
Tue., May 18, 2004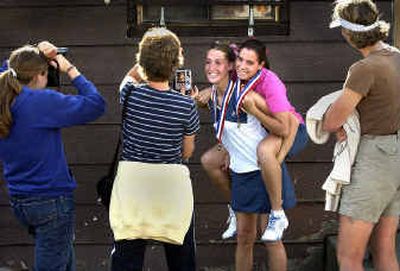 Vanessa Anderson fully understood the situation she found herself in Monday afternoon at Mead.
Anderson, a Gonzaga Prep senior, faced last year's district champion, Anna Gullickson, a Lewis and Clark junior, in the Greater Spokane League girls district tennis championship match.
Gullickson, seeded No. 1 in the tournament, captured the first set 6-4 by a combination of winning shots and unforced errors on Anderson's part.
Anderson knew she was down.
But in tennis, down is never out.
"I had nothing to lose," Anderson said. "I had to come back (in the second set) with more strategy and mix up my shots a little more."
Her strategy of slicing shots deeper and hitting short balls to pull Gullickson up to the net worked better than she imagined.
With a score of 6-4 in Anderson's favor, the title match went to a third and final set.
Six games into the third set, Anderson found herself a game away from the title.
"When I was up 5-1," Anderson said, "I was shaking. I was so excited, but I knew it wasn't over."
Gullickson chipped back, breaking Anderson's serve once and winning her service game, but Anderson remained strong and consistent, taking the final set 6-3.
Gullickson, whose family moved from Denver to Spokane in time for her to start her freshman year at LC, credited her opponent's comeback in the second and third sets.
"Vanessa bumped her game up," Gullickson said. "I was making a few more errors, but she really played a great match."
In the boy's district championship match, Anna's younger brother, Ben Gullickson, played a great match as well.
Ben, a freshman at LC, defeated senior Brian Heimbecker.
During the season, Heimbecker defeated Gullickson 6-4, 6-4.
Heimbecker, a senior at Northwest Christian, is allowed to compete for Shadle Park because he lives in the Shadle boundaries and NWC does not have a tennis team.
Ben Gullickson lost the first set to Heimbecker 6-7, with a tiebreaker score of 7-3. He rallied back in the second set, winning 6-3.
"I had to stay in points longer," Gullickson said. "I was pushing too hard at first and hitting a lot of balls out."
Longer rallies made for quite the third set, which Gullickson won 7-5.
The Gullicksons weren't the only siblings to compete for district titles.
Mike and Matt Dorr of Mt. Spokane easily handled their opponents, Chris Poppy and Matt Schaff of Gonzaga Prep, taking the boys doubles match 6-3, 6-0.
Mike, a senior, played No. 2 doubles for Mt. Spokane last year. His sophomore brother played junior varsity his freshman year.
In girls doubles, Mead's Leah Vaughn and Desiree Chesser earned the top seed to the regional tournament, defeating LC's Elise Otto and Natalie Chalaj 6-3, 6-4.
Vaughn, who in previous seasons played doubles, decided early this season that Chesser would be her post-season partner.
"I want a state title and Leah is someone who can help get me there," Chesser said.
Vaughn's experience playing doubles coupled with Chesser's strength as a singles players gave the girls, they said, an advantage.
More specifically, the girls felt they won the match at the net.
"We came out knowing this would be a tough match," Vaughn said, "but we also have so much experience between us that we knew we could do it."
"We just had to play consistently," Chesser said. "Our main focus was to try and control the net."
The regional tournament is Friday and Saturday at Central Valley and University.
The state tournament, in Spokane as well, will be the following weekend.
Boys at Central Valley
Singles
No. 1-Ben Gullickson, Lewis and Clark
No. 2-Brian Heimbecker, Shadle Park
No. 3-Logan Napolsky, Mt. Spokane
No. 4-Juan Montalvo, Central Valley
Alternate-Colin Sowder, Lewis and Clark
Doubles
No. 1-Mike and Matt Dorr, Mt. Spokane
No. 2-Chris Poppy and Matt Schaff, Gonzaga Prep
No. 3-Nathan Seaburg and Lane Myers, Ferris
No. 4-Ryan Swartz and Michael Glocking, Gonzaga Prep
Alternate team-Brad Guthrie and Warren Presley
Girls at University
Singles
No. 1-Vanessa Anderson, Gonzaga Prep
No. 2-Anna Gullickson, Lewis and Clark
No. 3-Kasie King, Lewis and Clark
No. 4-Heather Handwerk, Ferris
Alternate-Amanda Wong, Gonzaga Prep
Doubles
No. 1-Leah Vaughn and Desiree Chesser, Mead
No. 2-Natalie Chalaj and Elise Otto, Lewis and Clark
No. 3-Katie Greer and Shelby Raabe, Ferris
No. 4-Amy Esmay and Jamie Randall, Gonzaga Prep
Alternate-Lisa Lowrie and Blayre Ditto, University
Local journalism is essential.
Give directly to The Spokesman-Review's Northwest Passages community forums series -- which helps to offset the costs of several reporter and editor positions at the newspaper -- by using the easy options below. Gifts processed in this system are not tax deductible, but are predominately used to help meet the local financial requirements needed to receive national matching-grant funds.
Subscribe to the sports newsletter
Get the day's top sports headlines and breaking news delivered to your inbox by subscribing here.
---