Sports
Randy has dandy idea
Tue., May 18, 2004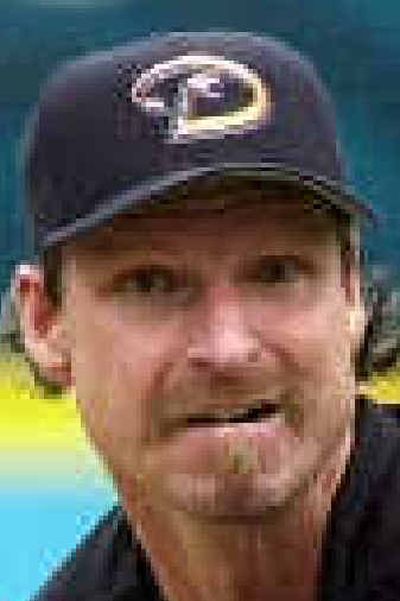 BRILLIANT IDEAS from former Mariners …
Arizona Diamondbacks pitcher Randy Johnson is frustrated. He is 3-4 on the season in spite of a dazzling 2.83 ERA and a league-leading 68 strikeouts. His latest outing was a 1-0 loss to the Mets and Tom Glavine.
Last Thursday he couldn't hold it in. In a fit of frustration, he blasted the team and suggested that fans find something else to do.
"It's a lot of money to come out to a ballgame," Johnson said, "and lately it's probably better spent going to the movies than coming to watch the Diamondbacks."
For the sake of Johnson, and his wallet, he better hope fans don't hang on his every word.
• Ken Griffey has come up with a new way to defense Barry Bonds.
"Stick the infielders in the outfield and stick the outfielders in the seats," he said. "They're always talking about limping the golf course for Tiger Woods; make it fair and stick six guys in the stands and let us go get it."
Good news, you're alive!
Rangers pitcher Doug Brocail has been sidelined because of an appendectomy, but that doesn't figure to faze him after undergoing two Tommy John elbow operations over the past three years.
He had to laugh when former Detroit Tigers teammate Bobby Higginson ran into him in Arlington last weekend.
"Dude," Higginson said. "I thought you were dead."
Ah, college kids
The best way to beat the heat in the Preakness infield Saturday was taking a dip in the pool.
The prize for the most innovative way to meet women at Pimlico went to the guys who brought in a large plastic wading pool, filled it with water – and a few goldfish – before inviting passing young ladies to take a refreshing swim.
The massive party at Pimlico required no invitation but cost $42 to enter. Watching the races was optional – if not impossible – and virtually no one cared.
"I'm not here for the races, I'm here to drink and party," said Jim Fisher, 22, a senior at Penn State. "It's probably not worth $42. A year from now I'll probably consider getting a seat, but I can't complain."
Other side of the track
Philadelphia sports fans, many of them horse racing novices, have gone wild over Smarty Jones.
Frank Fitzpatrick of the Philadelphia Inquirer offered this insight to novices:
"Most racetrack patrons do not wear large hats and sip mint juleps. Real railbirds smell like cigars, dress like track-pickers, complain constantly and, despite what they claim, lose regularly."
Tough profession
Former jockey Donna Barton Brothers, who was part of the NBA crew working the Preakness, detailed her list of injuries during an 11 1/2 -year career.
"Six concussions, five broken bones, two nose operations, broken collar bone, a couple of broken ribs, cracked a few vertebrae," she said. "And that's a short list of injuries compared to most jockeys in the jocks' room."
The last word …
"Everybody asks me how it's going in football and I say as long as we don't play a game, we're doing great."
Joe Gibbs, who took a break from his duties as the new coach of the Washington Redskins to check in on his NASCAR race teams last Saturday.
Local journalism is essential.
Give directly to The Spokesman-Review's Northwest Passages community forums series -- which helps to offset the costs of several reporter and editor positions at the newspaper -- by using the easy options below. Gifts processed in this system are not tax deductible, but are predominately used to help meet the local financial requirements needed to receive national matching-grant funds.
Subscribe to the sports newsletter
Get the day's top sports headlines and breaking news delivered to your inbox by subscribing here.
---