Sports
Lake City earns date in semis
Fri., May 21, 2004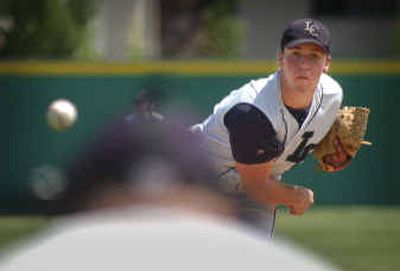 BOISE – One inning in the Lake City High baseball team's 5A state opener epitomized what Timberwolves coach Cory Bridges warned his team could happen.
Fortunately for Bridges' Timberwolves, Lake City came out smelling like a rose and not bemoaning the typical first-game jitters many teams make at state.
After allowing two unearned runs in the top of the fourth, LC bounced back to score all it would need as the Timberwolves escaped with a 4-2 victory over Capital of Boise in first-day action Thursday at Borah High School's Wigle Field.
LC (20-6) will take on the host Borah Lions (23-5) this afternoon at 3:30 PDT in the semifinals.
In other openers, Borah handled Highland 7-2; Twin Falls topped Lewiston 5-2; and Timberline blanked Meridian 4-0.
In the other semifinal, Twin Falls (23-5) will play Timberline (23-5).
In loser-out games, Highland (21-6) faces Capital (19-9) and Lewiston (20-8) faces Meridian (12-16). Through three innings, Lake City and Capital were engaged in a pitchers' duel. In fact, take the fourth out of the equation and it was a pitchers' duel throughout.
Capital's two runs were aided mightily by three LC errors. It all started when the Eagles' Jesse Crayne reached on a throwing error. He then advanced to second when LC pitcher Dan Lau's pickoff attempt sailed over the head of first baseman Alex Capaul.
The adventurous inning continued when Crayne ended up at third base after escaping a pickle between LC infielders. Lau, who was in position to tag out Crayne, dropped a throw for the third error of the inning.
But third baseman Tom Barlow made up for his inning-opening error when he gunned down Crayne at home plate as catcher Travis Harmon tagged out the Eagle who tried to score on a ground ball.
Lau struck out the next batter and it appeared he would wiggle out of the inning essentially unscathed. But the Eagles' Nick Poulson lined a 3-1 fastball up the middle, nearly taking Lau's head with it, to knock in Capital's runs.
LC, though, quickly cleaned up its messy defensive display. Jeff Harris reached on a walk and Lau rapped a first-pitch single. Harris scored when Capital pitcher Zach Richardson's throw to first on Tom Barlow's sacrifice bunt skidded into right field.
The T-Wolves tied it at 2-2 when Travis Harmon laced an opposite-field double. Freshman Alex Capaul gave LC the lead with a sacrifice fly and Dustin Willoughby made it 4-2 with a blooping single just over the head of Capital's second baseman.
"That's character right there," Bridges said of his team putting its defensive lapse behind it.
LC's defense returned the final three innings. Willoughby ranged well to his right for a groundball putout to quell a Capital threat in the sixth with two runners aboard. And in the seventh, Lau (5-3) served up a game-ending double play that was handled well by Harris, LC's shortstop.
"We haven't done that all year," Lau said of his team's defensive hiccups in the fourth. "But I knew we'd bounce back. (Coach Bridges) told us before we came to state that we had to avoid trying to do too much. We just needed to settle down and take our normal hacks."
Harmon enjoyed being on the receiving end of Lau's pitches.
"He's definitely our leader," Harmon said. "He brings out the best in everybody. He kept their batters guessing the whole game. All his pitches were working, but his fastball set up everything."
"Dan Lau's a bulldog," Bridges said. "They hit some balls hard, but he just never gives in."
Bridges considered bringing in reliever Zach Green in the seventh. But Bridges figured Lau would challenge him to a fist fight before yielding to come out of the game.
"He deserved to finish it," Bridges said.
"I wasn't going to come out," smiled Lau within earshot of his coach.
Bridges said if the four errors wasn't a season high certainly the three in one inning was. But the defense made critical plays late.
"Dustin (Willoughby) played great defense – probably the best he's played in his two years," Bridges said.
Lau didn't hesitate to say what it would take for LC to advance to the state title game.
"We're going to have to hit a little better and play better defense," Lau said.
It was the first loss for Capital starter Richardson (7-1).
Adam Capaul (6-0) will start for LC today.
Local journalism is essential.
Give directly to The Spokesman-Review's Northwest Passages community forums series -- which helps to offset the costs of several reporter and editor positions at the newspaper -- by using the easy options below. Gifts processed in this system are not tax deductible, but are predominately used to help meet the local financial requirements needed to receive national matching-grant funds.
Subscribe to the sports newsletter
Get the day's top sports headlines and breaking news delivered to your inbox by subscribing here.
---