Sports
Pistons hitting on all cylinders
Fri., May 21, 2004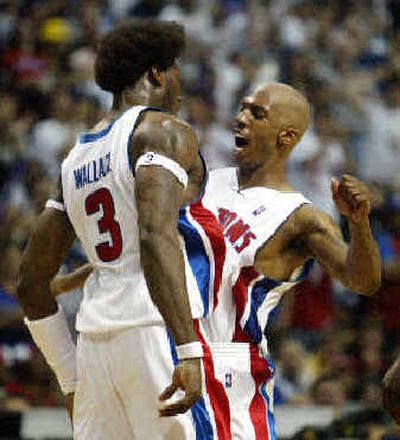 AUBURN HILLS, Mich. — Ben Wallace backpedaled while keeping his right wrist cocked after swishing a 19-foot jumper that put the Detroit Pistons ahead by 25.
A "Big Ben" gong sound echoed throughout the arena as the frustrated New Jersey Nets called timeout, their two-year reign as the best team in the Eastern Conference about to come to an end.
Wallace's jumper was just one of many things for the Pistons that worked to perfection in a Game 7 rout. Chauncey Billups scored 22 points, Richard Hamilton had 21 and the defensive-minded Wallace added 18 to lead Detroit past the Nets 90-69 Thursday night in their Eastern Conference semifinal.
"I thought New Jersey was going to come out with a lot more energy and play a lot harder," Wallace said. "If you would've told me that we were going blow this team out, coming into a Game 7, I would've told you you're crazy."
What if someone had told him Jason Kidd would be held scoreless?
Well, that improbability happened, too, as part of Detroit's dominance of the deciding game.
Detroit took the lead for good in the middle of the first quarter and turned it into a blowout early in the third by holding the Nets to two points in the first six-plus minutes to go ahead by 24.
Wallace's jumper moments later gave Detroit its largest lead of the game.
The Pistons advanced to the conference finals for the second straight year by knocking off the team that swept them in that round last season.
The victory sets up an intriguing matchup with the Pacers, who are coached by Rick Carlisle — fired by the Pistons last summer after winning 100 regular season games, two division titles and three playoff series in two seasons.
"It's amazing that we'll be facing him, isn't it?" Hamilton asked. "The buildup is going to be unbelievable. We know we'll have to be aggressive because we know that coach likes to grind."
Game 1 is Saturday night at Indianapolis.
Larry Brown was hired to replace Carlisle, and the Hall of Fame coach improved to 5-3 in Game 7s — including a 4-0 mark in such games at home.
Two of New Jersey's stars — Richard Jefferson and Kenyon Martin — had solid games with 17 points each, but Kidd had a brutal performance.
He missed all eight of his shots, and had seven assists and five rebounds. His previous low in the playoffs in his three seasons with the Nets was a five-point performance in Game 3 against Detroit.
"All the shots looked good, felt good, they just didn't go in," Kidd said. "It's just part of the game.
"There's no excuses. Detroit was the better team."
The star point guard has struggled with a knee injury, and there has been speculation that his back hurts, too. But Kidd refused to talk about his injuries during the series — or after.
Since Kidd was traded to New Jersey three years ago, the Nets advanced to the NBA finals twice — without experiencing a Game 7. In fact, New Jersey played in its first Game 7 as an NBA franchise on Thursday night.
The Nets had to know they were in trouble when Ben Wallace, who usually just rebounds and defends, was taking and making shots from the perimeter. He made 8 of 10 attempts.
"That's not the best I've felt — ever — but my shot was feeling good," said Wallace, who was just two points short of his career high.
With their raucous crowd on its feet for much of the game, the Pistons became the 73rd team out of 88 to win a Game 7 at home.
"We're back to where we were last year. We need to take it one step further," Ben Wallace said.
Rasheed Wallace, who made Detroit a championship contender when he was acquired in February, had 12 points and seven rebounds.
New Jersey's Kerry Kittles scored 18, and Rodney Rogers added 13. Rogers was the only Nets player who had played in a Game 7 before.
The Pistons had 10 such players, including four who were not a part of Detroit's win in Game 7 of the first round against the Orlando Magic last year.
The Nets built an early six-point lead before Billups' 3-pointer put the Pistons ahead for good with 6:24 left in the first quarter.
The game turned into a rout when the Pistons opened the second half with a 14-2 run — capped by Ben Wallace's thunderous follow jam — to go up 57-33.
The Nets went more than eight minutes without a basket over the second and third quarters.
Detroit led by as many as 25 in the third quarter, and took a 73-50 lead into the fourth.
Local journalism is essential.
Give directly to The Spokesman-Review's Northwest Passages community forums series -- which helps to offset the costs of several reporter and editor positions at the newspaper -- by using the easy options below. Gifts processed in this system are not tax deductible, but are predominately used to help meet the local financial requirements needed to receive national matching-grant funds.
Subscribe to the sports newsletter
Get the day's top sports headlines and breaking news delivered to your inbox by subscribing here.
---