News > Idaho
'She's little, but powerful'
Sat., May 22, 2004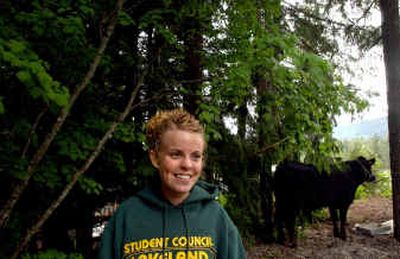 Lakeland High School counselor Frank Vieira refers to 18-year-old senior Anna Williams as a "little atomic bomb." She may be small in size but she's a little dynamo in the community of Rathdrum.
"As far as impact on the community, she's had about the largest impact," Vieira said. "She's little, but powerful and makes a real difference. … She's always helpful, always cheerful, good-natured, humorous, of course, and possibly a future educator. Wherever she is going to go, she'll make a positive impact. We'd be fortunate if she stayed in North Idaho."
Williams has gone to school in the Lakeland district since the first grade, when her family moved to Twin Lakes from Coeur d'Alene, and what was once a cabin at Twin Lakes became the family home.
She is the middle child of a close-knit family. Her older brother, Ben, 21, works in Rathdrum, and her 15-year-old brother Marcus lives at home with their parents, Julie and Mike Williams.
"During high school I've just tried to get involved in everything," Williams said. "I'm in honor society, Idaho Drug Free Youth, student council and 4-H."
She is the student council class president for her senior class, and was president of her junior class. She started 4-H when she was in the third grade and started in honor society in the seventh grade. Williams said that honor society is more than academics anymore. It also requires involvement in other clubs and service to community. She has been the vice president of honor society for the last two years.
The honor society under her leadership helped raise money for fellow Lakeland student Michelle Morgan, who is battling leukemia and will eventually need a bone-marrow transplant. Williams has known Morgan since grade school.
Williams' first leadership position was with IDFY where she served as vice president in the ninth grade and again this school year. She was IDFY treasurer last year. She coordinated an IDFY stuffed animal drive for the Children's Village around Christmas time her freshman year.
Animals have been her focus in 4-H, where she is the president of the Wild Westerners club. She raised pigs when she was younger and now is raising a steer.
"It's kind of a way of learning self-discipline," Williams said. "Being with the animals is so much work, it takes perseverance. With the steers you can't go beyond a certain weight or you get docked points. The growth plan and feeding are really important."
Williams will show her steer at the Kootenai County Fair later this summer. The Wild Westerners also are involved in community pride projects. This spring they did a cleanup at the local cemetery. A couple of years ago they cleaned up the yard for an elderly resident. This summer they will help out at the Ironman Triathlon, handing out water.
During Lakeland's spirit competition with Post Falls, called the "Prairie Pig," the student council raised more than $1,000 for the Make-A-Wish-Foundation. Williams went around to local businesses encouraging them to contribute.
In response to the 9-11 tragedy, Williams and a couple of the other girls from student council raised money at football games, which they gave to the Red Cross.
Williams volunteered at the Life Care Center, a rest home, keeping the residents company with some of the other student council members. She has job-shadowed at Kootenai Medical Center and volunteered at Pinewood Rest Home on Appleway. She had thought about going into veterinary school but has decided on a career in education instead.
Her cumulative grade-point avere is 3.3. She enjoyed chemistry, math and the health occupation classes she took at Riverbend Professional-Technical Institute. During her freshman year, she tutored math students.
Williams plans to attend North Idaho College in the fall and possibly transfer to Eastern Washington University.
Williams also has been involved in several sports: JV softball her sophomore year, volleyball, downhill skiing, snowboarding and swimming, as well as snowmobiling and boating with her family. She wants to try wake-boarding this summer.
Williams was a Junior Miss contestant last year, singing a country song called "Daddy's Hands" as her talent.
Lakeland's commencement will take place June 5, the first time the district has held the ceremony on a Saturday. Williams will deliver the closing words.
"I found a little story off the Internet that I'm going to read," she said. "It's kind of an inspirational story about a little old lady that goes to college, and the impact she makes on some of the college students and about following your dreams."
Local journalism is essential.
Give directly to The Spokesman-Review's Northwest Passages community forums series -- which helps to offset the costs of several reporter and editor positions at the newspaper -- by using the easy options below. Gifts processed in this system are not tax deductible, but are predominately used to help meet the local financial requirements needed to receive national matching-grant funds.
Subscribe now to get breaking news alerts in your email inbox
Get breaking news delivered to your inbox as it happens.
---