Sports
Ray's patience pays off
Mon., May 24, 2004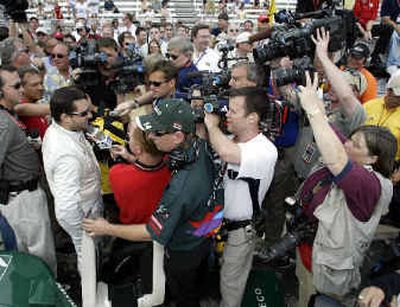 For Greg Ray, it was worth the wait.
After nearly two weeks of frustration as he waited for sponsorship to turn up, the former IRL champion finally got on the track Sunday and made qualifying for next Sunday's Indianapolis 500 look easy.
Ray, a seven-time Indy 500 starter, ran only 20 practice laps before completing the 33-car lineup with a four-lap, 10-mile average of 216.641 mph. That speed would have placed him 18th had he done it on May 15, the first of three days of time trials.
Instead, Ray will start 27th after topping seven Sunday qualifiers. But that's just fine with the former Indy pole-winner.
"We didn't really have time to get the car sorted out," Ray said. "There was a lot of frustration. We were all chomping at the bit and everybody was saying, 'Let's just unleash this thing.'"
"But this is a good race team and we know that every time you push the boundaries, you take additional risks. And, no matter how fast we went today, we wouldn't have started any higher in the race." The only suspense after Ray's qualifying run came late in the session when NASCAR star Tony Stewart, a former IRL champion, made an unexpected appearance.
Stewart was getting ready to jump into one of team owner A.J. Foyt's backup cars to practice and perhaps attempt to bump his way into the lineup. But Stewart and Foyt were informed on the pit lane that there was an unspecified contract issue that would prevent him from driving the car.
"I'm going to try to put something together for next year. I've got the fever now," Stewart said.
Truex wins his fourth Busch race
Martin Truex Jr. led for just one lap in the final NASCAR Busch Series race at Nazareth (Pa.) Speedway, yet still managed his series-best fourth win of the season.
Truex battled lapped traffic and cut underneath Bobby Hamilton Jr. down the backstretch on lap 200 in a thrilling finish in the Goulds Pumps ITT Industries 200.
"There was no plan," Truex said of the final, tight laps. "I found a hole and used it for the win."
The win pushed Truex past pole-sitter Kyle Busch for the lead in the Busch Series points standings. Truex has 1,803 points; Busch, who led the first 54 laps, has 1,772.
Truex's four wins are as many as Hamilton had last season when he led the Busch Series in victories.
"I was surprised we got the first one," Truex said. "I'm not surprised anymore. We've got a great team."
Schumacher wrecks, Trulli wins
After starting the season with five straight victories, Michael Schumacher's commanding run ended with a crash at the Monaco Grand Prix in Monte Carlo on Sunday.
Jarno Trulli was the winner, recording his first Formula One victory on a day when Schumacher finished his race with a wheel dangling from his damaged red Ferrari.
Trulli had the pole for the first time and posted his first victory in 119 Grand Prix races.
"It's amazing," the Italian said. "I won in Monaco, the best race probably in the world."
Schumacher was trying beat Nigel Mansell's 1992 record Formula One start of five straight victories and Ayrton Senna's record of five Monaco GP wins. He also was hoping to equal the best winning streak in a season. Alberto Ascari won the last six races in 1952 and added three more to start 1953.J
Roush gets victory, headaches
Jack Roush won NASCAR's All-Star Challenge for the second time, and with it, the longtime car owner pocketed a large portion of the $1 million prize.
He likely needs every penny.
While Matt Kenseth was beating Ryan Newman for the victory, two other Roush drivers ignited an 11-car accident early in the first segment of the Nextel Cup race Saturday night. Kurt Busch admittedly erred when he tried to bump Greg Biffle past Kenseth, and the ensuing melee left several cars destroyed and tempers frayed.
"I got hit from behind on the straightaway and got turned into the fence," Biffle said. "I don't understand what happened. It's early in the race like that and a teammate wrecks you. It's crazy."
Busch, who has been involved in numerous scrapes during his four-year career, appeared resigned that he would face criticism for the move. He was trying to "bump draft" with Biffle, where a trailing driver purposely bangs into the one in front, literally pushing him down the track.
Local journalism is essential.
Give directly to The Spokesman-Review's Northwest Passages community forums series -- which helps to offset the costs of several reporter and editor positions at the newspaper -- by using the easy options below. Gifts processed in this system are not tax deductible, but are predominately used to help meet the local financial requirements needed to receive national matching-grant funds.
Subscribe to the sports newsletter
Get the day's top sports headlines and breaking news delivered to your inbox by subscribing here.
---