Sports
Bush recognizes gibberish
Tue., May 25, 2004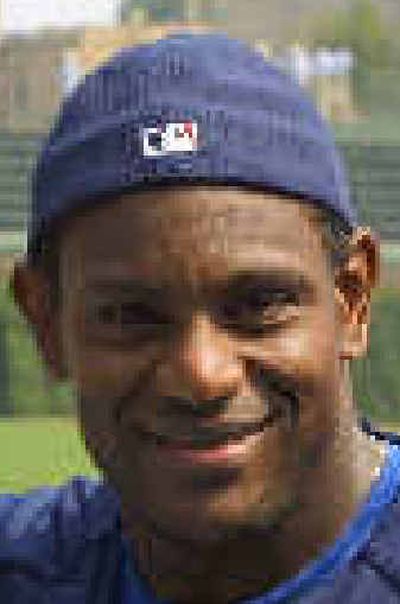 When several NCAA championship teams were honored at the White House last week, President Bush singled out University of Denver hockey player Lukas Dora, a native of the Czech Republic.
"Where are you Lukas?" Bush asked. "They tell me he talks a lot on the ice. He's a talkative guy, but he uses unique English to confuse the opponents. Kind of sounds like the strategy I use at the press conferences."
Backside story
After Sammy Sosa of the Chicago Cubs hurt his back sneezing, Thomas Boswell of the Washington Post was reminded of other bizarre baseball injuries:
"Wade Boggs missed a week when he lost his balance putting on his cowboy boots and fell into a couch… . Lefty Gomez, while knocking dirt from his spikes (with a bat), smashed his ankle instead and was carried off the field… . John Smoltz scalded his chest while ironing a shirt – that he was wearing.
"However, of all the game's self-inflicted injuries, the prize may go to Clarence "Climax" Blethen. A 30-year-old Red Sox rookie, Blethen thought he looked meaner if he took out his false teeth when he pitched and kept them in his hip pocket. Yes, he forgot to put them back in his mouth. So, on Sept. 21, 1923, while sliding into second base, Blethen bit himself in the butt."
Don't throw stones
San Francisco Chronicle's Scott Ostler, on Athens being behind schedule on construction: "Who am I to preach? I still have my Christmas lights up."
A fair price
Said former NFL linebacker Bryan Cox on Fox Sports Net's "Best Damn Sports Show Period:" "I've had conversations with Dan Marino where he said he'd give half of his money for a (Super Bowl) ring. I said, 'You can buy mine.' "
Extra protection
Marilyn Bailey of Westlake Village, Calif., along with her husband, owned a sporting goods store in Westchester, Calif., in the late 1960s that supplied items to the Los Angeles Lakers.
She said she was asked to dye the Lakers' wristbands gold. One day she got bold and threw in an athletic supporter.
"Wilt Chamberlain happened to be in the office the day I took an order to the Forum and I told him he might enjoy the item on top," Bailey said. "He was wearing the gold jock strap when he suffered a knee injury and had to go the hospital."
Bailey says she has always wondered how the nurses reacted to seeing that.
Peanuts and what?
The New York Yankees have switched from Cracker Jack to Crunch 'n Munch as the featured caramel popcorn on the ballpark menu.
Cracker Jack has been a baseball institution ever since the song "Take Me Out to the Ball Game" came out in 1908.
"I would assume that Cracker Jack didn't have any competition back then," Lonn Trost, the Yankees' chief operating officer, told the New York Times.
The last word …
"That's great. This city can't handle the extra traffic for a street fair."
David Letterman, on New York City being a finalist for the 2012 Summer Olympics.
Local journalism is essential.
Give directly to The Spokesman-Review's Northwest Passages community forums series -- which helps to offset the costs of several reporter and editor positions at the newspaper -- by using the easy options below. Gifts processed in this system are not tax deductible, but are predominately used to help meet the local financial requirements needed to receive national matching-grant funds.
Subscribe to the sports newsletter
Get the day's top sports headlines and breaking news delivered to your inbox by subscribing here.
---