News > Features
Her husband, unfaithful? Oh, pish-posh, Spice says
Wed., May 26, 2004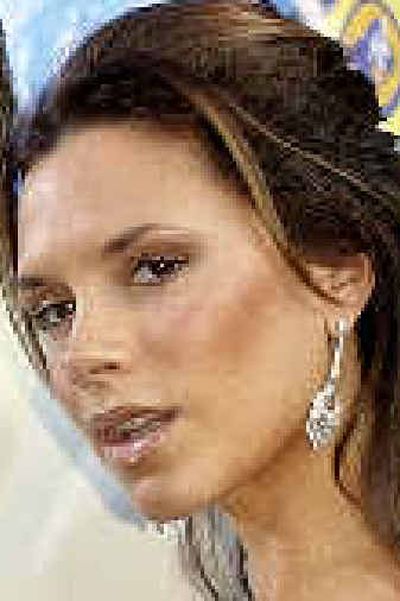 David Beckham's wife says in a magazine interview that the soccer star has "always been faithful," despite the claims of two women who said they had affairs with him. "Through all of this, I feel really sorry for David because it's his name that's been dragged through it, and he's done nothing wrong," Victoria Beckham says in the July issue of Marie Claire.
"I really do believe that deep down that I have the most faithful husband I could hope for," says the former Posh Spice of the Spice Girls. "He's always been faithful and nothing has changed at all. I can honestly say that I am really lucky to have him."
Both Rebecca Loos, Beckham's former personal assistant, and model Sarah Marbeck have claimed to have had affairs with him.
The Beckhams, who have two young sons, Brooklyn and Romeo, have said their marriage is sound.
"I've made it clear … the way I and my family have been treated is an absolute disgrace because at the end of the day, I'm a nice person and loving husband and father," David Beckham said Tuesday at a training camp on the island of Sardinia.
Fo' shizzle, Snoop's gettin' a divizzle
Rapper/actor Snoop Dogg (aka Calvin Broadus) has filed for divorce from his wife, Shante Broadus, citing "irreconcilable differences."
The couple have been married since 1997 and have three children: Corde, 9; Cordell, 7; and Cori, 4. He is seeking joint custody.
"The only thing I want to say is Mr. Broadus hopes that the divorce can be as amicable as possible," said his attorney, Robert Nachshin.
And he thinks the world of her, too
Former Miss Universe Dayanara Torres says that she and singer Marc Anthony plan to remain amicable during their divorce and custody negotiations.
"Sometimes it's out of your control," she said in an interview on TV's "Access Hollywood." "But, we are both very responsible, that's all we want for our kids, and there's no need to do it any other way… . You know, he's the father of my kids, I could never wish him wrong."
Magazine or not, that's all she wrote
Is Tommy Mottola, former husband of Mariah Carey, headed toward the end of marriage No. 3?
The former Sony Music CEO and his wife, Mexican singer Thalia, reportedly have gotten tired of fighting and are going to end it all — despite him putting up $300,000 with American Media this spring to publish Thalia magazine in English and Spanish.
Dumped again — by his divorce lawyer
Meanwhile, Liza Minnelli's estranged husband, David Gest, has parted ways with his lawyer, Raoul Felder, over what Felder called communication problems.
"I sent him a very nice letter praising his fortitude … and telling him that I admired his strength in adversity," said Felder, who handled former Mayor Rudolph Giulani's divorce. "But I told him to get another lawyer."
Quoteworthy
Cameron Diaz, the voice of Princess Fiona in "Shrek 2," on romance: "Where is Prince Charming? Who is Prince Charming? Does that even exist? I don't think it does. We've been fooling ourselves for a long time."
The birthday bunch
Actor James Arness is 81. Singer Stevie Nicks is 56. Actor Philip Michael Thomas ("Miami Vice") is 55. Actress Pam Grier is 55. Country singer Hank Williams Jr. is 55. Actress Genie Francis ("General Hospital") is 42. Comedian Bobcat Goldthwait is 42. Singer Lenny Kravitz is 40. Actress Helena Bonham Carter is 38. Actor Joseph Fiennes ("Shakespeare in Love") is 34. "South Park" co-creator Matt Stone is 33.
Local journalism is essential.
Give directly to The Spokesman-Review's Northwest Passages community forums series -- which helps to offset the costs of several reporter and editor positions at the newspaper -- by using the easy options below. Gifts processed in this system are not tax deductible, but are predominately used to help meet the local financial requirements needed to receive national matching-grant funds.
Subscribe to the Coronavirus newsletter
Get the day's latest Coronavirus news delivered to your inbox by subscribing to our newsletter.
---