News > Business
Upward and outward
Wed., May 26, 2004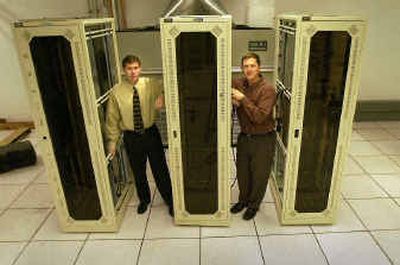 This weekend Steve Tabacek is moving his three-person company, IT-Lifeline, from downtown Spokane to Liberty Lake. For Tabacek, who started the company almost two years ago, the move is much like trading a motor scooter for a high-tech Harley-Davidson.
The growing company provides outsourced data recovery and backup, giving customers protection from disasters, hacker attacks or system meltdowns.
In less than two years, Tabacek has generated enough business with corporate clients here that he needs a lot more space than his current 400-square-foot office in Steam Plant Square.
A critical goal was relocating away from downtown, where most of his corporate customers are now, including Washington Trust Bank. Rule No. 1 in the data-recovery industry is to keep the backup data far away from the companies whose data is being protected, he explained.
"That's one thing we've been hearing from Washington Trust," Tabacek said. "They wanted us out of downtown and not so close to them. God forbid if a rail car goes off the track and shuts the area down, we'll be in good shape," he said.
"I didn't think we could afford the move into the Liberty Lake building," Tabacek added. "But Bernard Daines deserves all the credit."
Daines, the founder of several successful technology companies, owns the two-story office complex, Liberty Lake Internet Portal, at the corner of Molter and Mission. He's also the majority owner of another tenant there, data-hosting company LLIX. Daines worked out an attractive offer for Tabacek and persuaded Tabacek the move was the best step to grow his company.
"Bernard understood what a start-up's budget is like," Tabacek said. "He was able to help me with some key issues, and made the deal happen."
An important step, he added, was a guarantee by Daines to provide a dual-fiber network that will give IT-Lifeline a connection at all times either west to Seattle or south toward Boise and Salt Lake City.
"That's absolutely a critical part of the deal," Tabacek said. "We had to have that network capability." If one of those fiber links is unavailable, the other provides backup, he said.
Another advantage of the new location is having two disaster-recovery suites, Tabacek said.
On a big recovery job — if a client loses several computer servers, for example — the client can send a team of tech workers to IT-Lifeline's recovery center. There, IT-Lifeline will offer not just the client's backed-up data, but also two 15-by-30 foot rooms complete with workstation cubicles, tables and phones.
"These recoveries can take from 24 to 36 hours at a time," said Ben Cozza, IT-Lifeline's vice president of operations.
To make the process less painful, IT-Lifeline is adding a room next to the recovery suites where cots, sofas and rest areas will let workers catch naps during their visit to the center.
Besides Washington Trust, IT-Lifeline's clients include AmericanWest Bank, Ambassadors Group, Itronix Corp., Rockwood Clinic and Northwest Farm Credit Services.
Tabacek said 2003 sales were $250,000. He's predicting 2004 will produce "just under half a million."
One customer, Spokane's Rockwood Clinic, has a contract with IT-Lifeline to backup all of its medical and financial information.
Rockwood's information service manager, Paul Arguinchona, credits IT-Lifeline with making some critical improvements in the clinic's data storage.
"They've really shorted the backup window for us considerably," meaning the clinic's own computers are unavailable a shorter time while data is being backed up than was previously the case, he said.
"It was also prudent of Steve to move his business out of downtown and away from most of his customers," said Arguinchona.
Tabacek will use that same reasoning when IT-Lifeline starts offering its services later this year to companies in the Puget Sound area.
Very large corporations that use backup services typically employ the major providers, such as IBM or Sungard, Tabacek said. Smaller or mid-sized companies in the Puget Sound region can't afford those big provi-ders, making them good potential customers for IT-Lifeline, he said.
Tabacek said he hopes to raise about $1.5 million in capital to develop and implement the Seattle marketing effort.
"That's another reason we needed this facility (in Liberty Lake)," he said. "When we bring over corporate customers from Seattle, we'll have the right facility and space for their needs."
Local journalism is essential.
Give directly to The Spokesman-Review's Northwest Passages community forums series -- which helps to offset the costs of several reporter and editor positions at the newspaper -- by using the easy options below. Gifts processed in this system are not tax deductible, but are predominately used to help meet the local financial requirements needed to receive national matching-grant funds.
Subscribe to the Coronavirus newsletter
Get the day's latest Coronavirus news delivered to your inbox by subscribing to our newsletter.
---