Sports
Wilson not playing like 35-year-old
Wed., May 26, 2004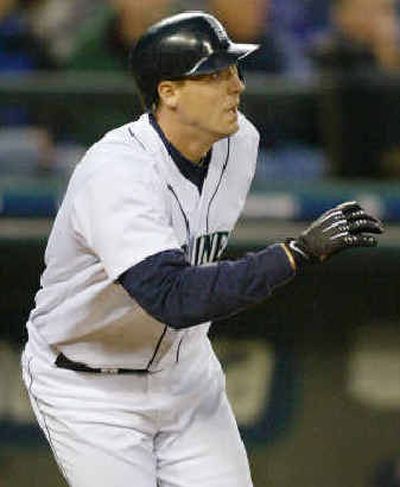 A strange thing happened to Dan Wilson on his way to being put out to pasture this season.
He became important again.
Better yet, the Mariners catcher seems to have forgotten how old he is, as he has played more like a sprightly 25-year-old this season than a 35-year-old who is in his 11th major league season.
"Well, I don't know if I feel 25 … but I'm feeling pretty good," Wilson said after Seattle's 3-1 victory over Detroit on Sunday. "Some things are harder to deal with as you get older. But I just keep working away at it."
Wilson is second on the team with a .304 batting average – behind only Ichiro Suzuki (.325) – as the Mariners won the first of a three-game series in Cleveland Tuesday night 5-4 in 11 innings.
And they'll do so with Wilson – and not anyone else – calling pitches from behind the plate.
Doctor suggests surgery for Sexson
The Diamondbacks' team doctor has recommended season-ending surgery on slugger Richie Sexson's injured left shoulder.
Dr. Michael Lee made the comment in a statement released by the team Monday night after he examined the first baseman. Lee said the partially torn labrum won't be able to heal on its own this season, although there were no new injuries to the shoulder.
Sexson would need up to six months to recover from the operation.
Big Cat beats cancer again
Andres Galarraga has beaten cancer for a second time and is hoping to get back to the major leagues.
Galarraga said that he recently underwent two three-week periods of chemotherapy and was hospitalized for 23 days for additional treatment for the same non-Hodgkin's lymphoma that sidelined him in 1999 when he was with the Atlanta Braves.
He said he was pronounced fit last week after a checkup at a Chicago medical facility.
Mueller out for six weeks
Red Sox third baseman Bill Mueller will have arthroscopic surgery on his right knee Friday to help relieve symptoms of an arthritic condition, and is expected to miss six weeks.
The defending A.L. batting champion was placed on the disabled list Tuesday.Catcher-first baseman Andy Dominique was recalled from Triple-A Pawtucket on Tuesday. Rookie Kevin Youkilis, who has played third since Mueller was sidelined, started his seventh game for Boston against Oakland.
•Red Sox pitcher Byung-Hyun Kim flew home to South Korea on Tuesday to see a doctor for his sore back.
Kim, who has struggled since being activated from the disabled list April 29, planned to be gone about a week.
Minor league promotion scrapped
After fans complained, the River City Rascals canceled a "Sports Criminals Night" promotion that would have turned the stadium into a giant prison, with a fan thrown into a "dugout jail" each inning.
The June 2 promotion, announced Sunday, was intended "to humorously poke fun at how the media sensationalizes athletes who end up involved in the justice system," officials of the minor league team said.
But the Rascals, of the independent Frontier League, said Monday they would offer a different promotion at their ballpark outside St. Louis.
Around the horn
An October trial date was set for Karim Garcia and Jeff Nelson, former Yankees accused of attacking a Fenway Park groundskeeper during last year's playoffs. … Rockies first baseman Todd Helton missed his fourth straight start with a sore back. … The Giants placed first baseman J.T. Snow and second baseman Ray Durham on the 15-day disabled list. Snow's move is retroactive to May 21 and Durham's to May 22. … The Mets sent right-hander Tyler Yates to Triple-A Norfolk. … Rangers outfielders Kevin Mench and Brian Jordan were put on the 15-day disabled list.
Local journalism is essential.
Give directly to The Spokesman-Review's Northwest Passages community forums series -- which helps to offset the costs of several reporter and editor positions at the newspaper -- by using the easy options below. Gifts processed in this system are not tax deductible, but are predominately used to help meet the local financial requirements needed to receive national matching-grant funds.
Subscribe to the sports newsletter
Get the day's top sports headlines and breaking news delivered to your inbox by subscribing here.
---