News > Features
The anti-Britney
Sun., May 30, 2004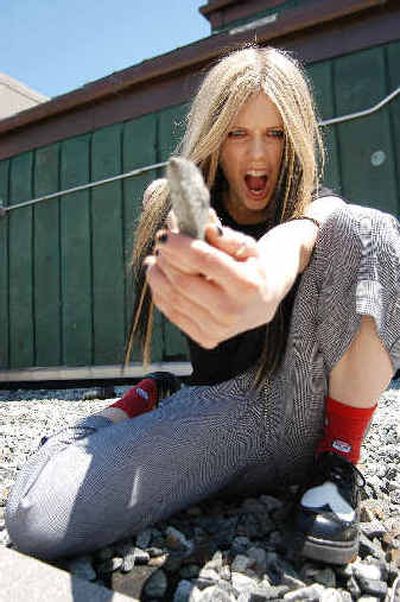 Avril Lavigne knows her image: a moody, teen rock star with an acidic tongue, steely stare and tough-girl attitude.
"I have been labeled like I'm this angry girl — I'm like, this rebel, I'm like, punk, and I am so not any of them," says the petite, Canadian-born singer. "It's so funny, and I'm actually really shy."
That's just one misconception Lavigne hopes to dispel with her new album, "Under This Skin," the follow-up to her monstrously successful debut, 2002's "Let Go."
Though she's only 19, Lavigne has had a profound effect on the pop world in her short career.
In 2002, most teen female singing stars were little more than sexy nymphets singing prepackaged pop that was neither distinctive nor original. Along came Lavigne, a brash teen who didn't dye her hair blond, wear tight outfits or bounce to a bubble-gum beat. She played instruments (piano and guitar) and actually was credited with co-writing her own songs.
Girls looking for an alternative to Britney Spears or Christina Aguilera flocked to Lavigne. Her album sold more than five million copies and received a slew of Grammy nominations thanks to hits like "Sk8er Boi," "I'm With You" and "Complicated."
Though she's not fond of the term, Lavigne became the anti-Britney — and flourished because of it.
"I get fan letters like all the time … and pretty much every letter just talks about, 'Thank you for not being Britney Spears. I love how you're yourself and you stand up and you're strong,' " she says in a little girl's voice. "I came out and I was myself, dressing, like, my own way."
On her biggest hits, she was paired with the then-unknown production trio known as The Matrix, who were also listed as co-writers. But after The Matrix started becoming ubiquitous as pop writers and producers — working with everyone from Liz Phair to even Spears and Hilary Duff — some people started wondering how much Lavigne had actually contributed to her hits.
The issue still gets her steamed.
"I've been writing since I was a little girl. I've been playing guitar since I was a little girl. I've been writing full-on songs since I was 14; like, full-structured songs," she says defiantly. "I am a writer, and I won't accept people trying to take that away from me, and anyone who does is ignorant and doesn't know what they're talking about — and don't you dare!"
Not surprisingly, The Matrix is absent from "Under My Skin." Lavigne instead co-wrote most of the songs with fellow Canadian singer Chantal Kreviazuk, whom she calls her new best friend. She also worked with Ben Moody, formerly of the Grammy-winning duo Evanescence.
Kreviazuk says Lavigne was in complete control of the album and its artistic flow.
"She's just so motivated, so driven, when she sat down to write a song, she was just a pistol," Kreviazuk says. "I think that it's quite hilarious that people are saying the opposite, because she's so much a part of the songwriting process."
Though the record definitely has elements of her previous hits — great pop melodies with a rock feel — it also delves into more adult topics, like broken relationships, the loss of a loved one and complex emotions.
The subject matter may be a bit more adult, but Lavigne hasn't outgrown her fan base. There are no explicit sex songs, and while she admits she's gotten more "girly" — wearing tank tops instead of bulky clothes more often — she's not ready for a Maxim spread just yet, unlike a lot of her peers.
"I definitely couldn't do it now," she says, squirming at the very thought.
Lavigne acknowledges pressure to repeat the massive success of her debut, and even admits it may not happen.
"You can go as quickly as you came," she says. "I'm always going to be doing music no matter how big I am, so I'd be satisfied, but you don't know what's going to happen."
Kreviazuk says Lavigne has learned to shrug off the barbs she's received, let down her guard and let people see there's something more to her than an angry stare.
"I think one of the things she may have learned is that you can be cool and you can be happy," Kreviazuk says. "She has so much to celebrate, and she's aware she's got so much to celebrate. She doesn't need to be tough about it."
Local journalism is essential.
Give directly to The Spokesman-Review's Northwest Passages community forums series -- which helps to offset the costs of several reporter and editor positions at the newspaper -- by using the easy options below. Gifts processed in this system are not tax deductible, but are predominately used to help meet the local financial requirements needed to receive national matching-grant funds.
Subscribe now to get breaking news alerts in your email inbox
Get breaking news delivered to your inbox as it happens.
---