News > Business
Frank seeks Summit land
Wed., Nov. 3, 2004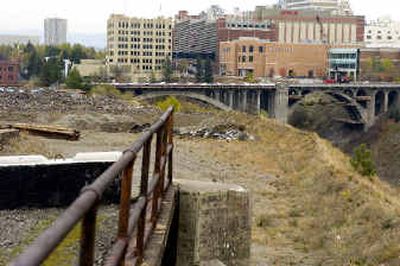 Spokane developer Jim Frank went to court this week in an attempt to acquire the 77-acre Summit property overlooking the Spokane River, a move protested by the bankrupt landowner, Metropolitan Mortgage and Securities.
Frank, who owns Greenstone Corp., and his business partner Jerry Dicker filed court documents Monday saying that they have an agreement to purchase the note on the property from lender Western United Life Assurance Co. The bankruptcy court documents say the property should be deeded to their company, Kingfisher Land Holdings LLC, in lieu of foreclosure, instead of being sold to Kirkland developer Matt Aatai, who submitted the winning bid for the property to Metropolitan in October.
"Our reason for purchasing the note was to acquire the land and provide to Met and its creditors a better value," Frank, who is out of the country, wrote in an e-mail. "We believe the values of the community will be better reflected with the property in local ownership."
Metropolitan, however, believes the best return for creditors is through the deal with Aatai and his company, Seawest Investment Associates, CEO Maggie Lyons said. Metropolitan still owes $11.15 million on the note, which has been accruing interest at the rate of $3,390 a day since Oct. 1. Metropolitan's attorney, Barry Davidson, said Seawest's offer, which increases as necessary to cover all costs, will provide the best protection to creditors.
"We will never lose money on the sale to Seawest, plus we will be indemnified from any environmental liability" on the former railroad yard, Davidson said. "We have one goal and that is to realize maximum value to Metropolitan creditors and we don't think that will be met by Kingfisher's offer, if it is an offer."
Davidson said Kingfisher's offer was "disingenuous" considering potential buyers had months to make offers on the property while it was on the market. Kingfisher also waited until the last day possible to object to the sale to Seawest, Davidson said.
"What we have is a motion at the 11th hour … from a party who has purchased an underlying note, making themselves a creditor," Davidson said. "We have no intention of accepting it."
Frank would not say what Kingfisher is paying for the note. Kingfisher's court document says Seawest's offer subjects Metropolitan to a potential liability of $100,000 "if it is unable to obtain Bankruptcy Court approval of the sale for any reason not attributable to Seawest."
Davidson called that "ironic" because the only reason he sees for the sale not being approved is the objection that's been filed by Kingfisher. "They created that liability through this objection," he said, adding that Metropolitan has requested a hearing with the bankruptcy court on this matter.
Kingfisher is proposing to acquire the land in lieu of foreclosure by buying the note. The company also offers Metropolitan $50,000 cash for a small piece of land adjacent to the property, the motion says. The offer has no contingencies and can be closed much more quickly than deal with Seawest, which is scheduled to close in January, the motion says.
Aatai declined to discuss the deal he has with Metropolitan, saying only that his company is inspecting the land, preparing to close the sale.
The failure of Metropolitan is the largest bankruptcy in Spokane history. Thousands of people, most living in the Inland Northwest, invested $580 million in the company, but could receive as little as 15 cents on the dollar from those investments, according to the latest estimates. During the course of its bankruptcy proceedings, Metropolitan has been selling off assets, including the Metropolitan Performing Arts Center, the 17-story Metropolitan Financial Center and the Summit land.
Davenport Hotel owner Walt Worthy recently bought the financial center by purchasing the note then acquiring the deed in lieu of foreclosure, much as Frank's company is attempting to do. However, he said he didn't think his offer would have been accepted if Metropolitan hadn't petitioned the court in his favor.
"If Met does not support the Jim Frank deal, they're going to have a lot harder time getting it done," Worthy said. "It's going to be a judgment call for them."
Worthy said he could see why Western United would be interested in a cash offer for the note.
"A bird in the hand is worth two in the bush. They're saying 'we'll come whole or almost whole by selling this note.' If they can get their money, positively, then it's their responsibility to do it. They don't have anything to do with Met. They need to survive."
Western United representatives did not return phone calls seeking comment.
Aatai hasn't revealed his development plan for the land, saying his company is still inspecting the land. He has said, however, that the land would be a good place for an "urban village." He has also said he plans to sell some of the land and develop some of it.
Frank said his company's development plan for the land would be similar to what was originally proposed by Seattle developer Nitze-Stagen. Working with Metropolitan prior to the bankruptcy, Nitze-Stagen proposed an eclectic "live, work and play" neighborhood with varied housing, including artists lofts, apartments and high-end condominiums and homes. Some 1,500 housing units were proposed, along with 780,000 square feet of commercial and office space.
In the e-mail, Frank wrote: "We also believe that this property and how it develops will be a central element in defining the future character of both the Spokane central business area and the West Central neighborhood."
Local journalism is essential.
Give directly to The Spokesman-Review's Northwest Passages community forums series -- which helps to offset the costs of several reporter and editor positions at the newspaper -- by using the easy options below. Gifts processed in this system are not tax deductible, but are predominately used to help meet the local financial requirements needed to receive national matching-grant funds.
Subscribe now to get breaking news alerts in your email inbox
Get breaking news delivered to your inbox as it happens.
---