News > Nation/World
Man wrongly convicted as 'Snaggletooth killer' to get makeover
Fri., Nov. 19, 2004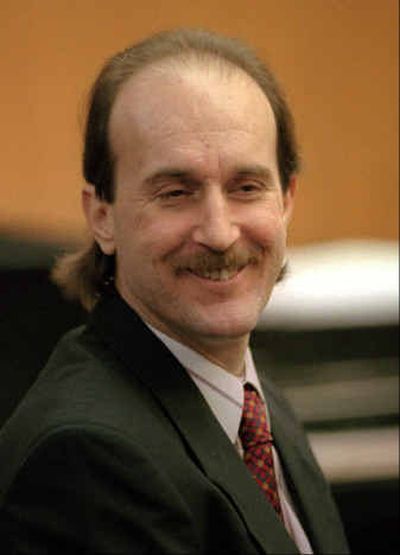 PHOENIX – Ray Krone, wrongly convicted twice of killing a woman, is getting rid of a key piece of evidence used against him: his crooked smile.
The exonerated man, once dubbed the "Snaggletooth Killer" and sentenced to death, is getting a winning grin courtesy of the ABC reality show "Extreme Makeover."
Krone will undergo extensive dental work, a hair transplant, an eye lift, nose job and liposuction on his cheeks. He will spend nearly two months recovering from surgery and meeting with a fitness trainer and nutritionist.
"It's the embarrassment of being called the Snaggletooth Killer, living with that," Krone, who now lives in Dover Township, Pa., said before leaving for California. "My teeth are what they really used to convict me."
Krone, 47, was a postal worker when he was arrested in 1991 in the killing of Kim Ancona, a bartender who worked at a Phoenix lounge where Krone played darts. His convictions were based on expert testimony that supposedly matched his teeth with bite marks found on the victim.
Krone was convicted in 1992 and sentenced to death. He was found guilty again in 1996 after the first conviction was thrown out on procedural grounds, but the second judge gave him life in prison.
In 2002, new DNA testing proved Krone was innocent and he was freed. DNA from the crime scene was linked to a man already in prison.
The new suspect is awaiting trial, and Krone is pursuing a wrongful-conviction case against city and county officials.
"We want a candidate whose looks have deeply, negatively affected their lives," said Lou Gorfain, an executive producer for "Extreme Makeover."
Local journalism is essential.
Give directly to The Spokesman-Review's Northwest Passages community forums series -- which helps to offset the costs of several reporter and editor positions at the newspaper -- by using the easy options below. Gifts processed in this system are not tax deductible, but are predominately used to help meet the local financial requirements needed to receive national matching-grant funds.
Subscribe now to get breaking news alerts in your email inbox
Get breaking news delivered to your inbox as it happens.
---