News > Idaho
On firmer ground
Sat., Sept. 11, 2004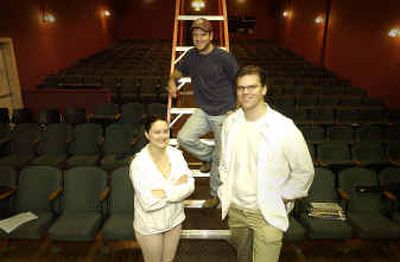 The Lake City Playhouse finds itself on firmer financial footing with a new major patron, a new management team and a new season that kicked off Friday with the production of "Harvey." The Winifred Gregory Endowment Fund is sponsoring the small community theater's entire 2004-05 season, which is under the direction of managing director Noel Barbuto, technical director Todd Jasmin and artistic director Tracey Benson.
The endowment, named after Winifred Gregory, a well-known Coeur d'Alene resident who was an accomplished singer, is the nonprofit theater's first major benefactor, Benson said.
"We're moving forward and have gotten the Playhouse on an even field financially, and continue to need the support of the community to foster that for the future," she said.
This season also marks the first time the Playhouse has had a technical director as well as three full-time employees and a part-time bookkeeper.
Jasmin is the protagonist in "Harvey" as Elwood P. Dowd, a man who has a relationship with a 6½-foot rabbit that only he sees. The play, written by Mary Chase, eventually became a popular movie starring Jimmy Stewart in the Dowd role.
"Whether Harvey is real or not … Elwood thinks he's real," Jasmin said. "The audience is seeing the play through Elwood's eyes. He's created his own kind of world and everyone is on the periphery looking in and not sure, and he's probably the happiest, most well-adjusted person in the play, but yet the entire play everyone is thinking he's crazy, trying to get him committed."
Jasmin, 38 has performed in about 60 plays and has been in a couple of independent films. Scott Lockwood will direct "Harvey."
Barbuto will take the lead in "Phantom," which opens in October. The musical, composed by Maury Yeston and written by Arthur Kopit, traces the story of "The Phantom of the Opera."
"You find out why the Phantom is the way he is, why he's disfigured," Barbuto said. "You find out that he actually has a name (Eric), who his father is; just a lot more in-depth of all the characters."
Benson started at the Playhouse as production manager last October, becoming the artistic director in June. A lifelong Coeur d'Alene resident, she remembers acting on the Playhouse stage as a little girl. She invited Jasmin and Barbuto to come on board in July. Barbuto had been on the board of directors at the Playhouse for about a year. Benson and Jasmin had been classmates at the University of Idaho; both have master's degrees in theater. Barbuto holds a bachelor's degree in vocal performance and a teaching certificate. He has been in more than 2,000 shows and also arranges music.
"It was the best thing I ever did," Benson said about her decision to hire Jasmin and Barbuto.
"Typically nonprofit organizations will employ one or more full-time employees to run the place," Benson said. "This is the bare minimum to make this place function."
The three of them know each other's job in case one needs to cover for another, and they all share duties such as cleaning the theater, mowing the lawn and running the box office and concession stand.
The theater relies on community support and local business support through sponsorships and donations. Jasmin said the sponsorships have pretty much been one show at a time, but the Winifred Gregory Endowment Fund has changed all that.
Gregory, who died Dec. 26, 2003, had a master's degree in drama from the University of Washington and was an accomplished singer. Barely out of her teens, Gregory auditioned for the Metropolitan Opera but didn't want to wait for her voice to mature, so she went into musical comedy.
Suzanne Kaderka, former executive director of the Coeur d'Alene Downtown Association and current board member for the Playhouse, knew the theater needed some help and the wheels started turning.
Kaderka and her husband first met Gregory in 1991 when they stayed at the bed and breakfast that Gregory ran with her husband, Stephen. Gregory had founded the Coeur d'Alene Festivals committee, a nonprofit organization that brought Coeur d'Alene the Fred Murphy Days Parade and The Taste of the Coeur d'Alenes, among other things. Kaderka became involved with the Festivals committee and still serves on its board of directors.
With Gregory's death, Kaderka felt she had to find her own cause. Her friend, Diane Ansbaugh, a board member of the Lake City Playhouse, suggested that she volunteer to do fund-raising for the Playhouse. The idea came to Kaderka to have the Coeur d'Alene Festivals committee donate money to the Lake City Playhouse and dedicate the season to the memory of her friend Gregory. Kaderka saw a need for the Playhouse as well as a need for the Gregory family to honor the memory of Winifred, so she brought them together, according to Benson. This substantial gift has been a huge boost to the theater group. Carol Gregory, Winifred's daughter, said her mother would approve whole-heartedly.
"Some of our current sponsors have donated to the Playhouse in the past, but as far as having regular sponsorships, this is new to the Playhouse," Benson said. "We'll continue to have her name connected to this theater, if that's what the family chooses."
"Phantom" will also be sponsored by Robideaux Motors, and Cedar Ridge Homes is a big sponsor for "Harvey."
The new Playhouse managers said they have planned a varied and exciting season planned for the community to enjoy.
"We try to develop all aspects of theater not only for the children, but also for the adults," Barbuto said. The three do everything from the Huckleberry (children's) Theater during the summer to writers' workshops, lighting workshop and Magic Theater, where they bring important subjects to the schools for grades K-12.
In the summer they do five children's workshops, each two weeks long.
"I don't think there's a day when there's not somebody here," Barbuto said. "This is a great complement to the Coeur d'Alene Summer Theatre. They've got adults; we've got kids. We're trying to create a nice little community of theater in this town."
And has this theater ever been busy.
"I was here last night for 'Harvey' rehearsal," Jasmin said. "Tracey had her auditions for 'A Shayna Maidel,' and Noel was at the Harding Center in rehearsal for 'Phantom.' We're all here during the day and then in the evening we're all working on a different show. It's just ambitious, it's crazy and it's exciting!"
"A Shayna Maidel" will be one of two shows in what they call the "Black Box Series," designed for a more mature audience. Benson, who will direct, said the Black Box Shows are also a little smaller scale. The other Black Box show, "All in the Timing," will be directed by local artist Lee Ja Junker.
Barbuto will direct "A Christmas Carol" in December, and "Something's Afoot" in January will be directed by Jasmin. Barbuto steps up to the plate in March, when he will direct "Jesus Christ Superstar."
"The vision I have is very classic in nature," Barbuto said. "I want to give strong integrity to the playwright and composer, but yet there are so many ways you can take 'Jesus Christ Superstar'."
Benson said they just want to do it artistic justice.
After that Benson will be in the director's chair for "Little Women," followed by "The Hobbit," directed by Jack Green, the set designer at North Idaho College.
As if all of this isn't enough, they will have a Reader's Theatre series this season, to be held at Little Seattle coffee shop, Brix restaurant and Doma coffee shop. These are all in one performance. The first one is "Mrs. Warren's Profession," by George Bernard Shaw, Wednesday at Little Seattle.
"It's halfway between just reading and a full-blown performance," Jasmin said. "The actors and the director have rehearsed, but line memorization is not the key. The actors have a good sense of the text."
The Lake City Playhouse seats 212 patrons. For all their hard work, hopefully every seat for every performance will be filled.
Local journalism is essential.
Give directly to The Spokesman-Review's Northwest Passages community forums series -- which helps to offset the costs of several reporter and editor positions at the newspaper -- by using the easy options below. Gifts processed in this system are not tax deductible, but are predominately used to help meet the local financial requirements needed to receive national matching-grant funds.
Subscribe now to get breaking news alerts in your email inbox
Get breaking news delivered to your inbox as it happens.
---