News > Idaho
Bringing opera to the masses
Wed., Sept. 22, 2004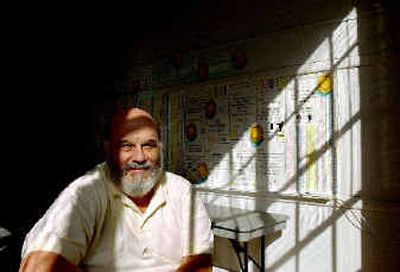 OPERA IS MORE than the weight-challenged lady singing or the shrill Viking maiden in waist-length braids and a horned helmet.
It's Romeo baring his love to Juliet. It's Othello wooing Desdemona. It's murder and jealousy, heroism and hedonism in costume to music on a stage adorned as historical Europe or Asia.
"Why shut yourself off to something that's brought such pleasure to so many for so long?" says Fred Glienna, a Coeur d'Alene opera buff and educator. "I deal with the fear factor, the idea that opera seems strange and weird, that it's stylized in a silly way."
Fred is teaching Kootenai County what he took for granted growing up: opera rocks. He doesn't have to work too hard for his audiences. Opera is more popular than ever. Despite its sometimes stuffy reputation and often intimidating fans, opera is drawing full houses, even in Coeur d'Alene.
"When Opera Plus started, I joyously jumped in," Fred says. He's teaching "An Easy Introduction to Opera" from 9 a.m. to noon on Saturday at Coeur d'Alene's Harding Family Center.
Opera Plus is Coeur d'Alene's nonprofit performance and education organization. It formed in 1999, first to feed opera to starving fans who found themselves cut off from live performances in North Idaho and, second, to cultivate new listeners through school programs and adult seminars.
Fred was a commercial photographer who'd moved to Coeur d'Alene from the Los Angeles area in 1995. He was used to the availability of live opera and immediately mourned its absence in North Idaho. He had listened to opera since infancy with his Italian family in Chicago.
"I had no choice," he says, grinning. "The only records we had in the house were opera. I was spoon-fed opera. When I got to school, I was surprised not everyone knew it."
Opera Plus was his cultural lifeline. Fred saw an opportunity to promote his passion and offered his services to Opera Plus founders Mark and Marlo Faulkner. He had taught himself so much over the years about the stories, composers, music styles and history of opera that the Faulkners invited him to teach a community class in 2001.
Students were delighted.
"He's outstanding, so well-prepared and enthusiastic," says Lucretia Pladera. She lives in Coeur d'Alene and is an annual subscriber to the Seattle Opera. "He has this thing down to a fine science. It's wonderful to have people in the community who have the expertise of our instructor."
Fred had no interest in showing off his vast knowledge of opera. He wanted his neighbors to develop a love for the musical art, so he collected opera music incorporated into rock, commercials and movies and played it for them. He explained opera with sports anecdotes and showed the music in Shakespeare's plays. He taught as a fan sharing his passion rather than an expert feeding his ego.
"It's not intimidating at all. It's warm, inviting, a fun place to be," says Roberta Larsen, who has taken three of Fred's opera classes. "He does some wonderful explaining about libretto. It's very comfortable."
Fred has taught classes on Shakespeare and opera, one-act operas and French opera. Shakespeare was his choice. Students asked for French opera on evaluation sheets they fill out after each class. Fred's willing to offer whatever people want.
"Fred gets incredible evaluation marks," says Bob Brown, an Opera Plus volunteer. "People want him to talk more. He likes to play lots of music."
Fred's Introduction to Opera class this weekend costs $25. It's designed for people with little or no experience with opera. He plans to play highlights from "Aida," "La Boheme," "Carmen," "The Barber of Seville" and other operas that listeners will find familiar.
He'll focus on Gaetano Donizetti's "L'Elisir D'Amore" (The Elixir of Love) the last hour of class because Opera Plus will produce that opera Oct. 9 and 10 at North Idaho College's Schuler Auditorium.
The comic opera is the musical story of a poor man, Nemorino, in love with a well-off woman, Adina, engaged to a pompous soldier, Sgt. Belcore. Nemorino spends his last cent on a bottle of wine a charlatan has convinced him is an elixir of love.
If Saturday's class is out of the question, don't panic. Fred will offer a free pre-opera lecture on "L'Elisir D'Amore" one hour before curtain time. For more information, call 769-7780.
Local journalism is essential.
Give directly to The Spokesman-Review's Northwest Passages community forums series -- which helps to offset the costs of several reporter and editor positions at the newspaper -- by using the easy options below. Gifts processed in this system are not tax deductible, but are predominately used to help meet the local financial requirements needed to receive national matching-grant funds.
Subscribe now to get breaking news alerts in your email inbox
Get breaking news delivered to your inbox as it happens.
---