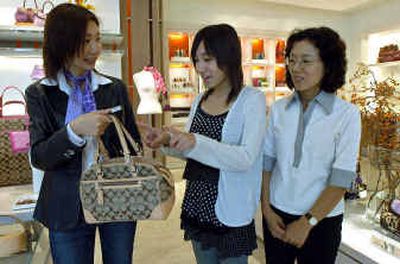 TOKYO — Walking down a street in Tokyo, it doesn't take long to spot women clutching Coach bags.
Coach, the New York-based maker of fine leather goods, is succeeding where other American companies have struggled, winning over finicky Japanese customers who have long preferred European and homegrown brands.
With more than 100 retail outlets in Japan, Coach's sales here tripled over the past three years to about 30 billion yen, or about $270 million, and business in Japan now makes up more than a fifth of its global sales.
Japanese buyers are passionate about the leather and fabric bags and totes.
"I've always wanted a Coach bag," said Akiko Yamaguchi, a university student visiting a Coach store with her mother, who bought two bags for her daughter's 20th birthday. "I'd like to buy lots more if I can."
Coach is so popular that, at the recent opening of its store in the northern city of Sapporo, dozens of women lined up to be among the first to set foot in the shop.
Known for its craftsmanship, Coach is now the No. 2 imported bag and accessory brand in Japan in sales, just trailing France's Louis Vuitton, a favorite here for decades. Coach sells in department stores around the country, and it has four flagship boutiques totally devoted to its products, with two more opening this year.
"We have a unique brand proposition. We are an accessible luxury accessories brand in which we offer extremely well-made products that are relevant to Japanese consumers' lifestyles at very attractive prices," Coach chief executive Lew Frankfort said during a recent visit to Tokyo. "We think the opportunities are abundant."
Coach keeps prices down — as much as half or a third of European rivals — by maintaining low-cost suppliers and producing the bags in Chinese plants where workers are trained and supervised by Coach to maintain quality.
Still, the bags are not cheap, giving them the luxury-goods aura Japanese shoppers demand. A Coach tote costs about $700, but smaller bags cost about $400.
It has also helped Coach that the Japanese culture is brand-conscious. Even in the samurai era, people kept abreast of fashions, coveting brands in noodles, kimonos and bonsai plants. Being out of touch with what's hip is potentially embarrassing in Japan, and even costly for your career.
The brand loyalty of Japanese often backfired on many American companies trying to break into the market here, although the Gap retail chain, Coca-Cola and Disneyland have been huge hits. Ford Motor Co., Burger King, Gateway and Dunkin' Donuts haven't found Japanese buyers as welcoming.
"Coach is a case study in cracking the Japan luxury market," said Naomi Moriyama, president of New York-based The Moriyama Group, a marketing consulting firm. "Coach is winning in Japan because of intensive consumer research, superb product quality and customer service, stunning new stores and a constant flow of new products."
---