News > Idaho
Keeping him in the game
Tue., April 12, 2005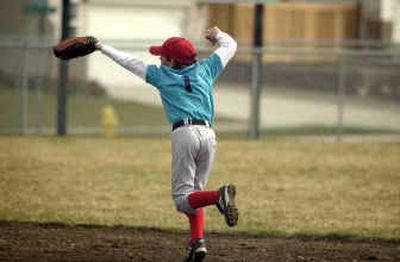 Eric Seaman panicked when he examined his son Tanner's leg after the boy hurt himself playing soccer near his Coeur d'Alene home three years ago.
Tanner was 7 then, and his right leg was noticeably shorter than his left.
"I went looking for specialists. I would have mortgaged the house to take care of him. I'd give him a quarter-inch of my femur if I could," Seaman said recently. "Every specialist said we should go to Shriners, that they were the best."
Seaman admits he knew nothing about Shriners Hospital for Children in Spokane, but he was skeptical anyway.
"I thought they were pushing kids over there because it was a free place," he said. "But I was blown away by Shriners."
After three years of visits to Shriners, Seaman is a fan and encourages parents to take advantage of the free screening clinics the philanthropic organization offers frequently throughout the region. Doctors volunteer at the clinics to screen children, birth to 18, for orthopedic and burn problems.
Children with significant problems are referred to Shriners Hospital, to be seen by pediatric orthopedists, said Maggie Crabtree, hospital spokeswoman. Patients pay nothing for procedures and treatment at Shriners. The organization pays for everything offered under its roof.
The Spokane hospital offers help to children in Washington, North Idaho, Montana, Alaska, British Columbia and Alberta. The next free screening clinic is Saturday in Coeur d'Alene, 9 a.m. to noon, at the Panhandle Health District, 2195 Ironwood Court.
Charlie Brooks, a Coeur d'Alene Shriner, said his chapter distributes fliers about the free screenings to schools, Head Start – anywhere children gather. From 10 to 70 kids show up at the screenings with their parents, depending on the weather, but Brooks knows more children could use help.
"We struggle to get the word out," he said.
The screenings are to identify growth problems related to accidents, illness or birth. Parents worried about their child's pigeon toes, for example, should stop by for a free screening. A doctor and nurse practitioner, both of whom volunteer for the clinic, will examine the child's feet and legs and often tell parents the child will outgrow the stance. The doctor may suggest exercises to do at home.
If the doctor believes orthopedic help is needed, he or she will refer the child to the Shriners Hospital. About 600 North Idaho children receive care each year from the hospital. Shriners treats them for arthritis, spina bifida, cerebral palsy and muscular dystrophy as well as scoliosis, limbs that aren't growing correctly and much more.
Shriners also treats burn scars that don't stretch and cause growth problems, Crabtree said.
"As the body grows, scar tissue stays the same," she said. "We can return some of the elasticity with plastic surgery."
Before Seaman took his son to Shriners, he called specialists as far away as Baltimore and Australia. Seaman has health insurance and wasn't going to settle for anything less than the best. They all directed him to Shriners, he said.
Seaman told Shriners he had insurance and could pay for treatment, but they turned him down. Shriners raises its own money through donations and benefits. It raises about $40,000 each year in North Idaho at a football game for kids in the Kibbie Dome in Moscow, Crabtree said.
Doctors decided they needed three years to watch Tanner's growth patterns. Eventually they'll decide between lengthening Tanner's right leg or interrupting growth in his left leg while his right leg catches up, Seaman said. In the meantime, Tanner has adapted to his different leg lengths. He plays Little League baseball. Seaman said he helps the coach understand why Tanner may move a bit differently.
The Seamans visit Shriners six to eight times a year, mostly because Seaman needs constant confirmation that his boy is doing fine.
"It's a heavy load for me," Seaman says. "It bothers me daily, but I see kids there missing limbs, with bent backs, limbs half the size they should be. It helps me keep my perspective."
Shriners assigned a counselor to the Seamans so they can share their concerns about Tanner's treatment.
And, "Every so often we get a call from a local Shriner wondering if we need a ride to our appointment," Seaman says. "They're topnotch. I have a good job, but there are families who have nothing. I just want to make sure my boy can chase fly balls if he wants to."
Local journalism is essential.
Give directly to The Spokesman-Review's Northwest Passages community forums series -- which helps to offset the costs of several reporter and editor positions at the newspaper -- by using the easy options below. Gifts processed in this system are not tax deductible, but are predominately used to help meet the local financial requirements needed to receive national matching-grant funds.
Subscribe now to get breaking news alerts in your email inbox
Get breaking news delivered to your inbox as it happens.
---