News > Idaho
His book will make you think
Sat., April 16, 2005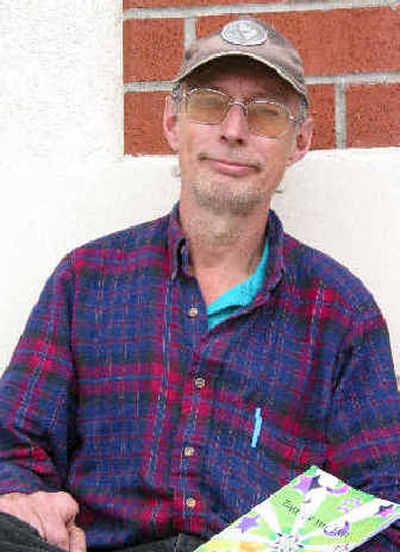 Max Tuggle describes himself as a spiritual man who believes that nature is a part of everything. Searching for answers to the whys of life and death, Tuggle, 57, has written his first book, "Time of the End."
"We're a part of nature, and nature's a part of us," Tuggle said. "The Earth is going through major changes right now – politically, economically, geographically, spiritually – everything, and we're part of it. It's very subtle, and because it's so subtle, we don't recognize it."
Originally from Memphis, Tenn., and raised in Jackson, Miss., Tuggle settled in Hayden in 2003.
In order to make sense of the world, he went on a spiritual journey that year. The more he organized his thoughts, the more he realized that he had a book to write. The point of "Time of the End" is to fill in the gaps of what's missing, in his quest to make sense of the world.
"I wasn't really starting out to write a book I was just kind of organizing (my thoughts). The more I organized it, the more it started to make sense," Tuggle said.
He said he believes in the Bible, but he is concerned about what is not in the Bible.
"We've lost touch with nature," Tuggle said. "I write about it in the book: If you have a garden, work barefoot in your garden. Get closer to nature. We live in a concrete jungle, disconnected from our environment. It says in the Bible we were born from the dust."
He analyzed the Declaration of Independence and points out the passage. "We are endowed by our creator." His interpretation is that we are all endowed with special qualities or talents, so we all have purpose in this life.
Tuggle is also interested in astrology and ties concepts of astrology into the book.
He speaks about Armageddon. His feeling is that we will be fighting ourselves if and when Armageddon occurs. He believes that Armageddon will be World War III, but not a typical guerilla war. He predicts it will be a war between Christians, Jews, Muslims and Mother Nature. And he predicts that Mother Nature is going to prevail.
"By fighting each other, we're destroying not only ourselves, but the planet," Tuggle said.
The way to reverse this potential for destruction is inside ourselves, he said.
"Love yourself, love your neighbor," Tuggle said.
"Time of the End" is a book about prophecy: biblical, astronomical and technological.
"Our technical prowess is about to exceed our spiritual maturity," Tuggle said. Tuggle's interests in astrology, reincarnation, yoga, holistic medicine and New Age ideas are all reflected in his prose. He said that the information is important and that people need to read it.
Tuggle will be at Auntie's Bookstore in Spokane on April 30 for a book signing. Hastings in the Spokane Valley has agreed to a book signing as well, with the date not set as of press time. "Time of the End" is published by Rose Dog Publishing in Pittsburgh. The book retails for $9.
"This is an in-your-face book," Tuggle said. "It forces you to think."
Local journalism is essential.
Give directly to The Spokesman-Review's Northwest Passages community forums series -- which helps to offset the costs of several reporter and editor positions at the newspaper -- by using the easy options below. Gifts processed in this system are not tax deductible, but are predominately used to help meet the local financial requirements needed to receive national matching-grant funds.
Subscribe now to get breaking news alerts in your email inbox
Get breaking news delivered to your inbox as it happens.
---