News > Business
Protests leave mark
Tue., April 19, 2005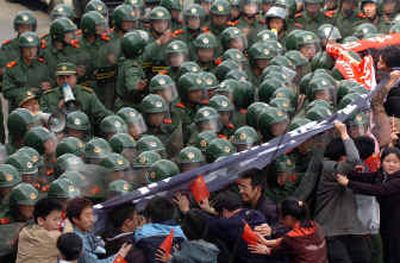 TOKYO — Shares of Japanese companies tumbled Monday amid fears about the economic fallout from intensifying Chinese civil and political protests against Japan as relations between them soured to the worst in decades.
Analysts said Japanese companies, many of which are counting on China's booming economy to drive profits, weren't taking the anti-Japan sentiment and unrest seriously enough — a concern investors appeared to share. The benchmark Nikkei Stock Average plunged 3.8 percent to end at its lowest point since Dec. 16.
Some of the most noticeable declines were in companies with business in or tied to Chinese and U.S. markets. Shares of shipping company Mitsui O.S.K. Lines Ltd., which deals in steel, chemicals, machinery and other products in China, stumbled 6.6 percent. Electrical machinery maker Fanuc Ltd.'s stock sank 5.5 percent, while shares of consumer electronics conglomerate Sony Corp., itself a target of anti-Japan hackers, shed 5 percent.
On Saturday, Chinese police stood by as thousands of rioters threw stones, eggs and plastic bottles at the Japanese Consulate in Shanghai, and damaged Japanese restaurants and cars. Some demonstrators shouted "Kill the Japanese!"
It was the third consecutive weekend of protests and vandalism in the most contentious dispute between the two countries in decades. In Beijing last weekend, rioters smashed windows at the Japanese Embassy and attacked at least two Japanese students.
The Chinese are angry about several issues — a new Japanese textbook that critics say glosses over World War II atrocities, Japan's bid to win a permanent seat in the U.N. Security Council and the Japanese prime minister's visits to a shrine that honors war criminals.
"The situation is very dangerous," said Susumu Yabuki, honorary professor of China studies at Yokohama City University. "Japanese businesses are clueless about the situation, and that makes it even more dangerous."
Before, the common wisdom about China-Japan relations was that political tensions might simmer but the hard feelings would not spread to business because both nations recognize they have so much to gain by boosting economic ties. Last year, China surpassed the United States as Japan's biggest trade partner.
On Monday, Japanese and Chinese government officials blamed each other for the situation and demanded apologies — although there was talk of a weekend summit between the country's leaders to defuse the situation.
Japanese companies have been generally mum, brushing off fears about long-term damage to their business. "It's business as usual," said Koichi Mabuchi, spokesman for Isuzu Motors Ltd.
The Japanese automaker was targeted in a recent boycott of Japanese goods organized by Chinese chain stores because of a former Isuzu president's association with a conservative group linked with the contested textbook.
Memories of wartime atrocities have been passed down in Chinese families, and bitter feelings run deep because many Chinese have a relative who was killed, injured or raped by Japanese soldiers, Ando said.
"The Chinese haven't forgotten, and more Japanese have to recognize this fact," he said.
Local journalism is essential.
Give directly to The Spokesman-Review's Northwest Passages community forums series -- which helps to offset the costs of several reporter and editor positions at the newspaper -- by using the easy options below. Gifts processed in this system are not tax deductible, but are predominately used to help meet the local financial requirements needed to receive national matching-grant funds.
Subscribe now to get breaking news alerts in your email inbox
Get breaking news delivered to your inbox as it happens.
---