Sports
Sandberg given high marks
Tue., April 19, 2005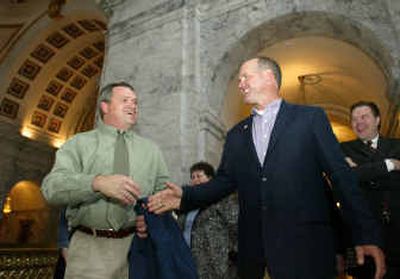 OLYMPIA – The hardest-to-find commodity in the state Capitol Monday morning wasn't a Republican vote to raise taxes.
It was baseballs.
Legislative staff rushed out to buy boxes of $4 baseballs Monday morning, as word spread that Hall of Famer – and Spokane native son – Ryne Sandberg would be coming to the Capitol.
"We're real proud of you," Sen. Don Benton said, his smile and handshake freezing for several long seconds as he posed for a photo with Sandberg. The standout second baseman signed dozens of baseballs, adding to his signature a little "HOF '05": "Hall of Fame, 2005."
Both the House and Senate unanimously passed resolutions honoring Sandberg, 46. The longtime Chicago Cubs' second baseman is only the second graduate of a Washington high school to be named to the National Baseball Hall of Fame.
"It is now my pleasure to present to you this most dynamic, most incredibly accomplished baseball player, Washington's own Ryne Sandberg," Lt. Gov. Brad Owen told the state Senate.
Watching from the gallery were Sandberg's brother, Del, several other family members, and Ken Eilmes, Sandberg's former coach at Spokane's North Central High School. Sandberg led the Indians to a 25-3 record and the 1978 state championship game, hitting .417 with four home runs in his senior season.
Still, Eilmes said he's stunned at how far Sandberg's come.
"He's a big star, a big, big star," said Eilmes. "It's kind of unbelievable."
Like Owen, lawmakers didn't skimp on the adjectives. Sandberg was pronounced a gentleman, a family man, "truly incredible," an inspiration, one of the greatest athletes of all time and the picture of grace and poise, both as an athlete and as a human being.
Then it was Sandberg's turn to speak. He talked about playing football at Joe Albi Stadium, and American Legion baseball at Shadle Park.
He talked about how he'd play alone at his house in Spokane, throwing a baseball against the steps and pretending he was fielding major-league hits.
"To have everything happen as it did is just remarkable to me," he said.
As a boy, he was a fan of the Cincinnati Reds. His favorite player: a guy named Pete Rose. Years later, his major league locker was next to Rose. They were teammates on the 1981 Philadelphia Phillies.
"All in all," Sandberg said, "it's been like a dream come true for me."
Local journalism is essential.
Give directly to The Spokesman-Review's Northwest Passages community forums series -- which helps to offset the costs of several reporter and editor positions at the newspaper -- by using the easy options below. Gifts processed in this system are not tax deductible, but are predominately used to help meet the local financial requirements needed to receive national matching-grant funds.
Subscribe to the sports newsletter
Get the day's top sports headlines and breaking news delivered to your inbox by subscribing here.
---