Sports
Nets take the last spot
Thu., April 21, 2005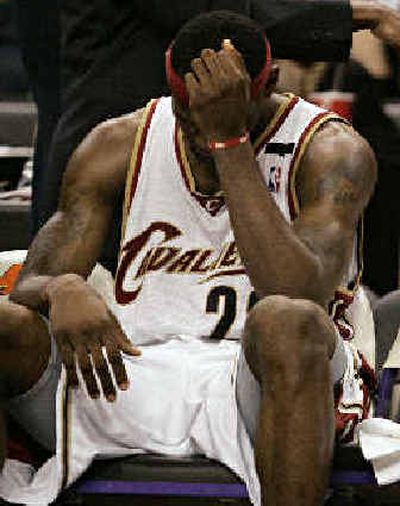 Vince Carter and the New Jersey Nets clinched the NBA's last playoff berth with a shaky start and a strong finish – the same way the team's season went.
Carter shook off an early injury and scored 24 of his 37 points in the second half to lead the Nets' comeback from a 19-point, second-quarter deficit in a 102-93 win over the Boston Celtics on Wednesday night in Boston.
New Jersey needed to make one final rally after the Celtics used an 8-0 run to close to 96-93 with 1:16 left. The Nets scored the final six points, all on free throws, then shook hands with Boston players and walked calmly off the court.
The Nets got the No. 8 seed in the Eastern Conference and play at top-seeded Miami on Sunday. The Celtics already had clinched the No. 3 seed and open their first-round series at home Saturday night against Indiana.
New Jersey started the season with a 2-11 record but finished with a 15-4 surge. Still, the Nets went into the final day of the regular season competing with Cleveland for the last playoff spot. Had the Nets lost, they would have been eliminated because Cleveland won at Toronto.
Both teams finished 42-40, but the Nets had the tiebreaker edge by winning the season series over the Cavaliers.
Cavaliers 104, Raptors 95: At Toronto, LeBron James had 27 points, 14 assists and 14 rebounds to lead Cleveland over Toronto. James did what he could, and by halftime was only one rebound short of a triple-double as Cleveland led by 15. The 20-year-old star recorded his fourth triple-double of the season by grabbing a rebound just 23 seconds into the second half, and the Cavaliers began the half with a 16-2 run that included two 3-pointers by James.
76ers 110, Hawks 86: At Philadelphia, Allen Iverson scored all 16 of his points in the first quarter to put the finishing touches on his fourth scoring title, and Philadelphia beat Atlanta to end up with the No. 7 seed in the Eastern Conference playoffs. The Sixers will play Detroit in the first round. Iverson finished with an NBA-best 30.7 scoring average, scored the second-most points in a season in Sixers history (2,302) and joined Wilt Chamberlain, Michael Jordan and George Gervin as the only players with four scoring titles.
Pacers 85, Bulls 83: At Indianapolis, Jermaine O'Neal and Anthony Johnson saved Reggie Miller's farewell party as Indiana beat Chicago. O'Neal had 21 points and Johnson added 20, scoring the go-ahead basket and a clinching 3-pointer in the final minute to lead the Pacers past Chicago.
Heat 98, Magic 93: At Orlando, Fla., With Shaquille O'Neal and Dwyane Wade watching from the bench, Keyon Dooling scored 19 points to lead Miami past Orlando. Dwight Howard and Steve Francis led Orlando with 21 points each.
Timberwolves 95, Spurs 73: At Minneapolis, Minnesota's lost season finally came to an end with a victory over San Antonio, already looking ahead to a first-round playoff matchup with Denver.
Bobcats 97, Pistons 86: At Charlotte, N.C., Emeka Okafor had 16 points and 19 rebounds and Charlotte wrapped up its first season with a victory to snap Detroit's 11-game winning streak. Charlotte finished 18-64 and was 2-1 against the defending NBA champion Pistons. Tayshaun Prince scored 13 points for the Pistons.
Mavericks 108, Grizzlies 88: At Memphis, Tenn., Josh Howard scored 27 points to help Dallas beat Memphis. The Mavericks, who will play Houston in the first round of the playoffs, closed the season by winning their last nine games and 13 of their final 14. The Grizzlies will open against top-seeded Phoenix.
Knicks 113, Wizards 105: At New York, Jamal Crawford made seven 3-pointers and scored 36 points, and New York came from behind to beat the playoff-bound Washington. Stephon Marbury added 20 points and seven assists for the Knicks, who avoided a 50-loss season.
Clippers 86, Hornets 75: At New Orleans, Elton Brand had 18 points and 14 rebounds to help Los Angeles beat New Orleans, leaving the Hornets with the worst record in franchise history. New Orleans (18-64) had a nine-game losing streak to end the season. J.R. Smith led the Hornets with 15 points.
Trail Blazers 106, Lakers 103: At Portland, Kobe Bryant's first season as a solo superstar ended with a six-game losing streak. Travis Outlaw's layup with 7.1 seconds left kept the Lakers at bay, and Portland beat Los Angeles in a matchup of two teams that will miss the postseason. Outlaw led the Blazers with a career-high 20 points, and rookie Sebastian Telfair had 17 points and 11 assists.
Kings 132, Suns 107: At Sacramento, Calif., Bobby Jackson had 15 points, six rebounds and five assists in his first game since tearing ligaments in his left wrist four months ago, and Sacramento wrapped up its fifth straight 50-win season by beating Phoenix. Amare Stoudemire had 30 points and 11 rebounds for the Suns, who already clinched the NBA's best record.
Warriors 106, Jazz 89: At Oakland, Calif., Baron Davis had 23 points and nine assists to help Golden State take a season series from Utah for the first time in 11 years. Matt Harpring had 22 points and 10 rebounds for Utah.
Around the league
Guard Bobby Jackson was activated from Sacramento's injured list in time for their regular-season finale against Phoenix. … Detroit put Richard Hamilton on the injured list before the game at Charlotte and activated Horace Jenkins. … Philadelphia forward Chris Webber was placed on the injured list with a knee injury and missed the playoff-bound 76ers regular-season finale against Atlanta. Webber was not expected to miss any playoff games. … Chicago placed Tyson Chandler on the injured list and activated guard Frank Williams before its game at Indiana. … Cleveland point guard Jeff McInnis, whose benching last month led to the firing of coach Paul Silas, did not accompany the team to its final regular-season game in Toronto. The Cavs said he had a "viral syndrome," but didn't give any other specifics.
Local journalism is essential.
Give directly to The Spokesman-Review's Northwest Passages community forums series -- which helps to offset the costs of several reporter and editor positions at the newspaper -- by using the easy options below. Gifts processed in this system are not tax deductible, but are predominately used to help meet the local financial requirements needed to receive national matching-grant funds.
Subscribe to the sports newsletter
Get the day's top sports headlines and breaking news delivered to your inbox by subscribing here.
---