Sports
Mills remembered for his class
Fri., April 22, 2005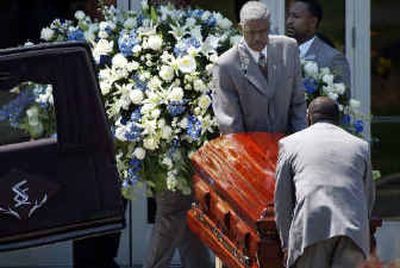 CHARLOTTE, N.C. – Knowing that his battle with cancer was coming to an end, former NFL linebacker Sam Mills planned every last detail of his memorial – all the way down to the menu of fried chicken and greens.
"He picked the songs and the scriptures and he told us not to keep you here too long," Carolina Panthers president Mark Richardson said during one of Thursday's eulogies. "And he said he wanted food that tastes good and has lots of grease.
"He didn't want a lobster salad. He wanted iced tea and lemonade and fried chicken. And it's OK if you drop a little grease on your tie – that's what Sam wanted you to do."
Mills, a five-time Pro Bowl selection and assistant coach with the Panthers, died Monday after a nearly two-year battle with intestinal cancer.
His first memorial was held in Charlotte, with dozens of current Panthers, former teammates and coaches in attendance, many wearing dark sunglasses and others openly weeping as they celebrated a man they considered a giant on the field and an inspiration off of it.
A second memorial will be held Monday in his native New Jersey, and Mills will be buried at Monmouth Memorial Park in Tinton Falls, N.J.
Mills was remembered as a player who overcame many doubters. People said at 5-foot-9, he was too small to play linebacker in the NFL. Instead, Mills went on to a 12-year career with the New Orleans Saints and Panthers.
He was remembered as showing that same fight and determination when doctors diagnosed his cancer in August 2003 and told him he had just a few months to live.
The service opened with a slideshow of highlights from Mills' career, sprinkled with photos of him with his wife and four children. Then it switched to an undated interview Mills did in which he discussed how he was attacking his cancer.
"There are some things in life they say I can't do, well I said, 'I'm going to go fighting,' " Mills said on the tape.
That he ultimately lost the battle for his life was hard to accept, said Carolina's team chaplain.
"He was a fighter every day and all day," Rev. Mike Bunkley said. "He always thought he would beat that cancer. And you know what? We did, too, because he'd beaten everything else. He'd always beaten the odds."
Houston coach Dom Capers, who was a coach of Mills' in the USFL, with the Saints and with the Panthers, flew in from Texas to give one of the four eulogies. He said after the service that when Bunkley called him earlier this week and asked him to speak, Capers didn't think he could make it.
"Between getting a flight and canceling an entire day of work this close to (Saturday's) NFL draft, I just didn't think I'd be here," Capers said. "But when Mike said Sam asked for me, then I knew I had to make it. Sam was a special, special man. A one-of-a-kind."
There was little talk about Mills the player or coach during the service, the focus instead on who Mills was as a man.
He was remembered as selfless and humble, a man who lost with dignity and won with grace. When times were tough, friends said he was the first man to stand up and be accountable. When times were good, he was the first to heap praise on the guy sitting next to him.
Although Mills only played three seasons with the Panthers — from their inaugural year in 1995 until his retirement after the 1997 season — he's the only player in their Hall of Honor and there is a statue of him outside Bank of America Stadium.
Local journalism is essential.
Give directly to The Spokesman-Review's Northwest Passages community forums series -- which helps to offset the costs of several reporter and editor positions at the newspaper -- by using the easy options below. Gifts processed in this system are not tax deductible, but are predominately used to help meet the local financial requirements needed to receive national matching-grant funds.
Subscribe to the sports newsletter
Get the day's top sports headlines and breaking news delivered to your inbox by subscribing here.
---