Sports
Singh coasts to victory
Mon., Aug. 1, 2005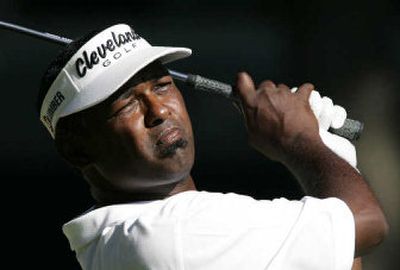 GRAND BLANC, Mich. – Tiger Woods rolled in a long birdie putt and cupped his left ear to coax a louder reaction from one of the tour's rowdiest galleries.
Playing two groups behind, Vijay Singh's lead was down to two strokes, but he wasn't concerned about the roar from No. 17– or the world's top-ranked golfer.
"Tiger was never really ever within five shots of me all day," said Singh, who shrugged when informed that Woods was in fact closer to his lead.
Singh followed up three spectacular rounds with an average one and it was enough to win his third Buick Open, holding off a surging Woods. Singh closed with a final-round 70 for a four-stroke victory and a 24-under 264 total.
The Fijian said he never really worried about losing his lead.
"I wasn't as aggressive," he said. "I felt very much in control, so I didn't want to make any mistakes because nobody was making a charge. To protect the lead is not a fun way to play."
What was an exciting tournament for three days became anticlimactic during the final round until Woods created a buzz with his comeback attempt.
Woods, who began the day eight shots back, vaulted into contention with six birdies and an eagle in a nine-hole stretch.
"I thought if I played a great back nine, I might be in position just in case Vijay messed up, but he's playing too well to do that," Woods said after tying for second.
Following his 17-foot putt for birdie at 17, Woods whipped the gallery into a frenzy with a gesture usually reserved for professional wrestling.
"I wanted to know how loud those drunk guys get," he said. "They were pretty hammered, they were wobbling as it was."
Woods' drive at the final hole sailed right, while Singh made his second birdie at No. 16 to take a three-shot lead. Woods bogeyed the final hole and fell another shot back.
Zach Johnson (69) tied for second – his best finish this year – at 20 under.
Robert Allenby (65) finished 18 under, alone in fourth. Allenby aced the 179-yard 11th, helping him finish in the top 10 for the first time since February.
Singh is the first three-time champion at the Buick Open, a tournament that started in 1958. He's also the first to repeat since Tony Lema in 1965.
The 42-year-old Fijian has won four events this year and 28 in his career. Singh trails only Woods' 44 victories among active PGA Tour players.
Singh matched the Buick Open's 54-hole record of 22-under 194.
"I wasn't trying to break the record, my goal was to win the golf tournament," he said.
Local journalism is essential.
Give directly to The Spokesman-Review's Northwest Passages community forums series -- which helps to offset the costs of several reporter and editor positions at the newspaper -- by using the easy options below. Gifts processed in this system are not tax deductible, but are predominately used to help meet the local financial requirements needed to receive national matching-grant funds.
Subscribe to the sports newsletter
Get the day's top sports headlines and breaking news delivered to your inbox by subscribing here.
---