News > Features
Would-be pop star goes out on a limb with 'Over There'
Mon., Aug. 1, 2005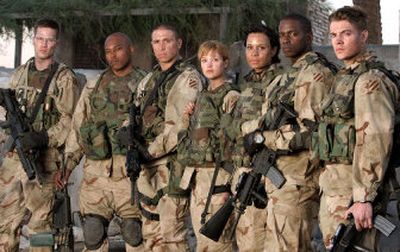 Josh Henderson didn't realize it, but his research for playing an Iraq war amputee in the new FX drama "Over There" began three years ago when his cousin, Clint Mabry, lost a leg in a car accident.
Henderson didn't get to spend much time with his cousin then; he was busy with WB's "Popstars 2," a reality show that plucked the Tulsa, Okla., native out of a pack of thousands of hopefuls and cast him in a band called Scene 23.
But when Steven Bochco offered Henderson, 23, the challenging role of Army soldier Bo Rider – who loses a leg in a land-mine explosion, is sent home and gets hooked on morphine – he knew it was time to reconnect with Mabry, who counsels other amputees.
"Clint was excited to help me realize where you're at mentally when you see that (your leg) is actually gone," Henderson says. "Because of this show, we've been able to talk about things and learn a lot about each other."
After one of his tires blew out near San Antonio, Mabry was involved in a crash that cost one person his life. His right leg was amputated exactly where Bo loses his leg, which has enabled Mabry, 25, to act as Henderson's body double.
"Every time you see my lower body stuff, it's all Clint," Henderson says. "It was really big of him, because for him it's the real deal."
While Mabry was recovering, Henderson's "Popstars" role introduced him to Ashlee Simpson. They got involved just as Simpson was launching her self-titled MTV reality series.
Henderson blames the cameras for the breakup of their two-year romance. (He appeared in only the first episode before singer Ryan Cabrera emerged as Simpson's new love interest.)
"I couldn't hang out with my girlfriend without appearing on camera and signing a release," Henderson recalls. "I didn't want our personal relationship all over television, so I ended up ending the relationship."
Footage of the breakup was edited to "make me look like a mean guy," he says. But he has maintained a friendship with Ashlee, sister Jessica and her husband, Nick Lachey.
"Nick and I would go to lunch all the time and talk about the Simpson girls, and we're still totally cool," says Henderson, adding that he's been assured by Ashlee that Nick and Jessica's marriage is on solid ground despite rumors to the contrary.
Henderson is writing and recording his first solo album, planned for 2006. It will feature songs inspired by famous exes, including Simpson, Kaley Cuoco ("8 Simple Rules" and "Charmed") and Kirsten Storms ("General Hospital").
"The Ashlee one is called 'Lost,' and there's a Kirsten song called 'Alright With You,' " he says.
"Kaley hasn't made the song list yet, but I have an idea for one. She was a sweet girl but way too much drama."
Henderson hopes "Over There" will prove to be his new muse.
"I definitely hope to do a song for the show," he says. "This is an intense subject way outside of 'I like you/You like me' radio-friendly relationship songs."
The birthday bunch
Cartoonist Tom Wilson ("Ziggy") is 74. Actor-comedian Dom Deluise is 72. Blues musician Robert Cray is 52. Rapper Chuck D (Public Enemy) is 45. Rapper Coolio is 42. Singer Adam Duritz (Counting Crows) is 41. Actress Tempestt Bledsoe is 32. Singer Ashley Parker Angel (O-Town) is 24.
Local journalism is essential.
Give directly to The Spokesman-Review's Northwest Passages community forums series -- which helps to offset the costs of several reporter and editor positions at the newspaper -- by using the easy options below. Gifts processed in this system are not tax deductible, but are predominately used to help meet the local financial requirements needed to receive national matching-grant funds.
Subscribe now to get breaking news alerts in your email inbox
Get breaking news delivered to your inbox as it happens.
---