Artists, shoppers fly to show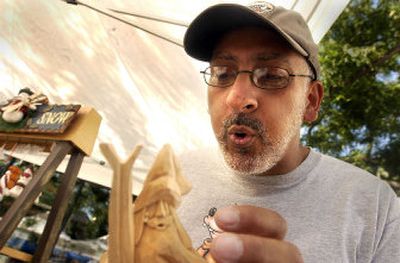 Linda Heller peered at the curious totem with a sharp bird's beak on the bottom and a grizzly bear's head on top.
"I have to have it," she said, leaning closer to study the creative paint job. "I really like the totem stuff. I'm going to take it."
Allen Dodge, a Coeur d'Alene artist, beamed. Art on the Green, Coeur d'Alene's annual festival of visual and performing arts, was barely an hour old and he'd already sold two works of art he'd created with his wife, Mary Dee Dodge.
"I don't know if we'll have enough to last the whole weekend," Dodge said as another customer pointed to a work she wanted to buy.
Dodge had reason to worry. Coeur d'Alene's string of weekend festivals, from the Downtown Street Fair to Taste of the Coeur d'Alenes in City Park to Art on the Green at North Idaho College, started off Friday with healthy crowds despite temperatures in the 90s. The three events typically draw about 50,000 visitors and hundreds of artists, crafts people, food vendors and organization representatives.
Heller flew in from Portland to visit friends but chose this weekend so she could shop at Art on the Green. Before she left the Dodges' booth, she spent $235 for her totem, Trickster's Mask.
A few booths away, customers studied Art Boyman's artistic tables with slots for wine bottles and racks for glasses.
"This is too clever," one browser said, looking over Boyman's Ironman table. It has a glass top with a streaking cyclist painted into the glass and metal legs with a bike gear and pedal at the same height as on a bike.
"They're from my wife's bike," Boyman, a Coeur d'Alene artist, said, grinning.
His tables, priced at $500 to $1,500, drew plenty of attention but few buyers.
Money flew more easily at Taste of the Coeur d'Alenes, where artists and crafters offered shoppers everything from bonsai trees to burl tables at prices that caused no gasps. Ken Betuel came from Bend, Ore., to sell his metal cutouts of herons, dogs, ducks and more. He heard about Taste of the Coeur d'Alenes from a neighboring vendor at a fair in Walla Walla, he said. A book on craft fairs told him the Coeur d'Alene event draws about 40,000 people and the scenery is great.
"It's not lying," Betuel said as a customer chose a 3-foot-high cutout of a bowlegged cowboy. "This is a great place. I'd come back."
Barbara and Bill Chase brought their soapworks from Sweet Home, Ore., to Coeur d'Alene for the third year. Barbara Chase shapes her soap in long bread-like loaves and sells soap by the slice. She scents her loaves with mango, plumeria, peach, licorice and more, and transforms them into works of art by shaping some ingredients into curlicues and confetti.
"It's wonderful," said Judy Coffin, a shopper from Elk, Wash. Coffin bought slices of Berry Blast and Care Berry. "My fear is if I got licorice, it would be my lunch," she said, chuckling.
Gary and Sandy Mamola, who live near Sanders Beach in Coeur d'Alene, rode their bikes to the Downtown Street Fair rather than fight traffic and hunt for a parking space. Browsing through the festivals is a tradition, they said.
"We try to support the local artisans rather than the others, though the others fill the street and we want them here," Sandy Mamola said. "We need their money just like they need ours."
The street fair offered everything from elk-antler furniture to roasted almonds and pecans. Woodcarvers Cyndi Joslyn, from Missoula, and Dave Francis, from Castlegar, B.C., drew plenty of onlookers as they carved Santas from basswood in front of Christmas by the Lake. Their old craft is rare and romantic enough that browsers couldn't stop themselves from sharing favorite Christmas stories as they watched. The two carvers turn out collector-type, painted Santas, but their labor-intensive work isn't cheap.
"I love this. How much is it?" asked shopper Nita Mason of Coeur d'Alene as she studied a carving of a kayak filled with a Santa and a polar bear.
"$300," said Francis.
Mason gasped.
"I'm retired," she said. "But they're beautiful."
And still there for two more days of shoppers to buy.
---