News > Business
Hard at play
Wed., Aug. 10, 2005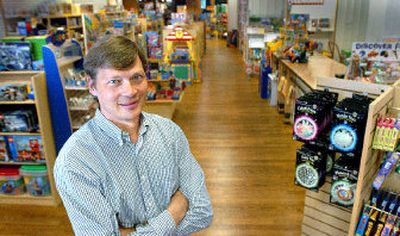 The more Peter Christensen researched toy stores in the Spokane-Coeur d'Alene area, the more he realized he would need to open three Whiz Kids stores, not just one.
It was June 2004 and Christensen, a former electrical engineer and patent attorney, had just purchased the 17-year-old Spokane company, Whiz Kids, with its one NorthTown Mall location. As he looked around the region, he realized there weren't many stores selling the types of specialty toys he wanted to carry. Then, while attending a toy show, he learned several companies were thinking of opening a store in Coeur d'Alene.
"I wanted to get that presence in the marketplace and get my foothold in as the alternative toy store in the Spokane-Coeur d'Alene area before someone else could do it," said Christensen, 45. "I still think it's a ripe market. It's such a family-oriented city. I think there's got to be a demand for it."
This month, Christensen and his partner, Susan Peterson, opened their third Whiz Kids store on Spokane's north side, at the corner of Hawthorne and Division. In May, their company WKCC LLC (which stands for Whiz Kids Children's Corner), opened a store on Prairie Avenue in Hayden, Idaho. And in July, they opened the River Park Square Whiz Kids, next to Children's Corner Books and Toys, the 31-year-old children's bookstore that Peterson bought last May. They closed the NorthTown Mall store.
Christensen said his total investment in the Whiz Kids stores, including the purchase of the company, was about $400,000.
Christensen and Peterson merged their companies in April to maximize their buying power and minimize freight costs by putting in orders together. The company now owns four stores and employs 20 full- and part-time workers.
"We thought Spokane was a pretty untapped market for specialty toys," Christensen said.
The Whiz Kids stores carry 6,000 items from 200 different manufacturers, attempting to focus on toys that teach kids something while they play. But they also carry "toy toys," Christensen said, attempting to break away from the company's former reputation as an educational toy store that also sold teacher supplies.
Shelves are filled with collectible medieval action figurines, toy horses with flowing manes, wooden train sets and puzzles from manufacturers like Brio and Melissa and Doug, science sets, marble raceways and dozens of other playthings.
One-third of Whiz Kids' customers are grandparents who perhaps haven't developed a taste for shopping at Wal-Mart, the nation's No. 1 toy retailer, Christensen said. A lot of business at the downtown store also comes from traveling business people bringing something home in their suitcases.
Christensen said he wants Whiz Kids to become the region's "neighborhood toy store" and he tried to select locations near where families live and shop.
Christensen heard Whiz Kids was for sale last spring when he was helping Peterson sort out the legal details of buying Children's Corner. Christensen had been buying toys at Whiz Kids for his own children — a 16-year-old son and an 8-year-old daughter — for years. He talked to former owner Rae Huslid and discovered the company was strong, had a 17-year history, and was being sold because the owner had started a new business.
At the same time, changes were occurring at ReliOn, the Spokane Valley fuel cell company where Christensen was vice president of engineering. An infusion of venture capital had brought a new direction to the company and much of the management team was changing, he said. Christensen felt a strong desire to be his own boss and run his own company.
"It was an opportunity that jumped up and I jumped at it," he said, adding that he's staffed his store with people like himself, who love helping kids and parents find that perfect toy.
"Sometimes I feel like a kid in a toy store, and then I realize I am a kid in a toy store."
Local journalism is essential.
Give directly to The Spokesman-Review's Northwest Passages community forums series -- which helps to offset the costs of several reporter and editor positions at the newspaper -- by using the easy options below. Gifts processed in this system are not tax deductible, but are predominately used to help meet the local financial requirements needed to receive national matching-grant funds.
Subscribe now to get breaking news alerts in your email inbox
Get breaking news delivered to your inbox as it happens.
---