A&E > Food
Once again, they're up to their old Shenanigans
Wed., Aug. 10, 2005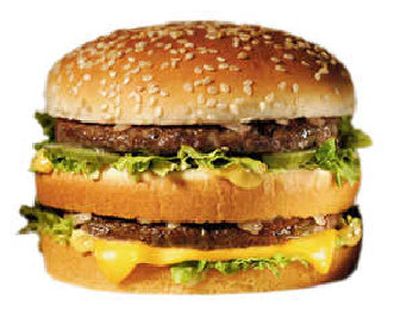 C.I. Shenanigans has reopened. The 25-year-old Spokane restaurant, which is known for steaks, seafood, cocktails and its own handcrafted Big Horn beers, closed last fall to allow the construction of a new exhibit hall and river promenade.
C.I. Shenanigans remains in the same spot, on the Riverwalk next to the Convention Center development.
Chef Jake Blaylock will oversee the menu and kitchen, while brew master Ryan Walsh takes care of the Big Horn brewing.
The Washington family owned business is open for lunch, dinner, late night and Sunday brunch. It also offers catering. It is at 332 N. Spokane Falls Court. Call 455-6690 for more information.
Food fast anytime
Burger giant McDonalds has announced it is keeping area drive-throughs open 24 hours a day for those late-night (early morning) Big Mac attacks.
The McDonald's on Sunset Highway is the latest to be added to the list.
"With proximity of Fairchild, Geiger and industrial businesses, a large number of twilight diners are looking for good, convenient meals," says Mark Ray, owner and operator of the restaurant in a news release. "Our customers have been asking us to stay open."
Dinner is served until 4 a.m. when the menu switches to breakfast.
About 12 percent of McDonald's restaurants are open 24/7, including seven other locations in Spokane and North Idaho. They are: 3416 N. Market St., 9305 N. Newport Highway, 2222 N. Argonne Road, 15 S. Havana, 1818 N. Monroe St., 819 N. Sullivan Road and 208 W. Appleway in Coeur d'Alene.
Lighter options
Although the stores are not open for a late night Sub attack, Subway is celebrating its 40th anniversary this year. Launched by Fred DeLuca when he was just 17 years old the chain opened as Pete's Super Submarine in Bridgeport, Conn. (It was named after investor and family friend Dr. Peter Buck, according to a news release.)
Here's one more fun fact: Subway now operates more stores in the United States and Canada than McDonald's.
Local journalism is essential.
Give directly to The Spokesman-Review's Northwest Passages community forums series -- which helps to offset the costs of several reporter and editor positions at the newspaper -- by using the easy options below. Gifts processed in this system are not tax deductible, but are predominately used to help meet the local financial requirements needed to receive national matching-grant funds.
Subscribe to the Spokane7 email newsletter
Get the day's top entertainment headlines delivered to your inbox every morning.
---