News > Idaho
City beautification
Sat., Aug. 20, 2005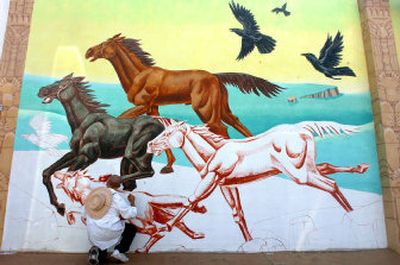 Motivated by a desire to beautify the city of Coeur d'Alene and to promote a higher quality of public art, muralist Robert McNeill is currently transforming the outside west wall of the Mosgrove Gallery at 211 E. Coeur d'Alene Ave. into an impressive piece of art.
The mural depicts a scene that references the city without being too literal. Native Americans and animals sacred to the Coeur d'Alene Tribe – horses, ravens, wolves, salmon and cranes – flow across the 100-foot by 15-foot canvas. McNeill began work on the mural July 7 and expects to complete it by the first week of September. His daily work on his creation begins at 6 a.m., and he quits around noon, when the heat and glare make it difficult to paint.
It's a labor of love for McNeill. Tim Mosgrove, the owner of Mosgrove Gallery and the building, is reimbursing him for materials. McNeill attended a pottery class of Mosgrove's in November of 2003, and it was Mosgrove who suggested the possibility of painting a mural on his building.
After tossing around several ideas, the two men agreed that the mural should be decorative, exhibit fine craftsmanship and be of sound design. They also wanted to avoid anything that might be considered distasteful, hateful or profane.
Indeed, McNeill's talent shines through in the detail in the musculature of the running horses and the jumping salmon. Columns that are integrated into the structure of the building have been painted to resemble totem poles. A figure of a sleeping Native American woman has yet to painted on the far north end of the mural, but it will suggest that the mural is a dream scene.
A fan of the art deco style of the 1930s and of the Italian Renaissance, McNeill has been an artist all of his life. A graduate of University of California Berkeley in architecture, McNeill worked as an architect for many years.
"Architecture just wasn't fun anymore," he said. "Too much bureaucracy."
He has illustrated 18 fantasy books and was an illustrator for DC comics, the folks that brought us Batman. He has also done animation for private companies for television commercials, primarily in Carmel, Calif.
McNeill and his wife, Julie, are originally from San Francisco and moved to Coeur d'Alene five years ago to help out his mom, who was dying from cancer. They liked the area and decided to stay. McNeill has owned Blue Rose Tattoo, where he is a tattoo artist, at 510 N. Fourth St. for two and a half years.
McNeill has also been involved in the community by volunteering for Art on the Edge, a nonprofit program of St. Vincent DePaul that works with at-risk kids under the premise that art is a good tool for learning skills and establishing a positive sense of self.
He helped the kids paint the mural on the north wall of St. Vincent's thrift shop.
McNeill said it is "more than likely" that there will be a reception inside Mosgrove Gallery once the mural is done. In the meantime, stop by and take a look and say hello to the artist.
Local journalism is essential.
Give directly to The Spokesman-Review's Northwest Passages community forums series -- which helps to offset the costs of several reporter and editor positions at the newspaper -- by using the easy options below. Gifts processed in this system are not tax deductible, but are predominately used to help meet the local financial requirements needed to receive national matching-grant funds.
Subscribe now to get breaking news alerts in your email inbox
Get breaking news delivered to your inbox as it happens.
---