News > Idaho
Group enjoys sharing music with a message
Sat., Aug. 20, 2005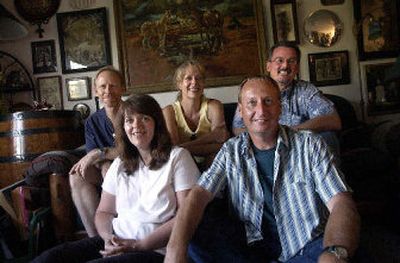 They all have day jobs and families, but their love of the Lord and their musical vision brings the members of Shepherd's Heart together to do what they do best. The six-piece Christian contemporary band has just released "Shipwrecked," their first CD since 1998. All of the members of Shepherd's Heart live in Coeur d'Alene, but not all attend the same church.
The CD liner notes explain the concept of "Shipwrecked" – that "reality is that we are all spiritually shipwrecked in our sin. But God has provided our only way of rescue, through his Son, Jesus Christ."
That said, the title cut opens softly then builds to a rockin' climax. What follows are 10 more original, inspirational cuts that showcase the talent within this band.
"When we first formed the band, we needed a name," said band leader Ed West. "Since the Bible reveals that God is our shepherd, and all that we wanted to do was share His heart, we thought, this is what we want to do. Let's call it Shepherd's Heart."
West put out the call eight years ago to local churches, looking for band members. The original band consisted of four members from three different churches. West, vocalist Kathi Broughton and vocalist and lead guitarist Joe Troxell are original members. Catherine Greene, on vocals, David Lemke, on drums, and Larry Laws playing bass, round out Shepherd's Heart. Broughton attends Coeur d'Alene Bible Church, Lemke attends North Country Chapel, and the remainder of the group attends Real Life Ministries.
"That's a unique characteristic of Shepherd's Heart," West said. "Whereas most Christian bands form out of the same fellowship, for several reasons, probably convenience, but to be honest, when I first formed this I was attending a rather small church, so there weren't a lot of folks to pick from, so I put feelers out. It's been a great blend."
West and Broughton are the principal songwriters. Some of the songs on the CD were written five or six years ago. "Shipwrecked" has been in the making for two years.
"I think it's just characteristic of a band that is not in full-time music, as a job, as opposed to a band that can go into a studio two weeks straight and cut a CD," Troxell said. "We don't have that luxury."
West began playing classical band instruments in junior high school and high school. He taught himself to play piano in 1998, about the time he became a believer. He decided he wanted to play worship music and serve the Lord that way. He sings lead vocals on many of the songs and is gifted with a great vocal instrument. By day, he works for Qwest.
Lemke is a massage therapist by day and provides half of the rhythm section for Shepherd's Heart as the drummer. He said he started playing cardboard boxes at the age of 5 or 6.
"My dad would play the banjo, and brothers played guitars," Lemke said. "We played all kinds of music way back then."
Lemke played professionally for a number of years. When he came to the Lord in 1987, he got into praise drumming. He coaches kids on praise drums and teaches rhythm workshops. He considers his style of drumming to be eclectic and has been called a groove drummer in his native Canada.
"What a difference David brought to the Band," West said. "The feel and the heart – it's like we went three-D."
Shepherd's Heart bass player Laws was a drummer so he and Lemke form a tight backbone.
"A lot of bands are more cloistered and exclusive and careful about what they're doing," Lemke said. "We're pretty inclusive and we have a lot of fun."
Troxell, who is an architect and the owner of The Troxell Group, a contracting firm, is a busy man. He started playing guitar at age 9 and has been playing 40 years. He played in garage bands, then dropped music for sports, then took the guitar back up in college with classical training.
"It's a God thing," Troxell quipped regarding how he finds time for the band. He is known as the resident comedian in the group. "I've got two kids and a wife, but there's always time to do it. That's kind of one of the miracles."
Troxell came to the Lord in 1973 and then slid away in his college years, returning to the church in 1979.
"The late '70s for Christian music were formative years," Troxell said. "Through the '70s Christian music really grew. I found myself through the '70s playing on worship teams and doing small things like that, nothing in a band. Shepherd's Heart was my first foray back into an actual band."
Greene, an esthetician at the Coeur d'Alene Resort spa, joined Shepherd's Heart a year ago, at West's invitation. The tall, attractive singer has been in a couple of rock bands and has recording experience.
"Most of this last year has just all been recording," Greene said. "I've always wanted to be with a group of people where the vocals are really strong and the harmonies are really strong. That is always what I've wanted to do. It's also a joy to be doing this type of music. It's very fulfilling, and I feel like I'm using my voice the way I'm supposed to."
Broughton, a stay-at-home mom, has shared lead vocals with West from the beginning. She started singing when she was quite young.
"My father is a singer and has a beautiful voice, so I would sing harmonies with him," Broughton said. "He'd sing all these old war songs, from World War II, and every Saturday night it was Lawrence Welk."
Approximately 800 people attended the band's CD release party at Real Life Ministries, and they sold 44 copies at the event.
The group is not about being famous, and we're not going to see a big tour bus with Shepherd's Heart on it any time soon, but they enjoying sharing the music and the message.
Local journalism is essential.
Give directly to The Spokesman-Review's Northwest Passages community forums series -- which helps to offset the costs of several reporter and editor positions at the newspaper -- by using the easy options below. Gifts processed in this system are not tax deductible, but are predominately used to help meet the local financial requirements needed to receive national matching-grant funds.
Subscribe now to get breaking news alerts in your email inbox
Get breaking news delivered to your inbox as it happens.
---