Sports
M's pitcher Felix Hernandez is one cool cat
Sun., Aug. 21, 2005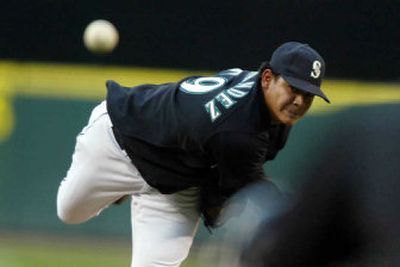 SEATTLE – When Felix Hernandez signed with the Seattle Mariners in 2002, the first thing he did was have the house he grew up in renovated. His mom always had a vision for how she wanted the house to look. So, at the age of 16, Hernandez made his mother's vision come to life. He made the house bigger, more spacious and had brand new furniture put in, just the way his mom wanted.
"She always wanted the house that way and now she has it," he said with a smile, before adding with a laugh, "and nobody messes with it."
Mothers know best.
Despite being countries away in Venezuela, Hernandez found a way to keep his mother close to his heart when he is on the mound: embroidering her name, Miriam, in his pitching glove.
"She is happy, super happy," he said. "And she is proud that I am here."
Both of Hernandez's parents will be in Seattle to see him pitch in a major league game for the first time later this month when the Mariners host the New York Yankees. And even though Hernandez said that they have seen him pitch in the U.S. before, they haven't seen him pitch like this.
No one has seen him pitch the way he has of late.
On Monday, the 19-year-old rookie phenom took yet another step toward becoming the next Mariner superstar with an impressive outing against the lowly Kansas City Royals. Hernandez dominated Kansas City throughout eight innings, allowing just three hits and one walk with 11 strikeouts during Seattle's 11-3 victory. Saturday, he pitched eight innings, allowing two runs in the first during an 8-3 victory in Minnesota.
Only 31,908 were in attendance at Safeco Field Monday, but Mariners general manager Bill Bavasi feels that it is only a matter of time before the Venezuelan teenager is packing them in.
"Is he drawing like Nolan Ryan? No … Not yet," Bavasi said. "But from being around in baseball a long time, I can tell you that he has that kind of stuff."
Bavasi, much like Hernandez did with his mother's home, is currently renovating the Mariners' roster. One good thing for Bavasi is that he has now found his centerpiece.
Dubbed the best pitcher in the minors by Baseball America, Hernandez has exploded on the scene since his first start in Detroit on Aug. 4, when he became the third-youngest player to debut in Mariners history at 19 years, 118 days. Edwin Nunez (18, 315) was the youngest Alex Rodriguez (18, 346) the second youngest and Ken Griffey Jr. (19, 133) the fourth youngest.
"It was like a dream," said Hernandez, of his first day with the Mariners. "Seeing my jersey hanging on the locker room was impressive. It was something incredible."
From everything heard in the clubhouse following the win, the Venezuelan teen has the right makeup to shoulder the future of a franchise that four years ago won 116 games. From the 97 mph fastballs and the sickening 84 mph curveballs, to both the mental and physical maturity, Hernandez is the complete package.
"He has all the tools to be a star," said new Mariners catcher Miguel Ojeda after watching the teenager dominate the Royals. "He has tremendous stuff … tremendous stuff."
He has two fastballs. A four-seamer that hits 97 to 100 mph and a two-seamer sinking fastball that is clocked between 92 and 95 mph. But as jaw-dropping as his fastballs are, his breaking stuff – which he is not hesitant to use – is more impressive.
"I have no fear," Hernandez said in Spanish. "I'm not afraid to throw any pitch at any time. I'm confident in all my pitches."
In the fifth inning of Monday's game, Hernandez demonstrated that fearlessness on a 3-2 pitch to Royals third baseman Mark Teahen.
"He wanted to throw a changeup," said Mariners catcher Yorvit Torrealba, who wanted a fastball down and away, but was shaken off. "I put it down again and he shook me off again and I go, 'Wow, interesting.' I didn't want to walk the guy, basically, and he threw that changeup and it was amazing."
Teahen swung at Hernandez' 88 mph changeup and missed. Badly.
Even veterans, said Mariners' pitching coach Bryan Price, try to get out of a jam by throwing past a hitter. But unless the pitcher has "a quality accessory pitch – a curveball, a slider, a split, something that creates enough of a concern in a hitter," the fastball won't be as effective.
"It's impressive that so far in three games, there really hasn't been a bad count for him to throw a curveball or a changeup," Price said. "He's not trying to embarrass anybody, he's trying to get his outs. He throws that 3-2 change to Teahen and you think, 'That's a great pitch.' He probably could have just thrown a fastball, but he has equal command, and he doesn't feel like he just has to get into him with a fastball – and that makes his fastball even better when he does throw it."
Hernandez pitches like a veteran, and he handles himself like one, too. A word often use to describe him is "mature."
And considering he traveled consistently, playing in Venezuelan national baseball tournaments and has been living on his own since he was 17, it's easy to understand why he is so mature at 19.
"I was alone. I understood how things were and that I had to depend on myself," he said. "My mom and my brother were not there to tell me how to do things and I had to mature. I matured, and quickly."
"Some 19-year-olds are watching cartoons," Bavasi said, "some are playing in the big leagues."
Hernandez is one that is playing, and thriving, in the big leagues. In his three games in the majors, Hernandez has shown far better command than he did in Triple-A Tacoma. He has 22 strikeouts and three walks in 21 innings. That's one walk per game, compared to 1.8 walks an inning in Tacoma.
While Hernandez doesn't know why that is – he is just glad he does have better command – Price feels the new challenge of pitching in the majors has brought out the best in him.
"I don't want to be disrespectful and suggest he loses interest in the competition, but I certainly think his focus is a bit more acute right now," he said. "This is where he's worked hard to be. It doesn't get any better than this, the competition doesn't get any better anywhere than where he is right now."
For Hernandez, now that he has made it to the bigs, his goal is to stay there.
"I have to keep working hard to stay here," he said. "It's not just about being here and then going back. It's about being here and staying here."
Local journalism is essential.
Give directly to The Spokesman-Review's Northwest Passages community forums series -- which helps to offset the costs of several reporter and editor positions at the newspaper -- by using the easy options below. Gifts processed in this system are not tax deductible, but are predominately used to help meet the local financial requirements needed to receive national matching-grant funds.
Subscribe to the sports newsletter
Get the day's top sports headlines and breaking news delivered to your inbox by subscribing here.
---