News > Idaho
Helping ease their final hours
Mon., Aug. 22, 2005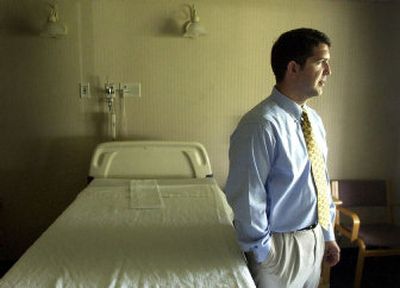 Robert Ancker has made the end of life his professional focus.
Ancker is the first palliative-care doctor at Kootenai Medical Center and the new medical director at Hospice of North Idaho.
Palliative-care doctors help terminal patients live their final hours in comfort. They work with families to help ease their loss. They help other doctors recognize when treatments should end and care should be changed to meet patient expectations.
"It's not curative – it's supportive," said Ancker, who starts his position at KMC today. "You can't make the symptoms go away, so you make the patient comfortable."
Palliative care is becoming a hospital standard nationwide. Hospice, a nonprofit organization, specializes in end-of-life care at home. In recent years, hospices and hospitals have begun working together to care for patients who require more medical care than is possible at home. Some hospitals have attached wings for Hospice patients.
Hospice of North Idaho is an independent program. It also is a partner of Kootenai Medical Center. That means KMC refers patients to Hospice, and Hospice nurses continue to work with their patients when the patients are hospitalized, said Jan Moseley, assistant vice president for nursing.
Last year, Hospice and KMC surveyed the community about issues related to dying. KMC had four rooms set aside for terminal patients who chose to die in the hospital, but it had no palliative-care staff. The survey told KMC that people would prefer to die at home and that they have lots of questions about the end of life, Moseley said.
In another survey, doctors responded that they need help with end-of-life issues and with pain and symptom management.
"It told us we need an expert," Moseley said.
The survey also told Hospice it needs a full-time medical director. Dr. Tim Quinn has volunteered as a part-time medical director for the organization for 22 years. But he also is a full-time surgeon in Coeur d'Alene.
"Hospice has gotten so big, I just don't have the time," Quinn said.
Demand for Hospice services has more than doubled in the last four years. In 2001, Hospice of North Idaho had 42 to 45 patients per day and 29 employees. This year, Hospice has 65 employees and 100 patients per day, said Renee Miller, Hospice director of finance.
Hospice and KMC agreed to share Ancker, which pleased Quinn.
"I'm impressed the hospital has that foresight," he said. "I see it as a community need."
Ancker will step in at the hospital when doctors with terminal patients need a specialist to explain end-of-life care. He will lead a palliative-care team consisting of a social worker, nurse, pharmacist and chaplain. He also will sit on KMC's ethics committee.
Ancker began his medical career as a family practitioner until he worked for a hospital that was opening a hospice wing. He was asked to direct the wing.
Until recent years, most terminal patients fell under the realm of oncologists – cancer doctors. But now, many hospice patients don't have cancer. Primary doctors, such as family practitioners or internal medicine doctors, have a larger view of the patient's overall condition, Ancker said. He took the job because he believed he had the right touch, he said.
"You don't just treat the patient but the whole family," he said. The palliative-care team takes time to answer questions, explain what's ahead. "Lot of times, doctors don't tell patients what to expect."
At KMC, Ancker said, he plans to help doctors feel more comfortable with end-of-life issues that include pain and symptom management, medication changes, ventilators and feeding tubes.
"Sometimes a patient has so many doctors that no one sees the big picture," he said.
Ancker is one of five palliative-care specialists in Idaho.
Local journalism is essential.
Give directly to The Spokesman-Review's Northwest Passages community forums series -- which helps to offset the costs of several reporter and editor positions at the newspaper -- by using the easy options below. Gifts processed in this system are not tax deductible, but are predominately used to help meet the local financial requirements needed to receive national matching-grant funds.
Subscribe now to get breaking news alerts in your email inbox
Get breaking news delivered to your inbox as it happens.
---