Sports
Good thing it's the preseason
Tue., Aug. 23, 2005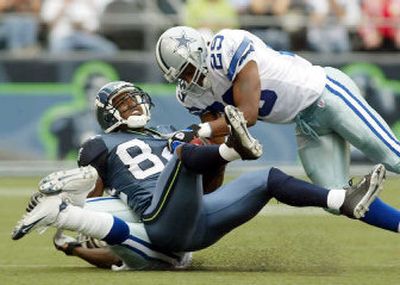 SEATTLE – It was ugly, yes.
Mistake-filled. Less-than-crisp. Even somewhat forgettable.
"Sloppy," was how Seattle Seahawks coach Mike Holmgren described his team's preseason home opener.
But while the Seahawks were too often aesthetically-challenged in an 18-10 loss to the Dallas Cowboys on Monday night, there were a few small morsels of optimism when it mattered most.
Despite being whistled for 12 penalties and losing three turnovers in the first half alone, the Seahawks started to show signs of being ready for the looming regular season.
Case in point: quarterback Matt Hasselbeck completed his first 10 passes, yet none of them went to go-to players Darrell Jackson and Shaun Alexander. Tight end Jerramy Stevens and wide receivers Bobby Engram and D.J. Hackett provided Hasselbeck with plenty of options outside of his two security blankets.
Still, even Hasselbeck admitted: "I didn't really feel like we started off well. Most of our drives, by the second play of the drive, it was first-and-15 or first-and-20," Hasselbeck said. "We put ourselves at a disadvantage that way."
Hasselbeck completed 12 of 15 passes for 135 yards and a touchdown pass to D.J. Hackett, but there was very little offensive production beyond that. The Dallas defensive line continued to get pressure on the quarterback, even after Seneca Wallace came on in place of Hasselbeck late in the first half.
"While we did some good things with our first group in the first quarter, we were careless," Holmgren said.
Wallace, who turned in an impressive performance in the preseason opener, really struggled Monday. He completed just 8 of 20 passes for 69 yards, which wasn't so bad when considering his 3-for-10 performance in the third quarter alone.
Rookie David Greene didn't fare much better, misfiring on his first two passes before inadvertently running out of the back of the Seattle end zone for a Dallas safety midway through the fourth quarter. Greene recovered in time to lead the Seahawks into Cowboys territory in the final minute of the game, only to short-arm a fourth-down pass that landed helplessly near the line of scrimmage at the Dallas 32-yard line as time expired.
Greene completed four passes on the final drive but was just 5 of 14 for the game.
Wallace and Greene were two of the many players the Seahawks were hoping to evaluate Monday. The team was also looking for answers in competitions at wide receiver, tight end and middle linebacker, among others. Hackett, Joe Jurevicius and Jerheme Urban made impressions among the receivers, while Jerramy Stevens outplayed Itula Mili at tight end. Middle linebackers Lofa Tatupu and Niko Koutouvides played to a draw, with neither having much impact on the game.
Other Seahawks who stood out included cornerback Kelly Herndon, who took advantage of a starting opportunity by intercepting a pass, and defensive tackles Marcus Tubbs and Chartric Darby, who combined on a first-half sack. Linebacker Kevin Bentley, working behind Jamie Sharper, had two pass breakups and tied for the team lead with five tackles.
Seattle's No. 1 defense had its moments, despite another impressive Qwest Field performance from Cowboys running back Julius Jones (58 yards on 12 carries in one half of action). Dallas had just 126 yards of total offense in the first half but still held a 10-7 lead. In the end, the Cowboys got into the end zone just once while gaining a modest 290 yards.
But for the most part, it was a mistake-filled game for the Seahawks.
Safety Jordan Babineaux had a 52-yard fumble return for a touchdown called back when teammate Omare Lowe was called for an illegal block in the back. Lowe and Marquand Manuel dropped sure interceptions. Seattle receivers dropped four passes, including one Urban should have caught for a third-quarter TD.
Then came the final play of the game, which was supposed to be a hail mary into the end zone. Greene started his forward motion, tried to stop his arm, and the ball ended up dribbling off his hand – nowhere near any eligible receiver.
"As good as we were in (the 34-15 win over) New Orleans," Holmgren said, referring to the preseason opener, "we were that sloppy against Dallas (on Monday)."
Local journalism is essential.
Give directly to The Spokesman-Review's Northwest Passages community forums series -- which helps to offset the costs of several reporter and editor positions at the newspaper -- by using the easy options below. Gifts processed in this system are not tax deductible, but are predominately used to help meet the local financial requirements needed to receive national matching-grant funds.
Subscribe to the sports newsletter
Get the day's top sports headlines and breaking news delivered to your inbox by subscribing here.
---