News > Pacific NW
Troupe shows all the world's a stage
Tue., Aug. 23, 2005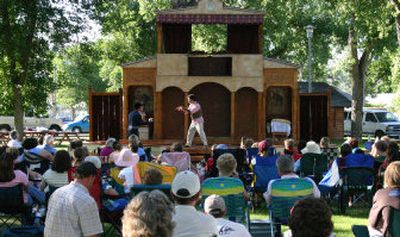 FORT BENTON, Mont. – It's Shakespeare, cowboy style.
Lounging in lawn chairs under a canopy of cottonwoods, ranchers and others from miles away munch on Indian tacos and homemade pie as Shakespeare's Spanish comedy "The Taming of the Shrew" unfolds.
Babies sleep on blankets spread in the grass. Older children watch, eyes wide, or dart among the trees with friends.
Many have never seen a production like this and appreciate the chance to see Shakespearean theater – or any professional theater for that matter – performed live in this north-central Montana farming town of about 1,500 surrounded by wheat fields, the chalky bluffs of the Missouri River and not a lot else.
"We have so little culture here, besides the Lewis and Clark history thing," said longtime resident Karen Gillespie.
Now in its 33rd year, Bozeman's Shakespeare in the Parks theater company was created to bring free productions of such classics to rural, underserved communities that dot the Northern Rockies. Since its creation in 1973, the company has traversed more than 250,000 miles of dirt and paved roads and performed before a cumulative audience of more than half a million people.
This summer's schedule features 68 shows in Montana, Idaho and Wyoming, ending Labor Day weekend.
Corporate sponsors like NorthWestern Energy and Bresnan Communications paid for most of this year's tour, but the troupe also received money from Montana State University, government grants and the communities where they performed.
"At its core, we bring Shakespeare to people who otherwise wouldn't have it in rural areas," said Joel Jahnke, the company's veteran artistic director. "I like to say that people in Birney, Montana, have probably seen more Shakespeare than most of New York City. They know good theater from bad theater, and that's because we've brought it to them."
An energetic troupe of 11 young actors hand-picked from applicants nationwide carts the production to each town in a trailer. Once there, they set up the stage and sound system, don their costumes and makeup, hand out programs and then perform the play. When the performance is over, they dismantle everything. Usually, they spend the night at a local hotel or in people's homes.
"I've never experienced anything like this before," said Jjana Valentiner, 30, a Washington, D.C., actor in her first summer tour here, playing the elder daughter in "The Taming of the Shrew" and an attending lady and medicine woman in "Cymbeline." "It helps you feel an ownership in what you're doing and a responsibility."
Several actors called it the most grueling production they've been a part of. In Fort Benton, many were shirtless and wore gloves and cowboy hats as they labored in 90-degree heat to erect a tiered stage and towering Spanish villa. The sweat flowed, but so did the bottled water and Ziploc bags of fruit and cookies the locals donated.
Small-town generosity is common on the tour, but still surprising to newcomers. Sarah Sokolovic, a 25-year-old actor from Milwaukee, was stunned when a woman in Birney, the tour's most remote stop, made her cinnamon rolls with soy milk and egg replacement to conform to her vegan diet. Locals have also fixed broken-down vehicles, changed flat tires and even helped rebuild the set.
"We belong now," said Matt Foss, 25, a Chicago actor in his third season with the troupe. "They embrace us, and they embrace us out of principle."
The performances are highly anticipated each year, and have become so popular among tourists that some schedule their vacations around the schedule, Jahnke said. Famous alumni like actor Bill Pullman return often to watch performances, and Jahnke said he regularly gets notes and surprise visits from former members.
"It's a big family, and that family just continues to grow every year," he said.
This summer's group works particularly well together, company manager James Houton said. Many say the experience has made them better actors, renewed their passion for theater and given them an appreciation for the West's simple, stark beauty.
Foss said not much fazes him either after three years on the tour. Children, cats, dogs and even ducks have wandered on stage, interrupting dramatic moments, and actors have ad-libbed their way through fallen props, lightning strikes and comments from the audience. Once, a dead owl fell onto the stage, but was quickly scooped up by an actor with little fanfare.
"There's no way you can go about your job selfishly after this tour," said Foss, who has been known to take a dip in nearby water holes just minutes before call.
Local journalism is essential.
Give directly to The Spokesman-Review's Northwest Passages community forums series -- which helps to offset the costs of several reporter and editor positions at the newspaper -- by using the easy options below. Gifts processed in this system are not tax deductible, but are predominately used to help meet the local financial requirements needed to receive national matching-grant funds.
Subscribe now to get breaking news alerts in your email inbox
Get breaking news delivered to your inbox as it happens.
---