Sports
Thompson's return to bigs ends quickly
Sun., Aug. 28, 2005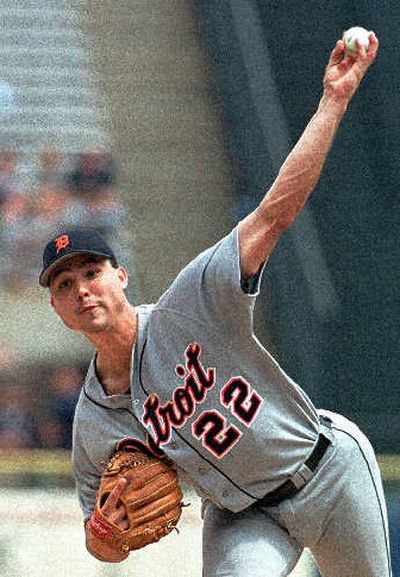 ARLINGTON, Texas – Justin Thompson waited six years and went through four shoulder operations before finally pitching for the Texas Rangers.
After making just two appearances for Texas and allowing a pair of home runs, the former All-Star was optioned to Triple-A Oklahoma on Saturday when the Rangers recalled left-hander Erasmo Ramirez.
"This guy is going to pitch, and I think he wants to with us," manager Buck Showalter said. "As far as he's come, and where he's gotten physically and stuff-wise, he thinks there's some more there. … With this guy's makeup and pedigree, I know it's tough."
Showalter expects Thompson to be a starter at Oklahoma, which had an opening in its rotation. He could return in September to the Rangers, who got the left-hander during the trade in which they gave up two-time A.L. Most Valuable Player Juan Gonzalez.
"I'd like to see him get back down there and get on the horse," Showalter said.
Thompson was visibly disappointed in the clubhouse and didn't talk to reporters before the Rangers' game against Minnesota.
Texas purchased Thompson's contract from Oklahoma on Aug. 16, and two days later he made his first major league appearance since Aug. 15, 1999. He gave up a two-run homer to Cleveland's Jhonny Peralta, and in his only other appearance for the Rangers he gave up a grand slam Thursday to Seattle's Ichiro Suzuki.
Once a power pitcher, Thompson had to adjust his style of pitching after four operations from August 1999 to September 2001.
"Now I have to work both sides of the plate a lot more. I have to pitch more," Thompson said this week. "I relied on my ability a lot more the first time I came up. … I have to establish myself again. I have to prove that I belong here. I have to get people out."
Thompson was just 18 when he was a supplemental pick by Detroit after the first round of the 1991 amateur draft. His first full season for the Tigers came in 1997, when he was an All-Star, and he struck out Ken Griffey Jr. the first six times they faced each other, the only pitcher to do so.
Texas acquired Thompson in the nine-player deal that sent Gonzalez to Detroit in November 1999, nearly three months after he had arthroscopic surgery to repair a torn labrum in his left shoulder.
After starting his first season in Texas on the disabled list recovering, Thompson pitched in the minor leagues before he began to experience discomfort in his shoulder. He had two more operations that year and another in 2001.
Thompson was 5-2 with a 2.01 ERA in 46 minor league appearances the past two seasons, and pitched in 10 games in Puerto Rico last winter.
Thompson went 2-0 with a 1.24 ERA in 23 games for the 2003 Spokane Indians. He allowed 15 hits and struck out 21 in 29 innings that year.
When Thompson got to spring training this year, the Rangers asked him about being a pitching coach. Thompson wanted to continue to pitch, so he started the season as a player-coach at Double-A Frisco.
Local journalism is essential.
Give directly to The Spokesman-Review's Northwest Passages community forums series -- which helps to offset the costs of several reporter and editor positions at the newspaper -- by using the easy options below. Gifts processed in this system are not tax deductible, but are predominately used to help meet the local financial requirements needed to receive national matching-grant funds.
Subscribe to the sports newsletter
Get the day's top sports headlines and breaking news delivered to your inbox by subscribing here.
---