Sports
Young Braves, old ways
Sun., Aug. 28, 2005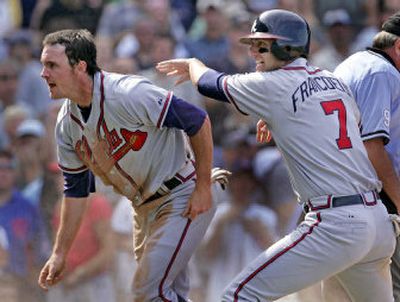 ATLANTA – Jeff Francoeur was 8 years old when slow-running Sid Bream slid across home to send the Atlanta Braves to another World Series.
"That's still my all-time favorite," Francoeur recalls. "We were watching it at home, going crazy."
Those giddy days in the early 1990s – when the Braves underwent a sudden transformation from worst to first and never looked back – are paying dividends today with an influx of brash, talented rookies, many of whom grew up doing the tomahawk chop.
Francoeur is the most notable of the bunch, an Atlanta suburbanite who seems almost too good to be true, now all grown up at 21. If they were casting a remake of "The Natural," this guy would be a lock for the lead: handsome, polite and one heck of a ballplayer.
Called up from Double-A in early July, Francoeur went into the weekend hitting .360 with 10 homers and 30 RBIs – a legitimate rookie of the year candidate even though he'll get only a half-season in the big leagues.
The 6-foot-4, 220-pounder earns praise in every category, showing speed on the basepaths and a jaw-dropping arm – he already has thrown out nine runners from right field, putting him among the N.L. leaders in outfield assists.
"He's the real deal," said fellow rookie Brian McCann, another product of the Atlanta suburbs who's played alongside Francoeur for years. "I've known that since he was about 10."
While Francoeur has the look of a star, there are plenty of rookies in key supporting roles.
McCann has filled in ably at catcher for injury-plagued Johnny Estrada. Ditto for Wilson Betemit, who got extensive time at third while Chipper Jones was injured. Kelly Johnson and Ryan Langerhans share the starting duties in left field. Pete Orr is a versatile backup. Blaine Boyer is becoming one of the team's most trusted relievers. Kyle Davies won six games as a fill-in starter before heading back to the minors.
"We're up here for a reason," said Johnson, called up in May when the Braves cut loose Raul Mondesi. "We can play."
In all, the Braves have used 16 rookies this season – a stunning youth movement for a first-place team that's trying to win its 14th straight division title.
"It's been exciting, fun, energizing," general manager John Schuerholz said. "These kids are walking the walk for us right now."
Five of the rookies – Francoeur, Boyer, McCann, Davies and pitcher Macay McBride – are Georgia natives who came up through the organization.
It's no coincidence that many of them were impressionable youngsters when the Braves began their unprecedented division-title streak. They watched the thrilling seven-game World Series against the Minnesota Twins in 1991, Francisco Cabrera's ninth-inning single that scored Bream with the winning run in the '92 NLCS, the memorable division race with the San Francisco Giants in '93, the World Series victory over the Cleveland Indians in '95.
"I was the biggest Braves fan ever," said Boyer, who grew up in suburban Marietta. "I grew up watching John Smoltz. David Justice was my idol. Ron Gant. Woh-Daddy (Mark Wohlers). That whole team was a big thing in my life."
Boyer is convinced the talent pool in Georgia would not have been nearly as deep if the Braves had remained what they were in the late '80s – one of baseball's worst franchises, mere TV filler on Ted Turner's Superstation.
"I played in one of the best Little Leagues in the nation," Boyer said. "That's because of the Braves and all the excitement they created. They inspired so many kids."
Roy Clark, the team's director of scouting, has seen a definite improvement in the quality of Georgia-born players, especially in the booming counties on the north side of Atlanta.
"There was a time when Georgia was not a very good state," he said. "You didn't want to come in and scout here because it was too big and there were not many players."
That all changed after the Braves started winning.
"If you talk to every one of (the Georgia-born players), they all have their favorite moments with the Braves," Clark said. "From the time they were 7, 8, 9 years old, they turned on the TV and there was Bobby Cox and the Atlanta Braves competing for division titles or championships. I think that is a big key."
The Braves' reach stretches beyond state lines, largely because their games have long been shown on cable's TBS and various regional channels. Florida native Chipper Jones was a Braves fan as a kid. So was Tim Hudson, who grew up in Alabama.
"There's an old saying in baseball: Take care of your own backyard," Clark said. "It's not only Georgia kids, but kids all over the Southeast. They've been watching the Braves and want to be a part of it. That's one advantage we have regionally. A lot of these kids want to be an Atlanta Brave. A lot of times, they're more signable for us than they would be for another club."
Francoeur falls into that category. He was a star football player for Parkview High School and committed to a dual scholarship at Clemson, which likely caused some teams to shy away from him in the 2002 draft. He was available to the Braves with the 23rd pick, and quickly signed with his favorite team.
Of course, Atlanta's success in developing a steady stream of talent goes beyond regional loyalties. No team has done a better job of developing young players – who either make it to the big leagues with the Braves, or wind up in trades that help the team fill its needs a little quicker.
Atlanta routinely sends out an entire lineup of homegrown players: Adam LaRoche, Marcus Giles, Rafael Furcal and Chipper Jones around the infield, Andruw Jones, Francoeur and either Johnson or Langerhans in the outfield, McCann behind the plate.
"The key is you've got to have complete communication between the scouting department and the player development system," Clark said. "There's a game plan for each and every person who comes into our system. We talk about the players and what we would like them to do, then communicate that to all the instructors, managers and coaches so everybody is on the same page."
Local journalism is essential.
Give directly to The Spokesman-Review's Northwest Passages community forums series -- which helps to offset the costs of several reporter and editor positions at the newspaper -- by using the easy options below. Gifts processed in this system are not tax deductible, but are predominately used to help meet the local financial requirements needed to receive national matching-grant funds.
Subscribe to the sports newsletter
Get the day's top sports headlines and breaking news delivered to your inbox by subscribing here.
---