News > Idaho
Former Micron exec to run for Congress
Tue., Aug. 30, 2005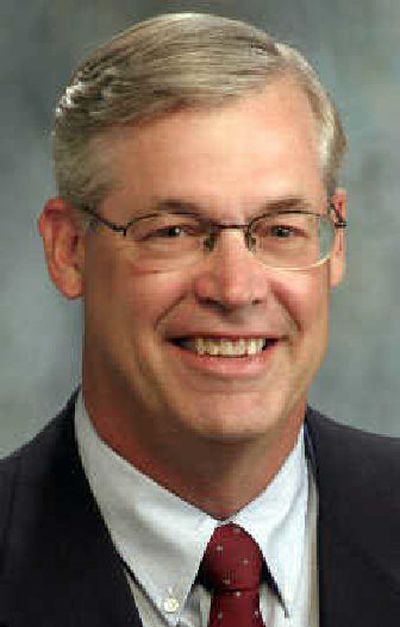 BOISE – Larry Grant, a former Micron Technology executive, attorney and Idaho native, announced Monday that he'll run for Idaho's 1st District congressional seat as a Democrat.
The race for the open seat – current Rep. Butch Otter is giving it up next year to run for governor – already has attracted six relatively well-known Republicans, who will slug it out in the May 23, 2006, primary. So far, Grant is the only Democrat running.
Grant, 59, hasn't held office before, but he's long been active in Democratic Party politics and has worked on campaigns, serving as finance chairman for former U.S. Rep. Richard Stallings, campaign treasurer for former U.S. Rep. Larry LaRocco, and more. For three months, he's been traveling the district, which takes in all of western and North Idaho, stretching from the Nevada line to the Canadian border, and talking to voters.
"Jobs, education, taxes and health care are what people want addressed," Grant said. "Instead they have to worry about war, debt and high gasoline prices."
Stallings, who is now state Democratic Party chairman, said others have looked at the race, but, "I think Larry will pretty well have the field to himself."
That's quite a contrast from the Republican side of the ticket, where announced candidates so far are state Controller Keith Johnson; current state Sens. Skip Brandt of Kooskia and Bill Sali of Kuna; former state Sen. Sheila Sorensen of Boise; Canyon County Commissioner Robert Vasquez; and Idaho Water Users Association chief Norm Semanko.
"With all these folks getting into the Republican congressional primary, that's going to be kind of an interesting show, and perhaps a bit of a bloodbath," Stallings said.
Boise State University political scientist Jim Weatherby said the race could be an opportunity for Idaho Democrats, who now hold none of the state's congressional seats, only one statewide elected office and just a small minority of legislative seats.
"With a very crowded Republican field, the ultimate winner may not be the strongest candidate, giving the Democrats an opportunity," he said, "and that's happened before."
He pointed to the 1978 race for governor, when seven Republicans ran, "one of the weaker candidates won, and (Democrat) John Evans easily won election as governor."
Evans, who had succeeded then-Gov. Cecil Andrus in office when Andrus was appointed U.S. secretary of the Interior, went on to win a second full term in 1982, cementing a Democratic hold on the governor's office that lasted 24 years.
Grant, who grew up in Fruitland, Idaho, is a lifelong Democrat.
Asked why, he said, "That's easy – John Kennedy, Martin Luther King, Frank Church. I've always been a Democrat. I remember where I was the day JFK was shot."
A graduate of Fruitland High School, Grant holds a bachelor's degree from Columbia University and a law degree from the University of Denver. He practiced law in Denver and in Boise, and then became vice president and general counsel for Micron Technology in 1985, a post he held for 10 years.
During that time, Micron grew from 800 to 5,000 employees. The high-tech, Boise-based computer chip manufacturer is now the state's largest private employer.
Grant was critical of energy legislation recently passed by Congress. "If we are ever going to get some fiscal responsibility back in government, it won't happen by sending another Republican to Washington," he said. "They actually just passed an energy bill that gives billions of dollars to the petroleum industry at a time when the oil companies are reaping some of their highest profits ever. That just doesn't make any sense."
Grant said he recognizes that Republicans have an advantage in Idaho, but said, "I think there are a fair number of folks that are really concerned about what's going on in government right now, and I think those folks may just take a look at somebody new."
Idaho Republican Party Executive Director Garry Lough wasn't available for comment.
Local journalism is essential.
Give directly to The Spokesman-Review's Northwest Passages community forums series -- which helps to offset the costs of several reporter and editor positions at the newspaper -- by using the easy options below. Gifts processed in this system are not tax deductible, but are predominately used to help meet the local financial requirements needed to receive national matching-grant funds.
Subscribe now to get breaking news alerts in your email inbox
Get breaking news delivered to your inbox as it happens.
---