Sports
Rams smother hapless Lions
Tue., Aug. 30, 2005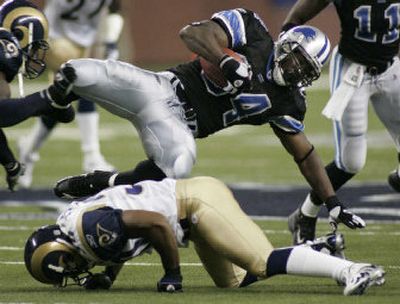 DETROIT – The St. Louis Rams resembled the team that won the Super Bowl five years ago and the Detroit Lions looked like the NFL's worst team since 2001.
Marc Bulger accounted for two touchdowns, Isaac Bruce had 85 yards receiving and a score and Steven Jackson ran for 108 yards and a TD to lead St. Louis to a 37-13 exhibition victory over Detroit on Monday night.
"Coach (Mike Martz) kind of challenged us this week to come out against Detroit and play well and we did that on both sides of the ball," St. Louis' Torry Holt said.
"I have been saying all along that as long as our offensive line protects the quarterback and the defensive line plays well, this will be a good football team. I think we displayed that."
The game was similar to the last one featuring the Lions on national television in prime time, a 35-0 setback against St. Louis on Oct. 8, 2001.
Detroit has lost an NFL-high 48 games the past four years, while the Rams have been a playoff-caliber team since winning a title.
With a crisp passing game along with Jackson's speed and power on the ground, the Rams (2-1) led 21-6 at halftime, a score Lions coach Steve Mariucci said would be important entering the game.
The Rams were so dominant on an 11-play, 90-yard drive in the first quarter they didn't have a third down.
Bulger was 11 of 14 for 167 yards, threw a TD pass and ran for a 7-yard score, untouched on a sneak. Jackson ran for 64 yards on his first of 14 carries, and scored on a 3-yard run. Bruce caught five passes for 85 yards, including a 31-yard TD catch.
A pass rush that came from all angles stifled Detroit's first-string offense, which hasn't scored a TD in three preseason losses. When Joey Harrington had time to throw, he either missed receivers or they dropped passes.
The Lions' starters finally got into the end zone, but two linemen were called for holding, negating the TD. Detroit ended up settling for Jason Hanson's second field goal late in the first half.
Harrington was 9 of 18 for 106 yards, and Kevin Jones had 38 yards rushing on nine carries.
"It was just one of those nights where things kind of piled on top of each other," Harrington said. "We missed blitz pickups, we missed throws and we missed routes. When you get into a funk like that, it's tough to break out."
Jeff Garcia was signed to push Harrington, but he had another lackluster effort, going 2 for 9 for 34 yards with a fumble.
When both teams put reserves in the game early in the third quarter, St. Louis was still superior. Jamie Martin threw an 11-yard TD pass to Madison Hedgecock to put the Rams ahead 34-6 late in the third quarter when Ford Field was almost empty.
The Rams didn't have to punt until late in the fourth quarter.
Detroit's Dan Orlovsky threw a 6-yard pass to Jason Randall with 52 seconds left, making it 37-13.
As impressive as St. Louis' victory was, it had to be more pleased two of its players appear to be healthy after scares.
Cornerback Terry Fair had full feeling in his extremities and never lost consciousness after spraining his neck when his head struck Jones' thigh on a tackle.
Fair, motionless face down on the turf for several minutes, was strapped to a backboard and carted off the field late in the first quarter. As the cart approached the tunnel, Fair lifted his right arm and put his thumb up. He was taken to Henry Ford Hospital for a precautionary evaluation. The former Lions player signed with the Rams on April 28 after last playing in Carolina in 2002.
After jumping offside and blocking an extra point, Lions safety Terrence Holt ran into Jeff Wilkins. The standout kicker limped to the sideline, but was healthy enough to kick field goals later in the game.
Detroit was without its top two defensive lineman, Shaun Rogers (shin) and James Hall (shoulder), though the duo might not have made much of a difference on a night that St. Louis played well and the Lions struggled from start to finish.
Harrington said the awful performance, in a game he called a dress rehearsal for the regular season, didn't alter the team's optimism.
"I don't think it changed anything like that," he said. "We're still as confident and as optimistic as we ever were. We hit a little stumbling block here. But I think it's going to be good for us because we can take it and learn something.
"We are not ready now. It doesn't mean that the talent won't be there once the regular season comes. Right now, we have some things to fix."
Local journalism is essential.
Give directly to The Spokesman-Review's Northwest Passages community forums series -- which helps to offset the costs of several reporter and editor positions at the newspaper -- by using the easy options below. Gifts processed in this system are not tax deductible, but are predominately used to help meet the local financial requirements needed to receive national matching-grant funds.
Subscribe to the sports newsletter
Get the day's top sports headlines and breaking news delivered to your inbox by subscribing here.
---